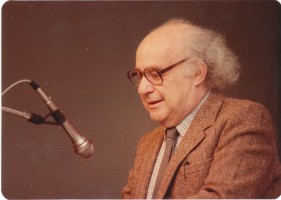 John J Gumperz, 91, died March 29, 2013. A pioneer in ethnography of communication and sociolinguistics, John Gumperz was one of best known linguistic anthropologists of his generation.
Hans-Josef Gumperz was born on January 9, 1922, in Hattingen, Germany. As a Jewish youth he was barred from high school by Nazi racial laws. He moved to Italy to study and later spent time in a Dutch refugee camp before moving to the US with his family in 1939. He soon Americanized his name to John Joseph Gumperz.
Gumperz earned a bachelor's degree in chemistry from the University of Cincinnati (1947). After starting graduate work in chemistry at the University of Michigan, he soon became fascinated by the idea of language itself as an object of scientific scrutiny, and switched to linguistics. After completing his dissertation, he embarked in a collaborative in northern India (1954-56). The only linguist in a team of anthropologists, sociologists, economists and other social scientists, his interests broadened to include fieldwork methods and the relationship between language, culture and society.
Upon returning from this fieldwork, Gumperz was invited to establish a Hindi-Urdu program at the University of California at Berkeley. In 1964, he joined Berkeley's anthropology department and lead the university's new Language Behavior Research Laboratory. For the next 30 years, Gumperz combined teaching at Berkeley with numerous research projects in the US and abroad.
Through fieldwork in Norway, northern and central India, Austria, Slovenia, the US and England, he collected ethnographic data that furthered his understanding of communication in the context of social boundaries and sociolinguistic structures. He was among the first to note that linguistic diversity correlates with social stratification.
Because of his observation of bilingual and language contact situations, Gumperz abandoned the traditional focus on language systems as distinct entities, investigating instead multilingual phenomena such as code-switching (the juxtaposition of passages of speech belonging to two or more different grammatical systems). Gumperz realized that code-switching is only one of several discourse strategies that provide contextual information about how to interpret communicative intent—which he labelled contextualization cues.
His concern with large-scale sociological effects of small-scale interactions together with the legacy of his personal history led to a constant preoccupation with social justice and gave his work an important applied perspective. Most notably, he collaborated with BBC to produce Crosstalk, a popular documentary on problems faced by UK immigrants unable to use the appropriate codes in institutional encounters. He was also one of the few sociolinguists to serve as an expert witness in court cases involving cross-cultural miscommunications.
John Gumperz leaves an enormous legacy: the knowledge that language cannot be unbundled from the whole social context and that, in complex urban societies, understanding communication is an essential component in tackling injustice. His ideas will endure in the work of his many students, who will forever be grateful for his gentle yet sharp guidance and mentorship. He will be missed but he will also always be remembered for his positive attitude, warmth and generosity. (Marco Jacquemet)