To Don Manuel
It is a sweltering afternoon outside the Centro Scalabrini in Tijuana, Mexico. A small group of men are outside, pacing along the sidewalk, exchanging impersonal glances. They barely talk among themselves while waiting for the clock to mark 330pm, the time they will be allowed to walk back into this immaculate building in the working class neighborhood of Colonia Postal which since 1987 has been hosting migrants. In a city defined by la línea and its contradictions, never ending roads and dusty hills, midnight deportations and long crossing times, the shelter has built a reputation of providing a welcome and safe respite for migrant men. The presence of migrants in Tijuana – even if wavering– is in part an indicator of the myth (and the realities) that have become associated with this border city:  the violence, risk and danger; the migra and the cartels.  Its once predominant role as a point of irregular crossings into the United States; the end of a country and the beginning of another. Bienvenido a Tijuana.
The gate opens. The burning sun of the winter and the ever present feeling of the dry, dusty air stay outside. Each man shows a white card with his picture –the shelter-issued ID that establishes him as resident. Others will not be allowed back in, their misdeeds having resulted in them being banned from the shelter, their cards posted on the inside of the gate ("Drugged;" "Drunk;" "NO.")

"The Border is more than sealed." "Attempting to cross here is no longer worth it."
The majority of those seeking refuge at the shelter are recent deportees – gone are the days when the shelter welcomed those stranded on the border after unsuccessful crossing attempts. Since 2006 most of the Centro's residents are Mexican nationals, deported from the United States as a result of the widespread practices leading to the criminalization of migration at the local and state levels, strengthen by federal immigration control policy.  These are the man passing time in the shaded patio, reflecting in the utter darkness of the Salón de Usos Múltiples or in a more lively – but also quiet—TV-room.
As we come into the patio, I ask Melisa, one of the center's volunteers and our guide for the afternoon, about her interests. I find out she loves photography, and so I ask if she wants to try my camera. She excitedly agrees. As I hand it to her, two men rush up to us. One of them – a tall, tanned and thin man from Michoacán– asks "¿Y qué? ¿You going to take my picture?" Melisa responds with excitement: "if you want me to take it, sure." He replies in all seriousness "OK then, but do not put it on El Face, because not too long ago I lost a dance contest. It was bad." The other man –much shorter, older and quieter– giggles. Suddenly everybody, even those once quietly sitting on the benches burst out into laughter. The laughs are followed by a more solemn moment when the defeated dancer pulls out of a wallet an old picture and shows it to us. "I will cross back on Sunday. I will go back." The picture, despite its worn, faded edges, reveals the faces of three young teenagers of a recent past. "I am going back to my daughters. I am going back to them."
It is now dinner time and the doors to the Spartan dining room open. The volunteers serve the food as the residents start to line up outside. Melisa tries to get the men to walk and sit in order; the volunteer cooks – a group of three adult women—go into a frenzy as they give contradictory orders ("Sir, please stand up," "Sir, please sit down." "Sir…")
We are finally ready. One of the residents leads the group in prayer. And as he finishes, a man of white hair and kind demeanor stands up and expresses his and the rest of the residents' deep gratitude to the volunteers. The aura of self-respect, his fatherly air and the strong, commanding will remind me of my own father, my 'apá, the indocumentado, the mojado who crossed the Border over thirty years ago. My father was also un ilegal.
"Es un recicle de inmigrantes—deportan a los viejos y entran los jóvenes"/"It is a recycling of migrants – they deport the old and the young come in."
After dinner, the residents stay to clean the kitchen. Today is Don Manuel's — the man who reminds me of mi 'apá – turn to rinse the big pots. He asks me to help him scoop the leftover beans into a smaller pot. He notices that I have left a considerable amount of beans in the bottom and he tells me lovingly, "pos síguele que 'ay quedan suficientes frijoles pa' hacerme una torta" (Keep going that there's enough beans in there to make myself a torta). We laugh. And the scene repeats itself. From his worn, brown leather wallet Don Manuel pulls out his permanent resident card. There is also an old, almost faded social security number. Don Manuel, a cook, had lived in the United States for over thirty years. All of his children are adult, US citizens. He is one of the thousands of legal residents who are arrested everyday for old violations or unexpired warrants, given no resource for appeal and deported, their lives altered by returning to a country they no longer know. He is determined to fight his case. He is also leaving the shelter this Friday.
It is getting late. As we start to say goodbye, Don Manuel asks if we will come back. We are not sure – the shelter's coordinator has not authorized a second visit. No importa; no worries, says Don Manuel as he hugs me. When he crosses back, when he gets back home, he'll be sure to cook a meal for us in Santa Ana.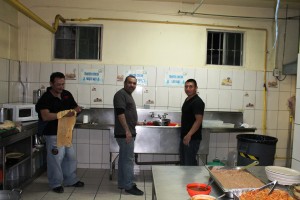 Gabriella Sanchez is a research fellow at the Border Crossing Observatory at Monash University and author of Border Crossings and Human Smuggling (Routledge, 2014).
Yesenia Trujillo is a senior at Wellesley College, double majoring in Computer Science and Women's & Gender Studies. Her research interests include US-bound migration and Latin@s' representations in mainstream media.