Revisiting Strategies from the 1960s for Creating Change Today
One focus of the Civil Rights movement was accessible housing and many national organizations were involved in organizing and ensuring access. But also the actions of ordinary individuals played a tremendous role in housing anti-discrimination. In fact, it was a well-organized group of citizens known as The Checkers that helped my parents overcome housing discrimination in the 1960s. We might do well to revisit that organizing and policy-influencing terrain in the 21st century, as more and more people of color experience displacement through the mechanisms of market reification.
The Checkers in 1960s New York
In 1958 my family lived in Harlem, New York; six years later my parents sought to move from our Convent Avenue apartment. They chose the predominately white community of Riverdale in the Bronx; a neighborhood where my father had delivered mail as a postal worker. He liked the bucolic area, which has been home to Teddy Roosevelt, the Kennedy's, Willie Mays, and more recently, Neil DeGrasse Tyson. Riverdale, enveloped by the Hudson River on one side and Van Cortland Park on the other, was a supposedly progressive area of the Bronx but racism persisted in subtle and not-so-subtle ways.
Looking through newspapers my parents identified apartments of interest. My mother would call to find out if the apartments were available. She would inform building owners that she was Black and in all cases the apartments became unavailable. Constant rejection led her to call the Urban League for assistance. The Urban League collaborated with the Committee on Civil Rights in Metropolitan New York (CCRM), which ultimately sent a Checker. My mother remembers her name was Ellen Becker.
The Checkers were a line of defense for some apartment seekers of color in the 1960s, determining if an apartment was available. Checkers confirmed an apartment's availability and if unoccupied, then the "real" tenants would apply. The Checkers' confirmation served as evidence to owners or realtors that an apartment was actually available, documenting housing discrimination in New York. Although Ellen Becker discovered the apartment my parents wanted was available, when they went to see it, they were told it was no longer unoccupied. Using information from the Checker, my father called the owner, and told him he knew the apartment was not occupied and that he "had better act positively." Ultimately we moved in and were the first Black people in the building and in the neighborhood.
Upon arrival we faced hurdles, not the least of which was that on more than one occasion, the air in our tires had been let out. One morning as we left to go to Manhattan, it had happened again. It was the first time I remember seeing tears in my father's eyes. While we were able to secure housing, housing inaccessibility due to racism and market principles persist in the present.
Housing Accessibility and the Committee on Civil Rights in Metropolitan New York
In the 1950s housing accessibility was a major Civil Rights issue impacting people of color and continues to be a problem. On April 15, 2014 The New York Daily News reported that a group of Brooklyn tenants filed a federal lawsuit against two landlords accusing them of illegally trying to force them out their rent-stabilized apartments replacing them with new renters willing to pay market-rate. The attempted evictions are of long-standing predominantly black and Latino tenants who pay between $600 and $1,000 a month in favor of mostly white tenants, willing to pay $2,500. While the affordable housing crisis in New York City mounts, the ability of communities of color to keep housing in these times is the other side of the coin when people of color were (and are) unable to get housing in the first place in the 1950s, which was why CCRM was so important.
The Committee for Civil Rights in Metropolitan New York (CCRM pronounced crem) was an organization of volunteers that advanced equal opportunity for all through research and education. Documents detailing CCRM's activities from the 1949 to the 1960s are housed at the Amistad Research Center at Tulane University and show that the Checkers project was one aspect of CCRM's ongoing research and policy influencing agenda to ensure access to housing in New York City. Originally called the Committee on Civil Rights for East Manhattan, CCRM was incorporated in 1950. They later changed their name to the Committee on Civil Rights for Metropolitan New York. The founding members were Edna Merson, a New York-born civil rights leader; Snowden T Herrick; Horace T Herrick; Richard H Paul, and Herrick Lidstone. While CCRM conducted research and compiled information to determine discrimination against "Negro" patrons at restaurants beginning in 1950, they began to focus on housing discrimination in 1954. In both cases the strategy used was the community audit. According to Olivia Frost, a former researcher at the Urban League who wrote for the NAACP's magazine, The Crisis, CCRM's strategy in New York City was not the first. "In 1949 as an aftermath of the 1947 Report of the President's Committee, To Secure These Rights, many citizens initiated check-ups (or audits) in their communities on the actual state of civil rights as they were enjoyed by minority groups"—or not.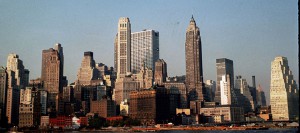 Much of the CCRM's interest in auditing and civil rights agenda dovetailed with that of other organizations, among them the NAACP, the Urban League, the American Jewish Committee, the National Council of Negro Women and Americans for Democratic Action (ADA). ADA was concerned about democratic practices in the US and in particular, how people of color and of African descent might be treated when coming to New York to work on behalf of the United Nations. As it turns out Snowden T Herrick worked for the United Nations as the Deputy Director of Public Relations for the United Nations Center for Social and Economic Information (CESI). Further Herrick's wife, Casey, was Manhattan Borough President Stanley M. Isaacs' daughter. Issacs, a Republican, was considered one of the most effective members of New York City government and a proponent for civil rights and decent housing for low-income families. It was he who co-authored called the Sharkey-Brown-Issacs bill signed by Mayor Robert F Wagner on December 10, 1957. The bill banned discrimination based on race, color, religion or national origin discrimination in renting "apartments in multiple dwellings or in the sale of one- or two-family houses in projects of 10 or more units". The ordinance went into effect April 1, 1958, making New York City the first in the nation to pass an anti discrimination ordinance in the private-rental housing market.
As progressive as this piece of legislation was, according to anthropologist John P. Jackson Jr, the Sharkey-Brown-Issacs Compulsory Housing Integration Law raised the ire of many in the real estate sector. A. James Gregor, the executive secretary of the Association for the Preservation of Freedom of Choice (APFC) wrote that the law was "the most dramatic attack…on freedom of choice in New York City. The bill outlaws the right of a landlord to choose his tenants, as well as the right of the development to choose his buyers of private homes".
CCRM had determined it would focus on addressing discrimination in a particular area until a change could be realized. With respect to housing, one of CCRM 's projects was the Partnership Apartment Seekers' Experiment in which White volunteer checkers and Black apartment seekers worked together to facilitate open occupancy—that is housing available to everyone without bias. They also developed a radio campaign with WMCA Radio entitled "Ring for Rights." My family benefited from CCRM's belief in open occupancy and ensuring that the Sharkey-Brown-Issacs Bill was being enforced in the 1960s.
According to the documents at the Amistad Research Center, CCRM collaborated with organizations, unions and individuals who were footsoldiers in the civil rights movement. For example, John A Morsell, sociologist and assistant to Roy Wilkins of the NAACP, wrote up one of CCRM's reports on housing discrimination. It was Morsell who wrote to President John F Kennedy urging him to use the strength of the Federal Government to enforce civil rights for James Meredith, the first African-American to be admitted to the University of Mississippi (see Morsell's letter). Spearheaded by Edna Merson, the organization's chair, CCRM enjoyed a membership and technical advisory board that included Kenneth B Clarke, Sophia M Robinson, Patricia Kendall, Evelyn Cunningham, A Phillip Randolph, and Claire Selltiz. Selltiz worked at the Social Dynamics Research Center with Clarke. According to a transcript of Clarke during an interview for Columbia University's Digital Collection, Selltiz was an outstanding research methodologist who published articles on the use of survey methods in understanding discrimination some of which appeared in Human Organization.
What is clear here is that CCRM embarked on a civil rights and policy agenda that was at once organic, grass roots, and collaborative. CCRM had a holistic approach that involved identifying the problem, evaluating policy, developing educational campaigns, and serving as advocates around housing issues in New York City in the 1950s and 60s.
Dána-Ain Davis is on the faculty of the anthropology department at the Graduate Center, City University of New York and associate chair of graduate studies in urban affairs at Queens College. Her research interests include race and racism, gender, sexuality and feminist ethnography.