On the Discovery of a 14,000 year old settlement on the west coast of Canada.

Mainstream media were quick to pick up on a report of a 14,000 year old archaeological site on the west coast of Canada, and rightly so. Besides being among the oldest sites in the region, it provides support of the ice-age coastal migration hypothesis, includes ancient organic artifacts, contributes to our understanding of early maritime adaptations and the development of subsistence patterns, includes evidence of two tsunamis, and corroborates oral history. The research was presented at the recent meetings of the Society for American Archaeology (SAA) in Vancouver, and stories about the discovery were made throughout North America, such as this report from CBC and this short video on CNN

I am often at odds with what mainstream media perceive to be important stories coming out of archaeology conferences, but I think this time they got it mostly correct. There were thousands of presentations at the meetings, but in my opinion Alisha Gauvreau's presentation on this settlement was one of the most important. Perhaps most significantly, it lends support to an early occupation of the west coast during the last ice age, and confirms the very long-term use of the area by the Heiltsuk Nation. Gauvreau, a PhD student at the University of Victoria who has led the excavations and presented on the research at the SAA meetings graciously agreed to this interview.

Bob Muckle (BM): Please tell us a bit about the site and your history of work there

Alisha Gauvreau (AG): Perched on the outer central coast of British Columbia, Triquet Island has diverse records of resource use and management such as rock-wall fish traps, a five-meter deep shell midden, and water logged deposits with preserved artifacts. Research indicates the local sea-level has been relatively stable for the last 15,000 years.

The site (EkTb-9) is located behind a small sand beach. The midden at the front of the site is about 5m deep, and extends roughly 70m inland, where it tapers out atop about 1.5 meters of mixed cultural/peat deposits.

The site was first recorded in 2008 and revisited in 2011 as part of the Hakai Ancient Landscapes Archaeology Project led by. Dr. Duncan McLaren. A 1×1 unit was established in 2012 and I joined the team in 2013. We expanded the 1×1 unit into a 1x2m trench in 2015, and last year (2016) we expanded it into a 1×3 trench, excavating down to 290 cm below surface, and augering further to 370cm below surface.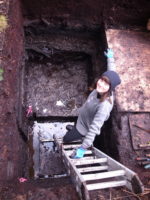 BM: What is the artifact collection like?
AG: The artifact collection is quite impressive and analyses are ongoing. Stone artifacts include utilized obsidian micro-blades and flake tools, a graphite nodule, and ground stone. Wooden artifacts include an atlatl (spear-thrower), fragments of fishhooks, a hand-drill, carved wooden bi-points, a curious facetted wooden "ball," and a fragment of a carved stick wrapped in bark.
BM: Media reports indicate that it is a 14,000 year old village. Is that accurate? Also, was occupation fairly continuous?
AG: Media coverage has been mostly hyperbolic. The early date range that we presented at the SAA's is 14,086-13,613 calibrated years before present. It is a solid date from a primary context. This date was obtained by running a charcoal sample collected from a hearth feature beside a cache of stone flakes and cores set on top of an anvil stone. These materials are below other deposits dating to 11,500–5,000 years ago. Other deposits at the site include the large and deep shell midden that started to be constructed about 5,000 years ago. It demonstrates a ~ 14,000 year record of repeated and fairly continuous human occupation.
The island remains an important part of the cultural landscape for the Heiltsuk Nation and it is safeguarded through the Hakai Lúxvbálís Conservancy Program. The research corroborates Heiltsuk oral history, such as this description recorded by anthropologist Livingston Farrand in 1916: " In the beginning there was nothing by water and ice, and a narrow-strip of shoreline."
BM: What was the environment like in this area 14,000 years ago?
AG: It was likely analogous to that of present day western regions of Tierra del Fuego: exposed, with limited vegetation (e.g. mosses) and stunted trees.
BM: Reports indicate that you could identify two tsunamis in the deposits. Can you let us know how you identified those?
AG: The earliest tsunami layer was a very distinct tapering of coarse sand deposit that was thinly splayed between two thick peat deposits. The later tsunami layer has similar characteristics, and it is above the shell-midden at the rear of the site.
BM: I understand the research is ongoing. What's next?
AG: We will be returning to Triquet Island in May 2017. We will do some augering and vibra-coring near the excavation unit and the larger midden, as well mapping. Archaeologists from an associated project will continue to work in the nearby intertidal area.
BM: Can you briefly summarize the significance of this work?
AG: My study will: (1) provide important insight into the record of early human occupation of Northwest Pacific outer coastal islands, (2) broaden our understanding of maritime technological developments, and settlement and subsistence patterns following the late glacial maximum, (3) involve multiparty collaboration, and (4) contribute knowledge and data for Heiltsuk consideration in conservancy planning, cultural heritage management, and other policy outcomes.
BM: Archaeological projects such as this are often collaborative. Is there any organization or people you would especially like to give a shout out to?
AG: This research is part of the Hakai Ancient Landscapes Project led by Dr. Duncan McLaren and made possible through support from Eric Peterson and Christina Munck, Hakai Institute and Tula Foundation, as well as the through the dedicated efforts of several Hakai and other archaeologists and interdisciplinary scientists, the Wuikinuxv and Heiltsuk Nations, and Hakai staff.
BM: Thank you.
Bob Muckle teaches archaeology at Capilano University in North Vancouver, Canada.
Cite as: Muckle, Bob and Alisha Gauvreau. 2017. "Populating the Pacific Northwest." Anthropology News, website, April 20, 2017. doi: 10.1111/AN.412
Feature image: Kevin M. Klerks/Flickr CC BY 2.0