An anthropologist joins demonstrators and asks, "What happens next?"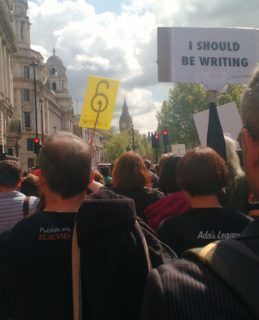 I am currently in London, beginning a year of fieldwork in climate finance, and on Saturday I joined the city's March for Science. Straight from the field, I present my experience in the form of two fieldnotes, one for the day before and the day of the march.
April 21, 2017
I write this in Queen's Park, London, the day before the March for Science in cities around the world. Over the past two weeks I have been immersed in the field, deep in the world of climate finance, a sector of finance attempting to harness investment for climate change adaptation and mitigation. The NGO in which I am working as participant-observer encourages a wide variety of organizations from investment banks to governments to invest with climate change in mind.
Tomorrow, many fellow anthropologists as well as my informants/colleagues in climate finance will be advocating for scientific institutions and science-based policies by joining the March for Science. In climate finance, many policymakers, investment bankers, and analysts look to summaries of scientific information by organizations such as the Intergovernmental Panel on Climate Change (IPCC) as a means of justifying and grounding their policy and investment decisions. They profess support of science, while also clarifying that they are not scientists themselves. Rather, they are cultural brokers of scientific knowledge that they hope to use to improve the world.
April 22, 2017 Earth Day, March for Science
I start the day by taking a shower, eating breakfast, and bringing my laundry in from the clothes line, contemplating the possibilities that may arise from joining demonstrators for the March for Science. I recall that my housing situation here is the result of going to another demonstration—a Standing Rock benefit concert and rally in Jamaica Plain back in the States months ago, where I was introduced by a friend of a friend to my present landlady. I check what time the rally will begin at the Science Museum in South Kensington, and purchase an Eventbrite ticket to confirm my participation.
"It is important what will happen after this event."
Once I reach the Science Museum, I ask an organizer if they have any spare sign materials and am gifted a flattened cardboard box on which I hastily write "Anthropology for Science," squeezing Anthropology onto one line! "Well you are a scientist not a graphic designer!" the organizer remarks.
I spend the first part of the march talking to an ecologist who runs his own consultancy evaluating the environmental impact of residential and commercial construction projects. With Brexit negotiations on the horizon, he is worried about the loss of EU regulations in the UK which will directly affect his work. Although the ecologist views demonstrations such as this one as important, he wants to be sure that the gatherings result in concrete political and institutional change, stating many a time that "It is important what will happen after this event." On a positive note, he thinks that people are now feeling reawakened politically, as if their actions are a part of history—something he thinks we should be optimistic about.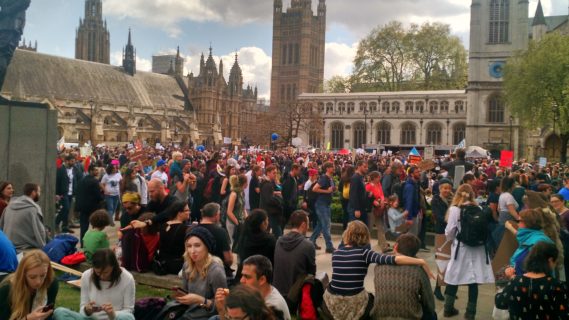 After the ecologist leaves me to put his cold coffee into a bin, I talk to a trained neurosurgeon and neuroscience PhD student at Cambridge, who works on the effects of strokes on brain tissue. When I ask about what had brought her to the rally she says quickly, "Well, I'm a scientist so this seemed like the right place to be!" However, further on in our conversation, she told me she wasn't sure if she could call herself a scientist, being a trained brain surgeon and planning to go back to that career after finishing her PhD. I told her I could relate as a social scientist. She quickly replies, "I think you can say you're a scientist!"
The sign "I should be writing right now," catches my eye. While I expected many of my climate finance informants/colleagues to be present at the rally none in my closest circle are here— most are busy catching up with work on the weekend. Indeed, even I do not stay for the final speeches in Parliament Square, rushing off to meet a colleague to finish up a presentation on climate finance. Thinking back on my conversation with the ecologist, I wonder how best to support turnout at marches such as this, and in what ways meaningful action and change can come about when professional and academic schedules mean many are unable to march or make time for other forms of action, and what the next steps towards social change could be.
Aneil Tripathy is a PhD candidate at Brandeis University. He is also a visiting PhD researcher at Cass Business School as well as an associate member of the Centre for the Anthropology of Sustainability (CAOS) at University College London. Aneil is a cohost on the anthropology podcast This Anthro Life.
Cite as: Tripathy, Aneil. 2017. "Marching for Science in London." Anthropology News website, April 25, 2017. doi: 10.1111/AN.414