What does the future hold for Cubans who came of age with the revolutionary state?
On November 25, 2016, Fidel Castro Ruz passed away. As Cuba's Commander-in-Chief from 1959 until 2008 (when power formally passed to his brother, Raúl), he headed a state that survived the tenures of ten US presidents, from Eisenhower to Obama. Against a global display of emotions ranging from mourning to open jubilation on the streets of Miami, the Spanish newspaper, El País, declared, "Murió Fidel, el último revolucionario" ("Fidel, the last revolutionary, is dead"). The morning after Fidel's death, I received an anguished email from a friend on the island, called Celia. She wrote, "We have lost our leader, and the silence on the streets of Havana is monstrous. It's as if time has stopped." If indeed the last revolutionary is dead, what does this mean for generations living today and those yet to come? As Cubans today imagine what time will bring, they do so largely unmoored from 20th century state socialism's grand narratives that proclaimed the inevitability of socialist progress. So what does this signify for those Cubans who came of age imagining national and individual futures very different than those which have come to pass?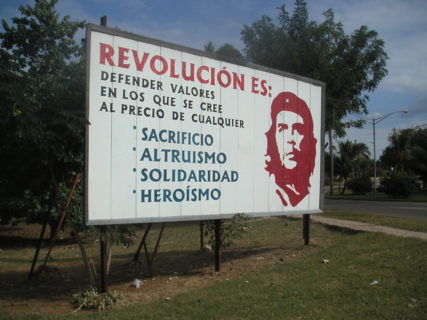 Time, and temporality, is a key trope in popular US perceptions of Cuba. When I tell people that I conduct research on the island, they invariably respond that they want to "visit before it changes." Anthropologists, of course, have a lot to say about the imaginaries that structure such representations of the Other as asynchronous and stuck in time. But time and temporality are also critical to the narrative that the Cuban revolution has told about itself. When the guerrillas marched into Havana on January 7, 1959 (revealing an early awareness of the symbolic power of time, the end of the revolution is officially marked as January 1, the day that the dictator Batista fled the country), they were overwhelmingly young. Observers frequently commented on the youthful energy that suffused mass mobilizations around revolutionary projects, and the revolutionaries' political rhetoric explicitly connected youthfulness with renewal, idealism, selflessness, and moral authenticity. In a direct appeal to their own generational cohort, they argued that young people would be the architects of a radically egalitarian society that would rise from the ashes of Cuba's morally bankrupt former order. Young people were exhorted to inculcate socialist norms in their parents and grandparents, and the new government created state-run initiatives, such as rural boarding schools, that would educate children away from their putatively tradition-bound families.
Political discourse and practice thus bound a generation of young people to the revolutionary state, producing a shared imagined future in which the new nation and its citizens would progress together towards an ever-more perfect socialist society. Celia, who was ten years old in 1959, was a member of this so-called "Gen-Rev." The daughter of a working-class Afro-Cuban man, a day laborer with few hopes for stable employment, and a white woman cast off by her family after her marriage, Celia and her family embraced the radical economic and ideological changes of the time. Her father became a state-employed carpenter and her mother left domestic work to perform the politically more acceptable factory labor, while Celia and her siblings joined the Young Pioneers—where they chanted in unison, "We are pioneers of communism, we will be like Che and Fidel"—and spent lazy summer days on beaches that were previously designated for whites only. Upon reaching adulthood, Celia began a 20-year career with the Cuban military.
There are broad ideological and experiential divides between the generation of Cubans old enough to remember the pre-revolutionary inequalities that drove the revolution, and younger generations who only know the hardship of the post-Soviet period and the burgeoning stratification of the current moment.
For Celia, these intertwined personal and national autobiographies diverged precipitously with the fall of the Soviet Union. The disappearance of millions of dollars in annual subsidies plunged the country into deep austerity. Between 1989 and 1993, average caloric consumption dropped from a daily 2,800 calories to just 1,800. For the generations that grew up under the state's promise of nurturance, this was not simply an economic crisis; it threatened the entire world that socialism had constructed for Cubans and the future that its leaders had predicted. By the time I met her in 2002, Celia had retired from the military. No longer comfortable with what she now viewed as Party propaganda, and finding her salary insufficient for the cost of living in the new Cuba, she resigned from the military and the Communist Party and set herself up as an unlicensed entrepreneur teaching salsa to tourists in the far more lucrative informal dollar economy. The emotional toll of this sudden teleological break came starkly into view on a moonless night in 2004, during a summer in which Havana was plagued by regular blackouts caused by insufficient oil supplies (a situation alleviated later that year by agreements with Hugo Chávez's administration in Venezuela). As we picked our way carefully along the broken footpaths of Central Havana, my flashlight illuminated a billboard declaring,
"Hasta la Victoria Siempre."
Suddenly, Celia burst out, "I believed in all this, I really did. I sacrificed, participated in mass demonstrations, hated the US—I volunteered my time and my youth. But where is our victory? What is 'victory' and when will it come? The young people were the first to realize it. My sons understood this long before I did."
The fundamental struggle of the revolutionary leadership has always been to reproduce its ideals and values over time, within individuals and between generations. The fall of the socialist bloc and the repercussions in Cuba shook the foundations of imagined life trajectories built around the state's narratives of socialist progress. This rupture drove another divide into Cuban families and society more generally, already fragmented by decades of political tension and migration. As the term, "Gen-Rev," suggests, there are broad ideological and experiential divides between the generation of Cubans old enough to remember the pre-revolutionary inequalities that drove the revolution, and younger generations who only know the hardship of the post-Soviet period and the burgeoning stratification of the current moment. Yet over the years many members of Gen-Rev, like Celia, had become critical of bureaucracy, inefficiency, and dogmatism of Fidel's government. Along with their younger compatriots, they welcomed economic shifts beginning in the 1990s, such as increased opportunities for legal self-employment and the decriminalization of individual possession of foreign currency (which opened the floodgate for familial remittances to the island).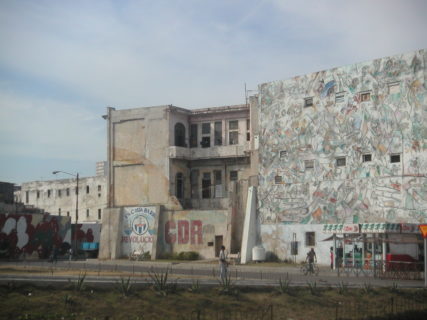 Yet this is also a generation formed with certain expectations of what the future would bring. As the government of Raúl Castro introduces more market-oriented mechanisms, economic stratification along the familiar lines of race and region are re-emerging—albeit in new forms—as problems of the future as well as of the past. Cubans increasingly depend on the remittance and tourist economies, both of which favor the families of whiter and urban Cubans who are more likely to have left the island and the revolution. As people concern themselves with "getting ahead" or being "left behind" in this new economy, many members of Gen-Rev—particularly those struggling to make ends meet—already feel that the hoped-for reforms have passed them by. They live in a Cuba that is neither the one of their past youth nor the one that socialism predicted. In this context, Celia is not alone in wondering exactly what constitutes "socialist victory." What will happen to the vision of Cuba in which they invested their lives? Will the socialist ideals and values for which they fought be reproduced by next generations who have only known the social and economic divisions of recent decades?
In 2014, Celia left the informal economy for a more stable position in a tourist bureau. "At my age, what business do I have doing cha-cha-cha with tourists?" she asked, "We're all slowing down, and this is more appropriate to my age." Although Celia could retire, she would struggle to survive on her meager state pension and in any case, long single and with grown children and grandchildren, she wants to occupy her time. She works long hours, and yet she confides that she finds it hard to feel invested, "What do I care if there's enough hotel rooms for tourists each month?" It's hard for me not to see her life trajectory as an allegory of Cuba's recent history: from the revolutionary fervor of the early decades, to the tumult of the post-Soviet years, to a tentative negotiation of old and new economies as Cuba engages with new geopolitics.
So, what will a post-Castro Cuba look like, particularly given Raúl's commitment to stand down in 2018? Will historians look back on the revolution and conclude not so much that nothing was achieved, but that it was achieved in vain? That the attempt to forge a different future for Cuba was broken down by the grinding pressure of global neoliberal processes that have shaped so many other Caribbean islands? The combination of the Trump administration and the waning influence of Latin American socialism make Cuba's futures all the more uncertain. Yet, there is much to be hopeful about: thanks largely to the revolution, Cuba has an educated, healthy population, where ideals of equality, solidarity, and sovereignty are still widely embraced.
While the embargo can only be lifted through an unlikely act of Congress, the December 2014 announcement of a normalization of US-Cuban relations has created new hope for bilateral trade and joint ventures, if this political and economic aperture is not scuttled by Trump and his campaign promise to roll back Cuba policy. Moreover, Obama's executive order, signed during his last days in office and repealing the "wet foot, dry foot" policy that guaranteed a path to citizenship to any Cuban who put one foot on US soil, may mean that young Cubans—many of whom previously hoped to emigrate—will find it more productive to invest themselves in life on the island. Whether, in some of these futures, Cubans can contain growing social and economic stratification and hold true to the early dreams of a more egalitarian society, only time will tell.
Elise Andaya is associate professor of anthropology at the University at Albany (State University of New York). She is author of Conceiving Cuba: Women, Reproduction and the State in the Post-Soviet Era (2014).
Feature image, ithinkx/Flickr CC BY-NC-SA 2.0
Cite as: Andaya, Elise. 2017. "Life and Time after Fidel." Anthropology News website, April 27, 2017. doi: 10.1111/AN.416