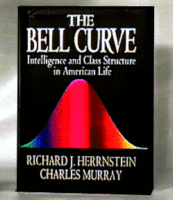 Early in April the faculty at Indiana University had a heated email discussion about Charles Murray's visit to our campus. The co-author of the notorious The Bell Curve, he was recently the subject of a demonstration at Middlebury College. He was not coming to IU to discuss his earlier book on human population genetics, but his 2012 book Coming Apart on current economic and social divisions in American society. His recent talks, while not explicitly racist, do show how beliefs about genetic racial differences underlie much of the libertarian and conservative agenda for dismantling what they call "The Welfare State," an agenda that assumes people are poor because they make bad choices and so are undeserving of health care and other social services.
What should we do when the university provides forums for odious or objectionable characters? Boycott the event? Protest against it? Develop an alternative event that presents a better supported point of view? Pillory those who allowed this event to move forward? Use the event as a platform to accuse the university of institutional racism and/or sexism? My well-intentioned and intelligent colleagues have made all of these suggestions.
What should we do when the university provides forums for odious or objectionable characters?
We do need to have the freedom to invite people to speak about work we may not approve of, or which we find faulty or morally repugnant. I often find objectionable and poorly informed writing is very useful in teaching. I assign works that are crucially wrong on important issues, to encourage critical thinking and get students to question well accepted ideas and popular beliefs, theories, or agendas. Isn't this what it means to have an open mind, and question authority and received wisdom? Ethnocentric and sexist theories about modernity energized and focused my own dissertation research.
According to their statements, the administrators and faculty who approved this invitation were acting on a similar logic: not approving Murray's positions, but allowing people to hear how conservative social policy rests on racist assumptions. At least one supporter of the invitation explained that in this time of reactionary xenophobia and racism, we need to expose once again the logical and factual flaws of eugenics and its close connection to fascism. Scientific racism is a prime example of a zombie theory, one that keeps rising from the dead, which we need to slay over and over again.
Some of my colleagues saw Murray's presence as pollution (or desecration) of the University's humanistic ideals; which begs the question of whether those ideals might already be in tatters, in a setting that already looks like a business where students are "products." Why can't we just go ahead and slay the beast again, expecting that this set of bad ideas will probably never go away? It is after all part of our job as educators. Yet, isn't this an endorsement of racism at a University persistently underpopulated with students and faculty of color? While we may want to use Murray's appearance as a teachable moment, we know that at least some of those who will attend are true believers who see the event as support for excluded and censored ideas.
In some ways the faculty outrage reminds me of the person who is looking for lost keys under the light rather than in the dark place where they were dropped. Murray is trespassing, but he is a minor player in a much larger story. He only provides the scientific garnish for a resurgence of nativism in the United States, which should not surprise us given the number of scholars-for-hire who will find whatever the client wants. Instead of arguing about how to treat a speaker, we could challenge the policies of our local state and federal representatives. Rather than being reactive, we are better off when we build on the strength of our accomplishments, both in research and teaching.
Scientific racism is a prime example of a zombie theory, one that keeps rising from the dead, which we need to slay over and over again.
We may need to cause a ruckus to galvanize a broader coalition between progressive voices among faculty, students, and community. But we know where that goes. Instead of educating people about race and the bad track record of eugenics, a violent demonstration will divert the debate into one about free speech and the oppression of conservative voices by liberal orthodoxy. This has happened so many times that we should recognize it by now as bait, which takes a scientific and political argument and turns it into one about our sacred founding documents, another kind of "anti-politics machine."
Long ago as a high school student I joined a group called Students for a Democratic Society. The main initiative in my chapter was to find and pursue common ground with local minority communities and organized labor on issues like the draft, low wages, and the dominance of big business (this became known as the Worker Student Alliance). At the 1969 convention SDS began to break into factions, and by the end of the year most chapters had broken up. Today we know that FBI and police undercover agents drove many of the divisions over goals and tactics. But the break up also revealed a tendency for people on the left to argue passionately with other leftists, rather than with conservatives and reactionaries. The general principle might be that it is only worth fighting with people who share some of your beliefs, because it takes extraordinary effort to find common ground with someone who has a fundamentally different worldview. But this is exactly what we cultural anthropologists do.
As we watch the social and cultural advances of decades slip away, it is hard to identify a way forward, and easy to be overwhelmed by the scale of national politics. But I hope that anthropologists might help reframe the issues that arise when the "teachable moment" arrives in their own neighborhood. Arguments over the limits of free speech at the university will go on forever—right now we need to focus on more urgent and immediate issues, like the anti-immigrant xenophobia which threatens our ability to enroll, keep, and graduate foreign students, or Betsy DeVos' regressive policies on student loans and public education.
Richard Wilk is Distinguished Provost's Professor at Indiana University.
Feature image, Thomas Good CC BY-SA 3.0
Cite as: Wilk, Richard. 2017. "The Unwelcomed Guest." Anthropology News website, April 27, 2017. doi: 10.1111/AN.415