An emergent feminized/queered resistance could unsettle the masculinist politics of today's populist leaders. 
In an age marked by the global ascendency of right-wing populist politicians, from Donald Trump in the United States to Vladimir Putin in Russia to Tayyip Erdoğan in Turkey, we witness an over-visibility of masculinity as a constitutive part of the political repertoire of the contemporary populist wave and its emergent critiques. In this article, we sketch a comparative visual ethnography of the gender and sexual politics of our populist political milieu.
Trump is one of several hyper-masculinized populist leaders of our times who are all vocal about their renewed gender conservative agendas.
In the US, among the many "sexual scandals" that adorned Trump's race to the presidency, his
bragging about his penis size
was perhaps the most difficult for mainstream political opposition to respond to. It was, however, a most productive point of entry for less conventional artistic/activist critics, who reacted with a series of figures and images that depicted Trump with a small penis to ridicule his claims to virility, and by implication, political power. Far from an idiosyncratic example, the controversy over Trump's penis is globally emblematic of contemporary populist leaders' gendered political power and the opposition to it.
Trump is one of several hyper-masculinized populist leaders of our times who are all vocal about their renewed gender conservative agendas. By tracing the feminizing and queering political representations of such masculinist leaders, we ask why and how the contemporary opposition to right-wing populisms increasingly takes gendered and sexualized, and even pornographic, forms. Drawing on our ethnographic researches on gender and masculinity in Turkey, public culture analysis in Turkey and the US, and our participant observations at protests in both countries, we argue that these forms of counterhegemonic politics can only be understood in relation to the gendered political logic of new right-wing populisms. We also observe that such genres of power and resistance circulate transnationally through social media and activism.
***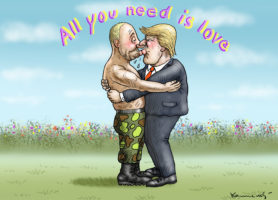 Art and activism attune to the emergent before academia and institutional politics, and have been producing an abundance of gendered and sexualized critiques of hyper-masculinized political power. Almost anticipating Trump's "look at my hands" incident, feminist artist Illma Gore painted a satirical nude portrait of Trump with a distinctively small penis a few months before his now infamous comments. The painting was titled "Make America Great Again," Trump's campaign slogan that was first used by Ronald Reagan in his 1980 electoral campaign—a landmark phrase in the global ascendancy of gender conservative neoliberal counterrevolution. The effect that Gore created by juxtaposing Trump's phallic emphasis on "greatness" with the corporeal miniaturization of his penis was remarkably impactful. After she posted the image on social media with the caption "My latest painting of @realDonaldTrump, because you can be a big prick despite what is in your pants!" the image went viral and was shared hundreds of thousands of times before being banned. After sharing that she received death and rape threats and was physically assaulted by a Trump supporter, Gore responded: "Anyone who is scared of a painted 'small penis' doesn't scare me," inverting the economy of fear that Trump supporters sought to establish through their violent quest to restore Trump's, and by extension their own, threatened white supremacist masculinity.
Gore's portrait was one of many artistic and activist representations and slogans that challenged Trump's claims to masculine power. A few months later, a series of nude effigies depicting Trump with a miniaturized penis and no testicles appeared in public in five American cities. Entitled "The Emperor has No Balls," the guerilla art pieces were created by artist Ginger and ordered and placed by the anarchist collective Indecline. Inspired by Gore's portrait, the statues sought to undermine Trump's sense of entitlement through the very same means he claimed it: masculine embodiment. After unhurriedly removing the effigy placed in Union Square, a NYC Department of Parks and Recreation spokesman joined the humor, declaring that "NYC Parks stands firmly against any unpermitted erection in city parks, no matter how small." Gore's and Ginger's works were part of a broader social media environment in which photoshopped images of Trump with feminine make-up and dresses circulated widely, alongside the slogan, "F**k Trump."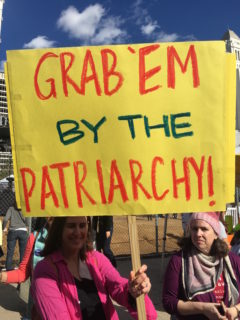 This genre of resistance articulates discontent with Trump's political performance of white upper-class masculinity through which he asserts, garners, and legitimizes his political power. At the same time, art and activism challenging Trump's masculinist performances of power through feminizing and queering imagery is justly criticized for fostering misogyny, homophobia, transphobia, and body and fat shaming. Nevertheless, the feminist movement is already rearticulating this discontent and amplifying it to challenge Trump's masculinist populism in other ways. The Women's March in January 2017, the first national mass protest following Trump's election, did so not by feminizing Trump but by mobilizing femininity itself. While receiving due criticism for its lack of cognizance of cisgender privilege and for equating sexual organs with femininity and womanhood, the march succeeded in marshalling the masses by positively asserting symbols of femininity—from pussycat hats to vagina imagery—as symbols of resistance. Among the protest's many innovative slogans against racism, sexism, homophobia, transphobia, ableism, Islamophobia, and xenophobia, one that particularly resonated with our argument here was "grab'em by the patriarchy," which inverted Trump's comment, "grab them by the p***y," to challenge his masculinist political persona.
***
We have started this line of analysis in an attempt to understand President Erdoğan's authoritarianism and resistances to it in Turkey (Aciksoz and Korkman 2013a, 2013b). During the 2013 Gezi Uprising in Turkey, city walls were covered with sexually-offensive swearwords questioning Erdoğan's penis size, heterosexuality, and impenetrability. Challenging Erdoğan with threats of feminization, the resistance often mimicked, tainted, and reversed Erdoğan's masculinized power through the very same gendered idiom. Visuals also served to feminize and queer Erdoğan, such as a street art project that preceded the uprising but became popular in its aftermath—a large political poster featuring Erdoğan, which was painted over in pink, including some blushing of his cheeks, and entitled "You're so cute."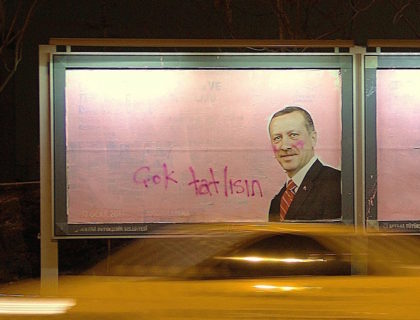 What made the uprising popular was partially the inverted incorporation of masculinist state power, epitomized by the chant used by demonstrators to taunt the Turkish police: "Go on, spray, go on, spray. Go on spray tear gas. Strip your helmet, drop your baton. Let's see who is the real man!" On the one hand, this created a space in which to question and resist political authority. On the other hand, the sexist, homophobic, and transphobic tones of this language otherized women, LGBTIQ individuals, and sex workers, who were among the main actors of the uprising. As a response, feminist and queer activists reclaimed and transformed the resistance language through strategies such as covering (hetero)sexist graffiti on walls with purple paint, urging "no cursing of women, gays, and whores," organizing feminist and queer swearing workshops, and subverting masculinist chants, for example by substituting "see the gays" for "see the real man."
***
In underlining the resonances between these forms of masculinist political power and resistance in cotemporaneous yet distinct contexts, we would like to point to an emergent and increasingly transnational visual genre of feminized/queered resistance. This can be observed in globally circulating representations, which mock masculinist populist leaders through identical visual tactics, including photoshopping their head portraits with caricaturized feminine make-up, often consisting of eye shadow, lipstick, and a comical touch of blusher, or placing a rainbow flag into the background of photographs. Other representational tactics include placing these men together in scenes of queer familiarity, such as a pride parade or a sexually intimate pose. For example, a caricature entitled "All You Need is Love" by the cartoonist Marian Kamensky features a business suit-clad Trump and a bare-chested Putin in combat pants—his signature masculine costume—kissing. Similar memes, such as one depicting Trump, Erdoğan, and Putin riding bare-chested on a single horse, triplicating Putin's favored horse-riding pose, circulate widely on social media. The repeated representational conventions of these images suggest an emergent transnational genre of political criticism that ridicules masculinist performances of political power through feminizing and queering gestures.
It is important to note that while masculinity as a repertoire of political power or the feminization of political leaders for the sake of political humor is neither new nor necessarily subversive, there is something emergent here. The novelty lies, we argue, in the exaggerated and self-reflexive character of these political performances of masculinity—of populist leaders and artistic-activist responses—in an age when heteromasculine privilege cannot be completely taken for granted. These right-wing populisms rise in a reactionary relation to the recent gains of feminist and LGBTIQ, as well as racial and ethnic justice, movements. In this social and political moment, while populist leaders endeavor to garner support through flashy reassertions of hyper-heteromasculinity, their critics seek to turn these gendered performances into a masquerade. We argue that the feminizing and queering critiques of populist leaders' excessive and exaggerated claims to masculine power have the potential to destabilize the masculinity they claim and promise to restore, and to expose and denaturalize the purported relation between masculinity and political power. We further contend that this potential is limited by the misogyny, homophobia, and transphobia that are often reproduced by critiques that present themselves in the same idiom of masculinist power they seek to counter. The challenge for critical social movements in the current populist era is to mobilize and rearticulate this revelatory potential with struggles for social justice and gender, sexual, and racial equality.
Further Reading:
Aciksoz, Salih Can and Zeynep Kurtulus Korkman. 2013. Masculinized Power, Queered Resistance. Fieldsights—Hot Spots, Cultural Anthropology Online, October 31, 2013. Available from: http://www.culanth.org/fieldsights/395-masculinized-power-queered-resistance
Aciksoz, Salih Can and Zeynep Kurtulus Korkman. 2013. Erdogan's Masculinity and the Language of the Gezi Resistance. Jadaliyya, June 22, 2013. Available from: http://www.jadaliyya.com/pages/index/12367/erdogan's-masculinity-and-the-language-of-the-gezi
Berlant, Lauren Gail. 1997. The Queen of America Goes to Washington City: Essays on Sex and Citizenship. Durham: Duke University Press.
Gökarıksel, Banu, and Sara Smith. 2016. "Making America Great Again"?: The Fascist Body Politics of Donald Trump. Political Geography 54: 79–81.
Katz, Jackson. 2016. Man Enough?: Donald Trump, Hillary Clinton, and the Politics of Presidential Masculinity. Northampton: Interlink Pub Group.
Korkman, Zeynep Kurtulus. 2016. Politics of Intimacy in Turkey A Distraction from "Real" Politics?. Journal of Middle East Women's Studies 12(1): 112–121.
Sperling, Valerie. 2014. Sex, Politics, and Putin: Political Legitimacy in Russia. Oxford: Oxford University Press.
Salih Can Aciksoz is assistant professor of anthropology at the University of California, Los Angeles. His research is in the areas of medical and political anthropology, gender and disability studies, critical phenomenology, and affect theory. His work has appeared in peer-reviewed journals, such as Medical Anthropology Quarterly and Culture, Medicine, and Psychiatry.
Zeynep Kurtulus Korkman is assistant professor of gender studies at the University of California, Los Angeles. Her research interests include transnational feminisms; neoliberalism and neoconservatism; gender, labor, and affect; and religion, secularism, and the public sphere, with a regional focus on Turkey and the larger Middle East.
Cite as: Aciksoz, Salih Can, and Zeynep Kurtulus Korkman. 2017. "'Grab 'Em by the Patriarchy." Anthropology News website, May 8, 2017. doi: 10.1111/AN.430