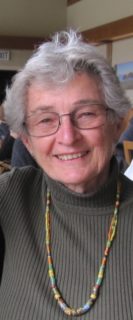 September 9, 1933–April 14, 2017
Highly respected feminist anthropologist and China scholar, Margery Wolf, died at age 83 in Santa Rosa, California on April 14, 2017. Born in Santa Rosa on September 9, 1933, she received her AA degree from Santa Rosa Junior College in 1952. Following a year at San Francisco State, she married Arthur Wolf and moved to Cornell University where he completed his BA. Wolf began as a research assistant to William Lambert, a social psychologist involved in the Six Cultures project. Recognizing her keen intellect, curiosity, her writing skills, Lambert, anthropologists Robert J. Smith and Lauriston Sharp, and other professors mentored Wolf, trained her in social science research methods, and provided a sound non-degree-based education. Wolf continued to work for Lambert on the Six Cultures project at the Stanford Center for Advanced Study in the Behavioral Sciences in 1956–57 as a research assistant, reading and coding over 50 ethnographies.
The Wolfs lived next in Taiwan for two years while Arthur conducted doctoral fieldwork in Taipei and nearby rural villages. They returned to Cornell in 1960 and Arthur joined the Cornell faculty in 1964. In London in 1964–65, Wolf wrote her first and best known book, The House of Lim: A Study of a Chinese Farm Family (1968), which established her as a China scholar of note with a particular focus on women and the family.
After more fieldwork in Taiwan during 1970–1971, Wolf published, Women and the Family in Rural Taiwan (1972) followed by Women in Chinese Society (1975). She conducted ethnographic fieldwork in the People's Republic of China during 1980–81 that resulted in Revolution Postponed: Women in Contemporary China (1985). After teaching at Duke as a visiting associate professor in 1984–85, Wolf was hired by the University of Iowa in 1985 as a full professor of anthropology and chair of the Women's Studies Program. She remained at Iowa until her retirement in 2001, remarrying in 1990 to anthropologist Mac Marshall who survives her. During this period she published A Thrice-Told Tale: Feminism, Postmodernism, and Ethnographic Responsibility (1992).
Wolf received many academic honors and held important leadership positions in the discipline. She was a visiting fellow of Wolfson College, Oxford (1975), a fellow at the Center for Advanced Studies in the Behavioral Sciences (1981–82), a fellow at the National Humanities Center (1994–95), and delivered the 1983 Lewis Henry Morgan Lectures. She received the Regent's Award for Faculty Excellence (1998) and a Distinguished Achievement Award (2001) from the University of Iowa. Wolf served as president of the American Ethnological Society, secretary of the AAA, and as an executive board member of both the AAA and the Association of Feminist Anthropologists. She was on the editorial boards of the American Anthropologist, Feminist Studies, Signs: Journal of Women in Culture and Society, and Sex Roles. Following her retirement, she wrote and published two novels: The Orchards (2008) and What the Water Buffalo Wrought (2013). (Mac Marshall)
Cite as: Marshall, Mac. 2017. "Margery Wolf." Anthropology News website, May 8, 2017. doi: 10.1111/AN.435