Recruitment is a seminal interaction. It is often a researcher's first opportunity to engage a potential study participant. Effective
recruitment strategies are critical to the success of a project: failure to recruit the necessary sample size costs project time and delays deliverables. As applied anthropologists conducting health services research (HSR) at the US Department of Veterans Affairs (VA), we noticed that
recruitment methods
were rarely given the same consideration as data collection and analysis methods.  Our anthropological training underscored the importance of laying the foundation for trusted partnerships with potential participants from first contact in order to conduct meaningful research.
HSR is a multidisciplinary field of scientific investigation that studies health care access, quality, and processes, where recruitment is particularly challenging due to the sensitive nature of participants' health concerns. We developed Engaged Recruitment (EnR) to address HSR recruitment challenges with insights from our anthropological training in participatory research strategies and ethnographic methods. EnR stresses the importance of reciprocity and rapport-building. As a result, we as anthropologists can lay the foundation for long-term relationships with potential participants even under HSR "constraints" (e.g. strict timelines, recruitment procedures, and personal health information). We describe the EnR approach and use examples from our research to demonstrate how anthropological concepts can guide participant recruitment in public sector research.
In building the EnR approach, we thought a lot about what successful HSR recruitment might look like. We were informed by a long line of anthropologists (see further reading) who viewed "field research as a collective reciprocal endeavor." EnR extends this view to the recruitment process. EnR focuses on improving recruitment in two main ways: (1) it establishes reciprocity by framing recruitment as a time to focus on the needs of potential participants in situ, and (2) it builds rapport by laying the ground work for ongoing and future interactions. In our case, EnR values potential participants as long-term partners in VA healthcare and research.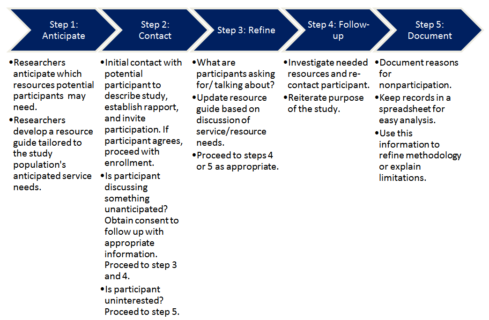 EnR consists of five steps: Anticipate, Contact, Refine, Follow-up, and Document. Although this was developed for use within the VA, EnR is general enough for broad use in any research environment. The steps are described in the figure below with specific examples in the following table.
We developed this approach for any project that involves talking with potential participants. It requires additional front and back end work to develop and refine resource lists and provide follow-up. In our experience, the time budgeted for planning and resource guide development (15-20 hours), participant dialogue (10-20 minutes per answered call), and follow-up lays the foundation for successful recruitment of participants at the point of contact and in the future.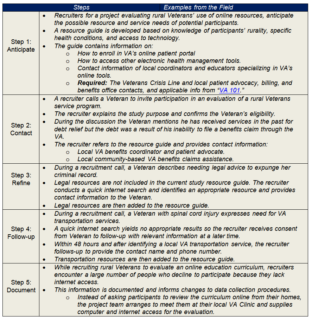 Taking the time to establish trust, offer service, and form connections with participants is a vital first step in successful ethnographic fieldwork. As VA anthropologists, we now bring this approach to HSR, which traditionally has not fostered this level of connection. A tool like EnR honors our anthropological tradition, and enhances HSR by reframing recruitment as an opportunity to establish a reciprocal exchange between the research team and the participant.
 Further Reading:
Clifford, J. Fieldwork, Reciprocity, and the Making of Ethnographic Texts: The Example of Maurice Leenhardt. Man15, 518–532 (1980).
Stack, C. P. All our kin: Strategies for survival in a black community. (Basic Books, 1975).
Spradley, J. The Ethnographic Interview. (Waveland Press, 1980).
Rappaport, R. Pigs for the ancestors: Ritual in the ecology of a New Guinea people. (Waveland Press, 1968).
Margeaux Chavez MA, MPH, CPH, Bridget A. Cotner PhD, and Wendy Hathaway MA, ABD are graduates of the University of South Florida and are Qualitative Researchers working for the HSR&D Center of Innovation on Disability and Rehabilitation Research (CINDRR) at James A. Haley VA in Tampa, Florida. Bridget and Margeaux co-chair the CINDRR Qualitative Interest Group.
Gemmae Fix and Megan McCullough are contributing editors for Anthropology in the Public Sector. The views expressed in this article are those of the authors and do not necessarily represent the views of the Department of Veterans Affairs or the United States Government.
Cite as:  Chavez, Margeaux, Bridget A. Cotner, and Wendy Hathaway. 2017. "Building Rapport during Applied Research Recruitment." Anthropology News website, May 17, 2017. doi: 10.1111/AN.427