Protesters disrupt Pegida-inspired rallies with their own rowdy demonstrations.
The sound of a man yelling rapidly and angrily into a microphone pierced the silence in my car as I cracked my driver's-side window. I had just parked on the side of what would usually be a quiet residential street in a small town in eastern Germany. Stepping out of my car and heading down the street, I followed the voice and the sounds of periodic cheering to find the far-right rally I had come to observe. "Mein Volk," the speaker shouted, "are my relatives, whom I love; they are the German Volk, my country, the proudest country on this Earth!"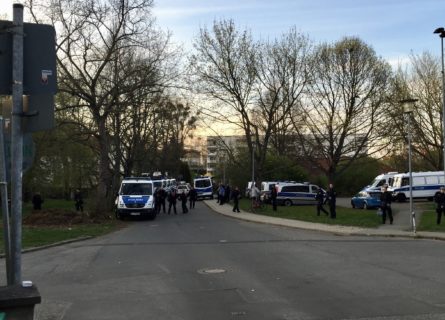 I found out about the counter-demonstration—from protest posters affixed to bulletin boards, walls, and traffic lights in the center of town. "Rassismus entgegentreten!" (Confront racism!) they proclaimed. Underneath, written on neon orange paper were the details for busses that had been organized to transport protesters. Details for the far-right rally, however, were posted not on the streets but online, on far-right blogs and Facebook groups. One of the speakers was a member of a local city council representing the National Democratic Party (NPD), generally understood to have connections to neo-Nazi groups and a xenophobic outlook. Indeed, an event poster on the group's Facebook page stated, "No foreign domination of our homeland!"
In taking to the streets, those who protest against far-right demonstrators enact their progressive politics in public, staking symbolic claim to the deliberate use of non-violence but also making material and concrete their commitment to an inclusive society.
German far-right populist movements have a curious relationship with public life, having been relegated to the political sidelines following World War II. On the one hand, they use social media outlets such as Facebook to garner followers, and demonstrate in large groups for their nationalist and xenophobic aims openly on the streets. On the other, they are often met with significant resistance led by liberal counter-protestors. As Europe copes with its own increase in far-right
populism
, and as Germany faces an
increase in violence
committed against refugees within its borders, the stakes for how to manage xenophobic nationalism have become higher.
At the rally, the speaker stood on a stage, surrounded by a few hundred people. Many held small German flags, waving them as they cheered. Police officers looked on, riot gear helmets tucked under their elbows. People came out of their homes to see what all the fuss was about, stopped by while walking their dogs or sat on their balconies to watch the scene unfold.
While the nationalist thrust of the event was palpable, from the rhetoric to the flag waving, its implications were made all the clearer by the fact that this was April 20, 2015: the 126th anniversary of Adolf Hitler's birth. The group responsible for the rally, and for mobilizing its powerful use of symbols such as Hitler's birthday, was a local offshoot of the larger Pegida movement (an acronym for "Patriotic Europeans against the Islamization of the Occident").
Globalization and the populist backlash
Scholars of contemporary German political movements trace the origins of Pegida to weekly street rallies in the eastern German city of Dresden, beginning in October 2014. Although the first few Pegida demonstrations took issue primarily with the religious strife between immigrant groups that took place in German cities earlier that year, a number of other issues became focal points of Pegida protests, such as the trustworthiness of the German press and the integrity of the nation's asylum system. At stake was not only the question of who belongs in Germany, but also the issue of which voices should be heard when plotting the nation's course.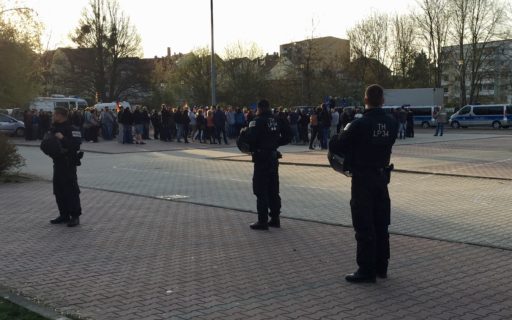 By the end of December 2014, smaller groups began to hold their own rallies, fashioning themselves after Pegida. A splinter group from Bonn called "Bogida," held a rally on December 15, 2014, and the group "Sügida," named after the southern portion of the German province of Thuringia, or Südthüringen, held a rally in January 2015. It was at this time that people I was working with in the field began to talk about Pegida, suggesting it was a fringe movement that did not, and should not, represent the position of most Germans.
Like some other populist movements in Europe, Pegida gives expression to broader patterns of discontent and unease brought about by increased mobility and globalization. Anxieties about Muslim and Arab immigrants are at the forefront of the movement's agenda, and they are undergirded by anti-intellectual sentiment critical of the political and cultural elites who welcome them. German Chancellor Angela Merkel, known for her openness towards refugees, commented on the rise of Pegida in an address at the end of December 2014, "I say to all those, who go to such demonstrations: do not follow those there who have started these rallies. All too often they have prejudice, coldness, and even hatred in their hearts." The movement's proponents, as well as those of the right-wing populist party Alternative für Deutschland, both critical of Chancellor Merkel, were emboldened by the Charlie Hebdo massacre in Paris in January 2015. Der Spiegel cited the then acting national chair of the party, Alexander Gauland, as suggesting that the attack on Charlie Hebdo justified Pegida's political outlook and rise in popularity.
Counter-protest and the public enactment of inclusive politics
Pegida supporters were not the only people at the rally. Anti-Pegida demonstrators, gathered a few dozen meters away behind a police line, readying themselves to protest the Pegida rally. In German, this tactic is called a Gegendemonstration, or counter-protest. The idea is to disrupt a demonstration by prohibiting a group of marchers from traveling down a street, outnumbering them so as to make clear that the counter-protesters constitute a symbolic majority, or drowning out the sounds of a demonstration with some other source of sound. As it turned out, this counter-demonstration engaged all three tactics simultaneously.
A local newspaper suggested that approximately 500 counter-protesters were present, with some of them coming from the town's asylum home. Two men told me that they had come to Germany from Eritrea. A few held signs written in German, made by the German pro-refugee group Pro Asyl that read, "Racism contributes to the loss of your compassion." Others held signs that said, "Let us love each other," in English, or, "No place for Nazis." The press was also present with large cameras to document the event, as well as spectators—women, men, and some children.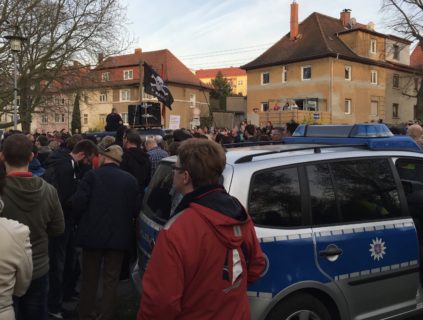 As the counter-protest got underway, a van arrived on scene with a set of loudspeakers sitting on its roof, music blaring. As soon as the van came to a stop and its occupants were able to stabilize the speakers, rock music began to blast deafeningly. The sound of the music traveled beyond the police line, eclipsing the Pegida group's speakers and interrupting their event. The counter-protesters began to dance, swept into the collective effervescence of the moment. Within about ten minutes and after a few more songs, the far-right event began to retreat down the street, away from the music of the counter-protesters, and away from the street leading to the asylum home. People streamed into nearby streets and after a few minutes the van with the loudspeakers had driven away too. I watched as the far-right rally became smaller as it marched down the street away from me, its organizers still addressing the crowd and carrying a banner that said "Wir sind das Volk!," or "We are the people!" with handfuls of counter-protesters chasing behind.
Progressive politics as civic practice in Germany
This episode was one of many instance of protesters interacting with far-right protests directly in the street as a practice in tactical demonstrating and outnumbering. In January 2015, a protest in Braunschweig broke up "before it even got started," as roughly 250 Pegida followers were quickly encircled by some 5,000 protesters against the movement. In March 2016, that an anti-foreigner rally in Berlin attracted many more right-wing protesters, as well as "known neo-Nazis," than expected. Left-wing counter-protesters were there to meet them in the streets. Just recently, in January 2017, over 1000 people took place in a protest against Pegida in Dresden.
Far-right populism has a violent history in Germany, and current far-right activity can also become violent. A house for asylum seekers in Tröglitz, in eastern Germany, was razed in April 2015, a week before the rally I attended. Deutsche Welle reported too that attacks on refugees and asylum homes did not abate in 2016, citing 970 attacks on homes and nearly 2,400 incidences of crime committed against refugees outside those homes.
In the case of the rally I attended, the counter-protest attempted to physically separate the far-right demonstrators from the asylum home, in order to shift the momentum away from a potential for violence against refugees and the asylum home. As such, counter-protests are not only symbolic, but can also have tangible results, and they're made up of many smaller, yet crucial practices and routines of civic engagement: tracking what far-right groups are doing and where they are holding demonstrations, printing flyers for counter-protests and posting them in city centers, reaching out to refugees and pro-asylum organizations, and organizing buses and carpools to bring people to those counter-protests. It also requires that the political left has knowledge of the political right, its organizing principles, and its tactics as a social movement. Counter-protests in Germany are therefore no accident, but rather are the product of careful practices of social coordination and civic engagement.
In taking to the streets, those who protest against far-right demonstrators enact their progressive politics in public, staking symbolic claim to the deliberate use of non-violence but also making material and concrete their commitment to an inclusive society. As such, progressive forms of governance become civic practice through counter-protest, and hate becomes contested rather than hegemonic. In this way the counter-demonstration was a local example of what anthropologist Nitzan Shoshan calls "the management of hate," and in Germany, this practice meets at the intersection of civic culture and historical memory. It's a practice that has been learned as a result of Germany's historical inheritance, blending cultural practice, political symbolism, and the enactment of progressive citizenship.
Amy Field recently earned her PhD in anthropology from New York University. Her fieldwork on Germany's animal rights and protection movement was supported by the Wenner-Gren Foundation, the American Germanistic Society, Fulbright-IIE, the Max Planck Institute for Social Anthropology, and the NYU Animal Studies Initiative. Currently, she works in academic publishing.
Feature image: Picturepest/Flickr CC BY 2.0
Cite as: Field, Amy. 2017. " Populist Protest and Counter-Protest in Germany." Anthropology News website, May 18, 2017. doi: 10.1111/AN.456