To understand Trump's populist appeal we must go beyond linguistic form to focus on the semiotic and ideological dimensions of language use.
The rise of populist and anti-intellectual discourses have many scholars and educators concerned about the state of academic freedom. Since the election of Trump, the rise of anti-intellectualism has become a more urgent reality. Unfortunately, the vast majority of political scientists and media pundits took a major credibility hit when they wrongly predicted a Trump loss. This was partially due to their narrow assumptions and methods for gauging people's attitudes and beliefs, reflected in a restrictive understanding about the nature and function of how language works, namely relying on linguistic form. A reliance on polls and transcript splices proved limited.
Populists position themselves as being the "voice" of the voiceless so they necessarily understand how language is used to create relational affinity, trust, and a deeper sense of authenticity.
Over the last four decades, linguistic anthropologists have argued for the need to go beyond linguistic code (what is said?) and prosody (how it is said?) in order to better understand how people make sense of their life-worlds across time and space. The need to go beyond the transcript and focus our analysis on the semiotic and ideological dimensions of language has never been greater. In preparing educators for linguistically diverse environments, we use discourse analysis to prepare teachers for language and STEM learning. Four questions are the foundation of our
discourse analysis
: 1) What is said? 2) How is it said? 3) What is meant?, and 4) What are the underlying world views and histories that frame meaning? The latter two questions move us beyond isolated events and transcripts and into the homes and communities where our learners live. Over the last few months, I have used this approach to
process the Trump
in educational spaces and broader society (
#ProcesstheTrump
)
.
Processing "the Trump" is a way of reframing our conversation about Trump beyond individual personality traits, psychological disorders, utterances, and/or an anomaly of history. Instead, processing "the Trump"
foregrounds the use of discourse analysis to understand the emergence of Trump as a systematic process grounded in history and a conscious leveraging of American iconography.
Identity and affinity in discourse
Last September, while discussing current events, an elementary student brought a critical article about how the Tonight Show's host Jimmy Fallon jokingly ran his hands through Trump's hair and as a result "humanized" him. A spirited discussion ensued with one student saying, "I would vote for him!" As this comment came on the heels of Trump's graphic "locker room" talk episode, the students and the teacher were visibly startled. After a long pause, the teacher sheepishly asked, "How come?" to which the boy responded, "He has cool hair!" It was a response that spoke to the invisible factors influencing voter behavior: affinity identity. He further explained how his "dad was voting for Hillary, but his mom was voting for Trump." For most students, this seemed counterintuitive given the apparent gender "misalignment." It was a window into hidden semiotic processes that often escape polls, social science methods, and other "politically correct" displays of identity and ideology.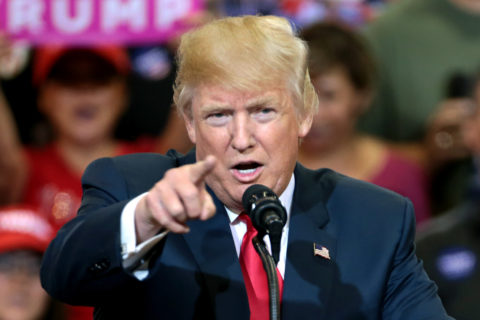 Scholars of language, communication, and rhetoric have long been interested in the speech acts of politicians. In particular, they've sought to understand how politicians strategically use language to align themselves with the hopes, dreams, worries, and fears of their constituents. More critically, they've researched how language might be used to manipulate the minds and hearts of people. Presidential candidates in particular play a critical role in representing the prevailing mood of a nation and constructing a cohesive national narrative. Whether the focus is on pronunciation irregularities, syntactic miscues, innovative lexical choice, rhetorical eloquence, or style shifting, the analysis of presidential discourse provides a valuable window into the prevailing sentiments, political stances, and ideological tensions in the country.
Many public intellectuals and media pundits continue to focus on linguistic code and prosody: what is said and how it is said. Historically, whether it was Bill Clinton's use of "is," George W. Bush's syntactic "gaffes" (e.g., nook-u-lar), Barrack Obama's pronunciation of "Pakistan," or being "articulate while Black," the focus on form and that which can be transcribed has limited our understanding of the personal, sociocultural, and sociopolitical factors that impact meaning making. In the weeks leading up to the election, when asked about the speaking style of candidate Trump, University of Chicago anthropologist Michael Silverstein stated, "Mr. Trump's delivery has long been a cross between stand-up comedy and the kind of thing one hears in the neighborhood bars: no full sentences with clear assertions, but only a stream of phrases.."  When Melania Trump's speech at the Republican National Convention appeared to be a direct plagiarism of Michelle Obama's speech, liberal pundits thought for sure this was the nail in the coffin for team Trump. Trump's response on ABC News the following Sunday earned him "authenticity" points with the base, "She just made a mistake, and I think it was terrific how she came forward and just said, 'Look, it was a mistake that I made.'"
Beyond the Transcript 
Populist leaders speak to deeply seeded sentiments that are often outside the purview of socially desirable expectations and modes of expression. Gaining access to these deeper levels of meaning have always been challenging for linguists, social scientists, and public pundits. Populists position themselves as being the "voice" of the voiceless so they necessarily understand how language is used to create relational affinity, trust, and a deeper sense of authenticity. Cognitive linguist George Lakoff argues that the more liberals attack team Trump's linguistic form, the more committed his followers become. What is said and how it is said doesn't matter as much as where the talk is perceived to be coming from-a place of authenticity or a place of malice. This election cycle was populist in the sense that people wanted something beyond the linguistic status quo. Perhaps, there were no words to visibly capture how they were feeling. They were probing deeper, and any attempt to silence on the basis of form generated greater resentment toward cultural elites. Hence, Trump continues to attack the media and positions them as the enemy who can't be trusted. He dismisses the media as "fake news" and provides "alternative facts."
We must continue to make sense of meaning-making that goes beyond the apparent words and place trust in a critical ethnographic process.
In addition to personal grievances related to policy areas like the economy and health care, this election cycle represented a cultural, linguistic, and social shift. Millennials were "feeling the Bern" and older, White voters yearned to "Make America Great Again," a slogan that was trademarked in 2011 by Team Trump. These sentiments have been brewing for a long time and have been cultivated in fringe social media spaces.
Twitter and the heart of language
While the Clinton campaign outspent team Trump 6:1, employing 60 statisticians and a sophisticated algorithm model Ada, they mostly invested in conventional media like television ads and did not effectively leverage synchronous communication platforms such as Twitter. In fact, in July 2016, Twitter was one of the few sources to predict the possibility of a Trump victory. Twitter was the first large scale medium to provide real time, synchronous communication across race, class, gender, and geographic boundaries. The Arab Spring of 2011 demonstrated the power of social media, and in particular Twitter, in fostering populist movements and toppling authoritarian regimes. Twitter engenders the perception of direct access and a sense of greater authenticity, or "being real."
Clearly, what was being said, or how it was being said was not enough to dissuade voters. Authenticity, meaning, and shared world views, or the heart of language mattered more. Even after his first 100 days in office, Trump continues to use his "authentic" twitter handle @realDonaldTrump.
On the night of the election, CNN commentator Van Jones declared, "This was a white-lash. This was a white-lash against a changing country. It was a white lash against a Black president, in part." While this may have been partially true, it didn't explain the 83 electoral votes that voted two times for a Black President only to swing toward Trump in this election cycle. Speaking at "The Anti-Inauguration" Keeanga-Yamahtta Taylor argued that far from an imagined racist backlash, Trump's election signaled the death of neo-liberalism, its policies, its ethos, and yes its language. President Trump's inauguration speech was extremely populist, promising to strip Washington elites of their power and return it "to you, the people." Some even compared his speech to the villain Bane in The Dark Knight Rises. He immediately placed a portrait of Andrew Jackson in the oval office, aligning himself symbolically with another anti-establishment populist, removed all non-English links to the White House, and gave "the most 'American'" address in the history of inaugurations.   
The fixation on splicing and parsing the Trump code was evident throughout the campaign. Quotes from The Art of the Deal began circulating as memes across social media news feeds. For example, in an attempt to draw equivalence with Nazi propaganda, opponents used the following erroneous quote, "If you tell people a lie three times, they will believe it. You tell people what they want to hear. Play to their fantasies, and then you close the deal."  A 2016 GQ article, "The Cult of Trump," showcased narratives of ordinary people swearing they were saved by "Trumpism." Mocking Trump's grammatical errors, run-ons, sentence fragments, his 4th grade speaking level, or acts of blatant plagiarism simply didn't work, and they won't work.
Far from lacking intelligence, team Trump's methods showed they understood language on all four levels. They leveraged code, prosody, semiotics, and ideology to propel Trump, Inc. into the White House. Whether real or imagined, they aimed for the heart of language and built a populist election campaign that went beyond the transcript and focused on meaning, symbolism, shared histories and world views. Every hashtag (#) that is created on seemingly a daily basis gets people talking. According to Forbes' Sujan Patel , this is how branding really works. Wolcott's ethnographic ideal, anthropology's quest for the emic point of view and authentic meaning, have never been more salient. We must continue to make sense of meaning-making that goes beyond the apparent words and place trust in a critical ethnographic process. Perhaps more importantly, far from calls to "not say his name" or "not my president" it is important to engage the ideological "Other," to make sense of our past, and forge new social and political possibilities. Understanding Trumpism requires an analysis of language that goes beyond the flesh of language and enters its heart: individual meaning, interpersonal connection, and historical relationships (#ProcesstheTrump).
Aria Razfar is professor of education and linguistics at the University of Illinois at Chicago. His research has been published widely in premier academic journals including Applying Linguistics in Classrooms: A Sociocultural Perspective (2014). He can be reached at [email protected] or follow him @AriaRazfar.
Cite as: Razfar, Aria. 2017. "Process the Trump." Anthropology News website, May 18, 2017. doi: 10.1111/AN.460