Notes on health care, Trump rhetoric, and feeling neglected in rural Pennsylvania.

"Santa was here!" my four-year-old son gleefully shouts as he wakes me by pulling off my blanket. It is our last day of fieldwork at the Petersen's and indeed, it seems as if Santa Claus has come early this year. Jenny, our host, has been up early to wrap the traditional Danish Sunday Advent gift for her five children and my son. There is even one for me. Though the gifts are not expensive, they symbolize the socioeconomic progress that the family has experienced over the last couple of years. When Jenny earned her online degree, she got a better job and her family was able to move out of their mobile home and into a house in a small town in rural Pennsylvania. She was even able to take the youngest kids to visit her mother in Denmark once a year. But during the 2016 presidential campaign Jenny and her husband increasingly identified with Donald Trump's emotive narrative about government neglect of white working class Americans and came to view themselves as suffering from financial regression at the hands of the establishment elite. Drawing on my ongoing ethnographic fieldwork among white Christian Trump supporters in a socioeconomically challenged part of the Mid-Atlantic US, I offer some notes from the field on populist statements and sentiments to do with the distribution of resources and perceived disadvantage.
Entering the field
I have been conducting fieldwork in a non-denominational church community in rural Pennsylvania since the fall of 2016. It is not a closed community in the sense of physical boundaries or limited social connections with people and current events. Community members are active on social media and watch and distribute news from right-leaning media such as Fox News on a daily basis. Yet, the term "closed" describes the feeling I had when first entering the field. Church members interact mostly with other members and are highly suspicious of people who hold other social and political values.
My way of becoming "one of us," as Jenny's husband Mike puts it, despite being an atheist European and a Hillary supporter, was through connections: Jenny is a childhood friend from Denmark and we have remained in close contact over the years. My initial research focus on health care access became the center of political and public debates over the Affordable Care Act, state interventions, and health economies. What appeared to be abstract discussions felt very real in the daily lives of my interlocutors.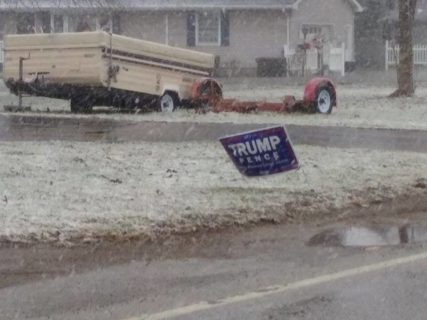 Anthropology has tended to overlook communities like the one in which I work. Some work by sociologists, historians, and authors such as Arlie Hochschild's Strangers in Their Own Land (2016), Nancy Isenberg's White Trash (2016), and J.D. Vance's Hillbilly Elegy (2016) does focus on the lives of low-income, white Americans and comment on the rise of a white nationalist populist movement. Though inspired by these scholars and their work it became clear to me that Jenny and her community do not see themselves as "rednecks" or "white trash." They had not previously considered themselves as disadvantaged. Their incomes, though large enough to secure a home, food, and clothing, is still small enough to place them towards the bottom of annual household income reports. Yet, they describe themselves as "hardworking American families, gathered in the love for Jesus," as Josh, a 38-year-old male interlocutor, working in Walmart, told me. Will, the local minister put me straight in an email, "class standards do not belong to American culture."
As I became "one of us," I couldn't help wondering who "they" were, the people that my interlocutors passionately distanced themselves from. Muslims and illegal immigrants (often simply referred to as Mexicans) were articulated as categories of enemies, vocalized in everyday conversation and sometimes used as curses. For instance, Jim, a pleasant 79-year-old retired worker with no living relatives, lives alone in a community assisted residential home. He suffers from a couple of chronic conditions and I often wonder how he manages. One day I asked him if he is covered by Obamacare. The question made the gentle, elderly man yell, full with bristling energy, "I don't want anything from Obama. That man is a devil worshiper and a Muslim. Wanna know how evil he really is? He took all financial aid for retirees and gave to the foreigners. He's not even American himself." I was surprised by what I interpreted as a hostile outburst. Then, learning later that Jim was covered by Veterans Affairs health benefits, I was also intrigued: why all the anger if he was receiving federal assistance?
Identifying with Trump's rhetoric
"We have a disaster called the big lie, Obamacare. Yesterday it came out that costs were going up for people, deductibles are through the roof, you have to get hit by a tractor to use it." So said Donald Trump on June 16, 2015 from the Trump tower. It is one of numerous examples of Trump's campaign claims that US citizens were being denied their rights to federal assistance, particularly health care.
It was as if my interlocutors' self-perceptions shifted as they engaged with the election campaign.
Many community members recognized themselves in the Trump campaign rhetoric. Josh, a married, church going, father of three, had voted Republican his whole life; mainly because he feels that the party reflects his Christian values. However, Josh talked about what he calls "discrimination of white people." One day as we were driving in his car, he said that he felt that Trump spoke to people like him, and helped them realize how much they were being cheated by the government. When I asked how exactly they were cheated he answered that he felt that the US should be for Americans—that people like him should be able to pay for their children's education and help them to move up the social ladder, but nobody would "give a shit" about him because he is white. "Trump is right," he told me, "we need to get this country straight."  Another man who had heard about my project wrote me an email. He criticized the notion of the US government and stated that they had gained too much power. He wrote "I believe that health care, hospitals, child care, finances, values, beliefs, religion are all aspects of society that should be dealt with in the private sector apart from government."
However, despite their antipathy towards the federal government, many of my interlocutors receive financial aid such as the Children's Health Insurance Program (CHIP) from the state. Their hopes for the future with Trump include state health programs and assistance. Jenny's husband Mike suffers from a chronic stomach disease that causes him great pain and requires hospital treatment. Watching television with him on a lazy afternoon, he explained to me how the Democrats had made his life much worse, "With Obamacare I didn't get anything… nothing… Trump is gonna change that. I was born here, my mom was born here. That just makes me really angry—Mexicans getting everything. And they're not even legal." Mike's need for health care is interwoven with anxiety about illegal immigrants and a perception that the federal government prioritizes the needs of new immigrants over long-established communities. I have known Mike for almost 20 years and I had never heard him express hostility towards immigrants, especially as his wife is one herself. But the last couple of years have changed that. He did not start out as a Trump supporter but he ended up as a fierce proponent, referring to Trump's rhetoric about disadvantage and the uneven distribution of government resources. It was as if my interlocutors' self-perceptions shifted as they engaged with the election campaign.
A sense of discrimination
While most of my interlocutors believe they live a decent, good life, they came to view themselves as disadvantaged and denied. In reactions to and reiterations of Trump's populist narratives about the government's preference for providing aid to immigrants and people of color a new sense of discrimination became palpable. Many feel that their children will probably not do any better than them in life, which makes a mockery of all their hard work.  They placed their hopes for a more prosperous life in Trump. His presidential win was widely celebrated in the community, for as Jim, the old veteran put it: "everything will be better now." Such disappointment, anger, hopes, and feelings call for more research. My pilot fieldwork, from which these notes stem, was initiated during the campaign season and post-election weeks as an effort to understand the effects of populism on voting behavior. However, the somewhat surprising win of Trump now puts forth the question that Jim's statement raises—will everything be better now? What impact will a Trump presidency have on the lives of working class Americans? My aim is to complete further fieldwork to shed a light on these intersections between everyday life and populistic politics in practice.
Note: All participants have been anonymized according to their wishes.
Alexandra Brandt Ryborg Jønsson is a PhD candidate from the University of Copenhagen, Denmark and a Fox International Fellow at Yale University. Her doctoral research focuses on health care and inequality perceptions in Denmark and the US.
Feature image: "Trump Campaign Sign — 'Make America Great Again.'" Tony Webster/Flickr CC BY-SA 2.0
Cite as:  Jønsson, Alexandra Brandt Ryborg. 2017. "Turning to Trump." Anthropology News website, May 18, 2017. doi: 10.1111/AN.458