A populist movement struggles to find its purpose as Britain heads for Brexit.
Late in the evening on June 23, 2016, I stood in the middle of a sports center gymnasium not far from the heart of Sheffield, England. The gym had been transformed that night to serve as the city's counting station for the nation-wide referendum on the UK's membership in the European Union. Long folding tables covered the floor, piled high with thousands of neatly stacked ballots. At each table, volunteers worked tirelessly, well past midnight, to sort and count every vote.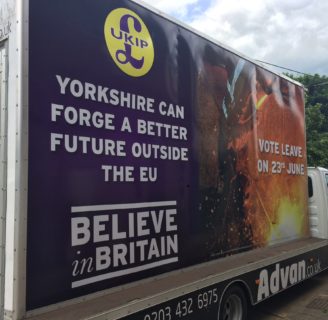 I was at the Sheffield vote count as a guest of a local branch of the UK Independence Party (UKIP). UKIP is often labeled a right-wing party, and while some members disdain this characterization, many do advocate for tradition right of center policies such as stringent immigration restrictions and the mandatory promotion of nationalistic "British values." Since its founding in 1993 on a Eurosceptic platform, UKIP's supporters have touted the party's grass-roots, populist identity that, for them, offers an alternative to Britain's more established political parties. In this sprit, UKIP was the most fervent collective voice for the Vote Leave campaign in Sheffield and the entire South Yorkshire area. I arrived in this region a few weeks before the referendum to conduct fieldwork on why people get involved with and support UKIP. In the tumultuous events of the referendum and following months UKIP's supporters have celebrated and struggled with the party's unexpected success.
Referendum night
The referendum invigorated UKIP's supporters and several local party branches eagerly accepted my proposal to shadow their members in the final weeks of their campaign. Withdrawal from the EU was UKIP's founding purpose, and the party's supporters had been campaigning on this platform for more than 23 years. Many of the most active Leave campaigners were new to UKIP, brought to the party largely by its antipathy towards the EU. One woman, Amy, told me she'd long associated UKIP with the far-right British National Party, whom she described as "Nazis." A longtime Liberal-Democrat voter, she decided to learn more when the referendum began appearing in news headlines. Amy told me about the hours she spent online, reading news articles and commentary related to Britain's membership in the EU. She was particularly drawn to sites like Breitbart and Russia Today. This research led Amy to UKIP and she told me about her concerns for Britain's sovereignty as a member of the EU and her anxieties about immigration and its impact on "British culture"—issues she believes UKIP addresses in ways other political parties do not. She became a fully paid up member of the party two weeks before the referendum.
Hostility to the EU had formed the uniting feature around which supporters from the left, right, and center of British politics, working class and middle class all coalesced.
About 30 UKIP activists attended the vote count, serving as election monitors, to ensure votes were sorted and counted properly. Parties, from the Remain camp also sent representatives to oversee the process. I chatted briefly with a few Labour supporters, bright red rosettes pinned to their shirts. Early in the evening, these Remain campaigners seemed confident, and assured me the count would soon reveal that Sheffield, and the rest of the country, had voted to remain part of the EU. In contrast, UKIP's Leave supporters appeared resigned to their eventual defeat. Before polls closed, the party's then-leader Nigel Farage
told a SkyNews interviewer
, "Remain might just nick it."
As the night wore on, the room grew increasingly tense and the Remain supporters' faces grew more worried. Their concern was matched by an increasing sense of cautious glee among UKIP's Leave advocates. Though the mood in the room was shifting, nothing was official until just after 3 a.m., when a bespectacled man in a dark suit climbed onto a small stage erected in the corner of the gym. He announced the local referendum result, reading from a single sheet of paper: Sheffield had voted to leave the EU by more than 50,000 votes. UKIP's members reacted with thunderous joy. The national result was still unknown, but Sheffield's UKIP Leave supporters celebrated their local success enthusiastically. Word of the Leave campaign's nationwide victory, delivered around 4:30 a.m. via a BBC breaking news alert, was celebrated less boisterously by the small handful of exhausted, shocked, and pleased Leave supporters who stayed at the gym until the very end. As we walked out of the sports center into the early dawn light, one UKIP supporter was still repeating to herself, "I just can't believe it. We won? We won."
Post-referendum struggles
In the days that followed, UKIP activists responded to the result with a mix of shock, incredulity, and elation. Jeremy, a longtime UKIP supporter, told me he was excited to "milk the election" and empower UKIP's leaders to advocate for reforms to trade, immigration, judicial, and fisheries policies. Amy was also enthusiastic for future change. She saw the referendum result as an opportunity for greater political unity, particularly within UKIP and among Leave supporters more broadly.
Even Nigel Farage's resignation as long-time party leader two weeks after the vote did little to deter the triumphant mood. However, as the election for one new leader got underway, and after her perfunctory resignation necessitated a second leadership race, the people I know struggled with their vision for a post-referendum UKIP. Hostility to the EU had formed the uniting feature around which supporters from the left, right, and center of British politics, working class and middle class all coalesced. With this common cause achieved, UKIP's strategic and ideological divisions became increasingly apparent.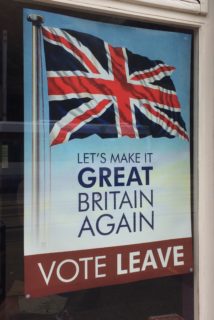 At a local branch meeting, just days after the referendum, the chair lauded the party's success but prompted the assembled members to "concentrate on becoming a very effective local opposition" to the majority Labour city council. "We've gotta reinvent ourselves…show them that we're a political party that can take them on," he declared, adding, "UKIP is not a one trick pony." Members spent the meeting debating how to realize this political reinvention. Some argued for focusing on a "positive, issue-based local manifesto" while others wanted to concentrate on "hammering" Labour councilors in order to drive supporters towards their own UKIP candidates.
Struggles over how to position UKIP without the EU as a rallying point continue. I shadowed a group of activists one sunny weekend as they distributed leaflets during their town's market day. I was struck by the fact that both in the leaflets and in their conversations with passersby, the activists' discussion of UKIP itself was minimal. Instead, they repeatedly invoked the referendum by saying things like, "We voted out and now we need to make sure we get out." This tactic highlighted the activists' struggle to identify a new post-referendum message that wasn't dependent on the party's well-known opposition to the EU.
As they try to reframe the party's purpose and identity, UKIP's leaders may be shifting strategic focus onto local and national elections in working class regions in the north of England and the Midlands, where the Labour Party has long dominated. Earlier this year, UKIP's new leader, Paul Nuttall, ran in a hotly-contested by-election in the Labour stronghold of Stoke-on-Trent. This campaign was heralded by several people as a sign of UKIP's new focus. His loss to the Labour party candidate was bemoaned by several Yorkshire UKIP supporters as further evidence that the party remains hampered by its own success. At a recent branch meeting several members lamented that Nuttall's defeat in Stoke was due, in part, to his campaign's myopic focus on the EU, rather than local issues. At another meeting, one member, Dean, opined, "In many ways we would have been better off if we just lost the referendum, rather than just won it." Had that happened, the party would still have its clear, unifying political mission.
Access and ethical concerns
UKIP supporters are eager to explain their political perspectives and their reasons for joining the party. This willingness to share with me, as one UKIP supporter put it, to "educate" me, leads me to wonder if they assume I'm naïve or lacking in understanding, possibly due to my age, gender, nationality, or some combination thereof. While I am grateful for the trust and access they have granted me, this research experience has made me unavoidably aware of my positionality and my ethical responsibilities. I am frequently conscious of the fine line I walk as a researcher among people with whom I often disagree.
My own political views are progressive and while my research is motivated, in part, by my genuine desire to understand the concerns and motivations of people with other political viewpoints, I am also troubled by the effects UKIP's policies have on British society. While I never lie, I still struggle with how to address my motives and concerns with people I meet through my fieldwork. I try to remain consistently mindful of my role as a researcher. I don't believe my primary goal should be to argue with my interlocutors—I pose questions, I take an interest, and I listen.
People who support UKIP care deeply about the society in which they live and are anxious about its future. They believe these anxieties are too frequently dismissed and minimized by the politicians they once expected to resolve them. In UKIP they see leaders who care about their concerns and a party that speaks to their issues in ways they understand. However, in less than a year since the EU referendum, UKIP has lost two party leaders and its only Member of Parliament. At local meetings, and campaigns, UKIP supporters continue to grapple with how to refocus their party and its purpose in the new political environment that they helped to create. My job as a researcher is to continue learning why people have put their faith in UKIP's populist right agenda and what that could mean for the UK and beyond.
Jeanne Hanna is a PhD candidate in public anthropology at American University. She is presently completing ethnographic fieldwork among members and supporters of the UK Independence Party (UKIP) in Yorkshire, UK.
Feature image: "Banksy does Brexit." Duncan Hill/Flickr CC BY 2.0
Hanna, Jeanne. 2017. "UKIP after the Referendum." Anthropology News website, May 18, 2017. doi: 10.1111/AN.457