President Introduces New Term into Counterterrorism Lexicon
President Trump embarked on his first international trip since moving into the White House after a special counsel was appointed to investigate his campaign's ties to Russia and concerns about obstruction of justice. Each day leading up to his departure brought a fusillade of damning reports about his fitness for office as all eyes turned to how he would comport himself overseas. 
Trump delivered a speech that not only attempted to take the advice of his new national security advisor, H.R. McMaster, but also adopted some of the distinct themes of the Bush "war on terror" narrative to formulate his message on terrorism.
What would the man who initiated a "Muslim ban," embraced the term "radical Islamic extremism," and peddled the totalizing view that "Islam hates us" say at a major address to Arab and Muslim leaders in Saudi Arabia? As it turns out, Trump delivered a speech that not only attempted to take the advice of his new national security advisor, H.R. McMaster, but also adopted some of the distinct themes of the Bush "war on terror" narrative to formulate his message on terrorism.
On the advice of McMaster, the Trump team attempted to replace his preferred terms "radical Islamic extremism" and "radical Islamic terrorism" with "Islamist extremism" and "Islamist terror groups"—in other words, opting for Islamist over Islamic to avoid broadly denouncing the entire Islamic faith. At least those were the terms written in his prepared remarks. In his actual remarks, he talked of "confronting the crisis of Islamic extremism and the Islamists and Islamic terror of all kinds," using both Islamists and Islamic extremism/terror. The New York Times cited an aide who chalked up the discrepancy to "an exhausted guy," claiming that Trump "had tripped over the term, rather than rejected the language suggested by his aides."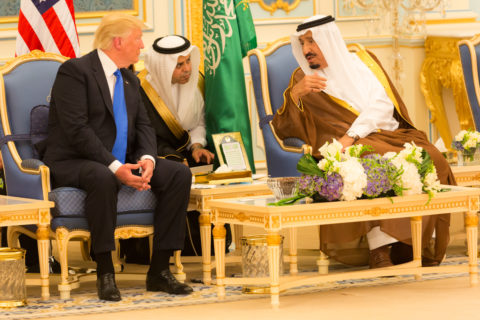 Exhaustion appeared elsewhere in the Saudi Arabia speech as Trump attempted to move away from his rhetorical war against Islam. He adopted the reasoning of President George W. Bush, who often emphasized "that the war against terrorism is not a war against Muslims," that it is "a war not against a religion, not against the Muslim faith." Despite stumbling over the prepared remarks, Trump conveyed the idea that "this is not a battle between different faiths, different sects, or different civilizations." His prepared remarks went on to claim, "This is a battle between barbaric criminals who seek to obliterate human life, and decent people of all religions who seek to protect it." Trump introduced a small intertextual gap during his performance to instead say, "This is a battle between barbaric criminals who seek to obliterate human life and decent people, all in the name of religion—people that want to protect life and want to protect their religion." His delivery missed the opportunity to rhetorically unify "all religions" against the "barbaric criminals," but the basic message holds that it is not "a battle between different faiths."
But if not a battle against religion, then a battle against what? Throughout the speech, Trump further channeled Bush to present the battle as an ideological struggle. In his "war on terror" narrative, Bush readily framed the conflict as akin to the struggles against "all the murderous ideologies of the twentieth century," branding it "the decisive ideological struggle of the twenty-first century," and referring to the "murderous ideology of the Islamic radicals." For his part, Trump took this theme of an ideological struggle and, with his fondness for gratuitous modifiers, spoke of the "wicked ideology," "craven ideology," and "violent ideology" of terrorists. Two days later in Israel, Trump added "hateful ideology" and "evil ideology."
Evil, rather than a frivolous adjective, represents a major theme in both Bush and Trump's descriptions of the struggle. As Bush frequently exhorted, "We're taking action against evil people." "It's a war against evil people who conduct crimes against innocent people." "Our war is a war against evil. This is clearly a case of good versus evil, and make no mistake about it—good will prevail." Likewise, Trump plainly stated, "This is a battle between good and evil," and called terrorists "the foot soldiers of evil," as he continued to embrace the dualistic, Manichean division of the world established in Bush's "war on terror" narrative.
Despite efforts to play down the conflict as one between religions, the religious connotations of "good versus evil" in the language remain. Annita Lazar and Michelle M. Lazar (2004) coined the term (e)vilification "to highlight a particular and powerful kind of vilification, one based upon the spiritual/religious dichotomy between 'good' and 'evil.'" They explain, "As a strategy of out-casting, (e)vilification effectively banishes the other from the moral order that is fundamentally good and godly, and invokes a moral duty to destroy that evil." Although Trump has not adopted Bush's "war on terror" moniker to refer to the conflict, he follows the good versus evil binary to its destructive conclusion as he rhetorically embraces an ideologically-driven war of annihilation. As Trump said in Bethlehem a few days after leaving Saudi Arabia, "This wicked ideology must be obliterated—and I mean completely obliterated," or as Trump emphasized in his inauguration speech, "eradicate[d] completely from the face of the earth."
Of course, in his inauguration speech, Trump spoke of eradicating "radical Islamic terrorism," a term that, at least on this trip abroad, he tried to avoid while looking to President Bush's established terrorism narrative to articulate his own administration's doctrine. In his scripted speeches—and especially in his unscripted remarks—Trump is no Bush. In typical Trumpian style, he found his own new term of art to replace his previously preferred but problematic one. As he reacted to the tragic Manchester bombing, Trump chose to call the ISIS-linked perpetrators "evil losers." He elaborated, "I will call them from now on losers because that's what they are. They're losers." With that, Trump may have made his most sensible promise yet.
Adam Hodges is a linguistic anthropologist specializing in political discourse. His books include The 'War on Terror' Narrative: Discourse and Intertextuality in the Construction and Contestation of Sociopolitical Reality (2011, OUP), and his articles have appeared in Discourse & Society, Journal of Linguistic Anthropology, Language & Communication, and Language in Society.
Cite as: Hodges, Adam. 2017. "Trump Echoes Bush in Middle East Visit." Anthropology News website, June 1, 2017. doi: 10.1111/AN.467