The Polish Constitution extends western-style democratic rights to citizens, immigrants, refugees, and minorities. Even in the case of martial law, "Limitation of the freedoms and rights of persons and citizens only by reason of race, gender, language, faith or lack of it, social origin, ancestry or property shall be prohibited" (article 233, §1). These principles are in line with the European Union legal system, and provide a solid warrant for protection of basic rights.
Polish democratization in the 1990s was accompanied by an educational boom. The proportion of students (19–24 years old) rose from ca. 10 percent in 1989 to more than 50 percent in 2006, and continues at this level. This impressive increase in the educated population seemed to provide a strong basis for a civic education and respect for democratic and humanistic values.
However, xenophobic undercurrents have always been present here, as elsewhere, and erupt from time to time. In Poland, the last outburst of racial prejudice occurred in 1968 during an anti-Semitic campaign incited by the communist regime. After this time, and especially after the democratic reforms in 1989, chauvinistic groups were seen as the insane margin of society.
In addition to these marginal groups, there is a more ideologically blurred conservative drift in society, including fundamentalist Catholics, moral purists, radical nationalists, and self-proclaimed flag-wavers, with soccer hooligans in the forefront. All of these defend the nation, which is supposedly endangered by a variety of external and internal enemies. Anti-Semites, anti-cosmopolitans, anti-modernists, anti-immigrants, anti-multiculturalists, anti-abortionists, anti-feminists, and anti-Europeanists have clustered under nationalistic banners. Highly politicalized cultural wars accompanied by defaming labels are going on in Poland, as in many other parts of the world, including the EU and the US.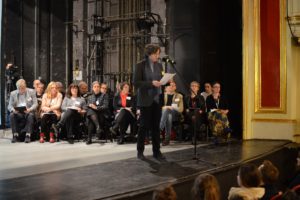 Not surprisingly, the so-called refugee crisis in 2015 strengthened the conservative camp and anti-Semitism has easily transformed into anti-Islamism. There are various reasons for this. My longer discussion of this transformation [story] can be reduced to factors such as economic precariousness, which cannot be diverted by the growing level of education. It translates into cultural racism and cultural anxiety in which all "Significant Others" appear as scapegoats. Historically grounded negative orientalism based on religious enmity combines with modern fears of "Others" from "distant and alien cultures" purportedly endangering Christian Europe and its values.
Nevertheless, it has come as a shock that freedom of speech, enabled by social media's potential for free expression and anonymity, has contributed to the enormous proliferation of openly chauvinist and racist discourses in a nation where collective memory of a Nazi terror and racism is still vivid. Poland is an ethnically and religiously homogenous country with less than 1 percent Muslims, 3–4 percent ethnic minorities, and a low number of immigrants. However, since the Law and Justice party took power in 2015, hate speech is tolerated not only on the streets and soccer stadiums, but also in political statements and in the churches. In such a political milieu of phantom Islamophobia, violence against "non-whites" is disregarded by top state officials, police and persecutors.
Anthropologists in Poland have acted as whistle blowers whenever constitutionally protected individual or collective rights were abused. They have worked for many organizations, including the Association Against Racism "Never again." Many of us have been engaged in educational efforts including, for example, giving extra-curricular classes to children and teachers, delivering public lectures, offering practical courses in multicultural education, writing for the media and often taking care of immigrant needs.
Let me provide some examples of activities undertaken by a group of anthropologists known to me. The Center of Migration Studies at Adam Mickiewicz University in Poznan (CeBaM), founded by anthropologists in 2009 and now including academics from other disciplines, established Migrant Info Point, which extends help to thousands of immigrants in the city and region. The Center also founded an anti-discriminatory Open Coalition Common Poznań and the Foundation CeBaM to engage in NGO activities. In the summer of 2015, CeBaM issued what is probably the first official protest against the attitude of the authorities towards refugees. In September 2015 it organized a public demonstration in the city under the slogan "Refugees are welcome." After all, Poland ratified the Geneva Convention in 1991, and its statues says that "foreigners shall have a right of asylum in Poland" and those "who seek protection from persecution, may be granted the status of a refugee" (article 56).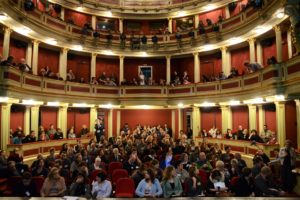 Although growing hostility towards immigrants can be observed elsewhere, Polish anthropologists are eminently resolute in activities against racism and xenophobia. It is the only country-wide academic community to unite against the rightest turn to demagoguery. In early autumn 2015, the Polish Ethnological Society issued a statement against intolerance. On November 23, 2016, the Department of Ethnology and Cultural Anthropology at the University in Poznań initiated a nationwide Special Convention of "Anthropologists Against Discrimination" at which a Manifest was accepted by acclamation. This meeting received worldwide support from anthropological organizations and departments, including the AAA. This meeting agreed further coordination of anti-xenophobic initiatives, following the model of the Center for Migration Studies. Many of us are determined to take measures to counteract all forms of discrimination in the society and blatantly resist politicians who in their speeches and acts support it. Article 13 of the Constitution says that political parties which follow "the modes of activity of nazism, fascism and communism, as well as those whose programmes or activities sanction racial or national hatred" shall be prohibited. This tenet, which is obvious to anthropologists, should be respected everywhere, and those violating it condemned whether they are soccer fans, party leaders, or state presidents. For this, I hope, united we stay!
Michal Buchowski is professor of anthropology at Adam Mickiewicz University in Poznan and European University Viadrina in Frankfurt. He is president of Polish Ethnological Society, and former president of EASA and chair of the WCAA. He works on Central Europe, migration, and multiculturalism. Most recent publications include co-edited volumes Rethinking Ethnographies in Central Europe and New Ethnographies of Football in Europe.
Leslie Aiello and Alexandre Duchene are Co-Chairs of the Committee on World Anthropologies.
Cite as: Buchowski, Michael. 2017. "Polish Anthropologist against Discrimination." Anthropology News website, June 9, 2017. doi: 10.1111/AN.478