For our students, talking about kinship may be fraught with pain and discomfort
With an increasing number of refugees on my campus, I will possibly be asking more students each semester to create kinship charts representing families that may be scarred by geographical separation at best and genocide at worst.
In the 2002 second edition of
Strategies in Teaching Anthropology,
Jeffrey H. Cohen provided guidelines for "making kinship relevant" to our students. His recommendations include asking students to make kinship charts and/or family altars. Cohen also suggests that most of our students come from nuclear families and that other configurations, including single parent households, "are more than likely as alien to them as the polyandry that textbooks describe among the Paharis." This may have been the norm in his classroom in 2002, but
it is likely not the norm for many classrooms today
.
In fact, students today bring a large variety of familial experiences to the classroom with them, experiences that, for the safety and comfort of our students, don't necessarily need to be made public. I propose that we find alternative ways to make kinship relevant to our students.
Different kinship experiences
Until this past semester, I required my Introduction to Cultural Anthropology students to spend time making kinship charts in class, as is the case in many introductory anthropology courses. Students shared these charts with each other, and talked about family traditions and rituals that have shaped their lives. Many students reported really enjoying the kinship task and learning about their classmates' families, and it provides a hands-on activity in a class that can all too easily become lecture and discussion heavy. However, over the last few years I have come to question the privilege I held by thinking this would be a fun learning experience for all of my students. These realizations include but are not limited to the following points, each recognized while observing students discuss their families in groups or through follow-up conversations with students:
Students who have lost children were pressured to talk about this with their classmates even though some were clearly not ready to do so. Others reported leaving a deceased child off of their kinship chart so that they would not need to talk about their loss, but later felt great guilt over omitting them.
Students from single-parent households (or heading single-parent households) were sometimes compelled to admit that they have no knowledge about the absent family member/s. Though some were comfortable discussing this, others were clearly not.
Since group discussions regularly lead students to ask each other about family occupations and location of residence, students without documentation (most of whom are not initially known to me as possessing such status) were pressed to talk about their family in a way that may have made them feel vulnerable.
Students in or from the foster care system were sometimes unable to or unwilling to discuss their birth families but lacked a close enough connection with any of their foster families to consider them kin. Rather than teaching these students about an anthropological method, this was for them an exercise that did little more than highlight their lack of a family.
Searching for solutions
I came to feel that group presentations highlight the inequities in familial experiences in a non-productive way. These inequities can (and should be) discussed in class, but in a way that does not shine a spotlight on specific students and their experiences. So, this past semester, I removed the "presentation" and "family traditions" aspects of this assignment. However, I still asked students to create their own kinship charts. I hoped this modification alone would protect students from feeling vulnerable in front of their classmates, but, as I walked the aisles and watched students make their charts, it hit me: now, they may not be required to verbally share details with their classmates, but I was certainly still forcing some of them to suffer through a variety of losses or injuries in public. For example, I have slowly learned that while many of my students come from families free from tragic losses or trauma, others have lost family members to military service, drugs, prison, gang violence, suicide, or death while crossing the border. And with an increasing number of refugees on my campus, I will possibly be asking more students each semester to create kinship charts representing families that may be scarred by geographical separation at best and genocide at worst.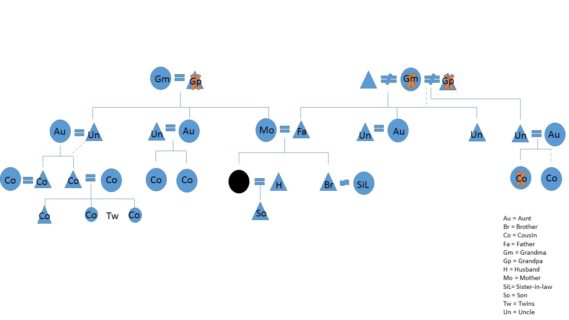 Additionally, students with a history of physical or sexual abuse in their families were forced to think—in public—about the abusers in their family tree, thus re-victimizing them. Since many instances of sexual abuse happen by people considered family, and since we now know that a quarter of young women and one sixth of young men will experience sexual abuse before they turn 18, it is likely that multiple people in our classrooms are victims of such abuse.
As such, rather than an in-class kinship exercise, I will give my future students the option to complete an extra credit kinship chart assignment. For this assignment, I will not ask them to explore their own family, but will instead ask them to make a kinship chart of famous historic families (like the Tudors, Ptolemies, Kennedys, Jeffersons/Hemmings, and so on) or fictional families (like those from Harry Potter or Game of Thrones). They will also be asked to write a short essay about what kinship relationships in their chosen family tell us about family organization, economic organization, religion, power, and/or politics. Students will have already explored this in class by looking at several anthropological examples and will thus be well prepared to do the exercise.
There are alternative methods by which to explore how useful kinship charts are in certain projects—and why they are considered a "classic" ethnographic method—without putting our students' private experiences on display. There are ways to explore this without asking our students to externally or internally relive traumatic experiences. There are ways to explore this without inadvertently putting our students in danger due to their sexual orientation or citizenship status, for example. As a discipline so committed to social justice and equality, and as teachers hoping to impart knowledge in a safe environment, it is our duty to seek out these alternative methods. It is our duty to move beyond, and away from, the kinship chart exercise.
Cerisa R. Reynolds is assistant professor of anthropology at Aims Community College in Greeley, Colorado. She has been teaching anthropology courses for more than a decade and is constantly seeking out new ways to help students become excited about this dynamic field while also honoring their experiences and perspectives.
Cite as: Reynolds, Cerisa. 2017. "Privilege and the Kinship Chart." Anthropology News website, June 12, 2017. doi: 10.1111/AN.481.