South Sudanese refugees reshape institutional and social spaces into "ethnic refuges" that resist assimilation and promote community well-being.
This article is part of the Maintaining Refuge series.
On July 9, 2011, hundreds of South Sudanese refugees gathered on the Tufts University campus to celebrate the birth of their new nation. The ceremony mirrored a similar, but far larger, event that occurred hours earlier in Juba, when the flag was raised inthe Republic of South Sudan for the first time. News footage that replayed on satellite television in South Sudanese homes for months afterwards showed thousands of people watching military parades and dignitaries celebrate the peaceful secession of South Sudan. On the Tufts campus, the small-scale mimesis of the event transformed an institutional space into an ethnic one.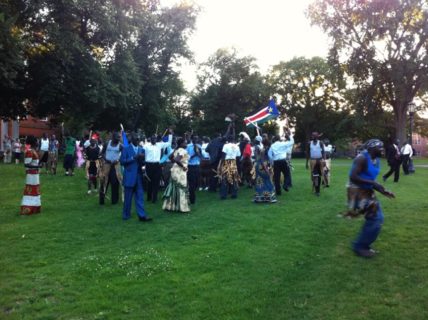 Since the Trump administration's recent travel ban, a welcome public discussion has begun on the value of the United States refugee admissions program. Less commonly discussed are the long term, everyday experiences of refugees as they seek to live a good life in resettlement spaces. Adjusting to the individualism, bureaucracies, cultural expectations, and high cost of living in the US can be challenging—sometimes even traumatic—for resettled refugees. Resettlement agencies, social services, and refugee support NGOs can unwittingly contribute to the high stress of resettlement in both the short and long term. One of the ways that South Sudanese refugees in Massachusetts manage the difficulties of resettlement is by reshaping institutional and social spaces into "ethnic refuges" that resist assimilation.

On the Tufts campus in July 2011, South Sudanese children roamed without supervision, dishes like kisra, asida, and combo were served potluck style and consumed from informal seating on the floor and outside, Dinka language choirs performed, local members of the Sudan Peoples Liberation Army demonstrated their martial prowess, and dancers covered in white paint and wearing animal print cloth dominated the lawn. This was a particularly important cultural moment, necessitating the full performance of ethnic pride. However, when the community occupies smaller spaces, they also do so in ways that remake those spaces as ethnic refuges.

Unsettled resettlement

Ethnic refuges can serve as preserves of safety and dignity that help to combat the trauma of resettlement and foster social cohesion, but they function best when they are refugee-initiated and flexible.

While the opportunity for resettlement and the institutional support refugees receive are invaluable, the longer term processes associated with resettlement can be difficult. Many refugees, even highly educated ones, struggle to find employment that pays a living wage, and so holding two or more jobs is common. Because higher education and most English language learning opportunities cost money, many refugees struggle to access them in ways that coordinate with their paid work. For people who grew up in a rural war zone, like most South Sudanese refugees, these challenges are intensified by the fact that accessing resources such as work, transportation, higher or continuing education, driver's licenses, health care, and child care requires a level of English literacy that the majority do not possess on arrival. And because all these resources are interconnected, the inability to access one impacts the ability to access another. For example, if you cannot read the questions on the learner's permit test, how can you get the permit? If you have to take it multiple times and the registry of motor vehicles is located far away, how can you get there without a driver's license? If your spouse works two jobs and you have three children, how can you make time to get there in the first place?

The micro-level nature of these difficulties make it challenging to obtain support, and even refugees who gain access to services may find this traumatizing. For example, stories circulate within the community of Department of Children and Families (DCF) interventions that strip families of their children, which reinforces a distrust of many child-focused US institutions. In one case, a doctor informed a mother that if she could not get her two-year-old son to gain weight, they would call social services. Others express fears that "If you leave your kids with your neighbor, or ask your neighbor to watch your kids while you go do something, and then your kids are loud, then a neighbor may call the police on you and child services may get involved." In another case, a man was clearing snow off of his roof while his young child was below on the ground. A piece of ice fell and hit the child, causing a superficial wound. When staff at the child's school saw the injury, they called DCF, requiring the intervention of South Sudanese community leaders to protect the family.

Ethnic refuges

As these struggles indicate, resettlement is not always experienced as unqualified sanctuary, but ethnicized spaces can serve as temporary refuges that improve well-being. While South Sudanese regularly transform event spaces—inside and out—for parties that feature food, dance, and South Sudanese style wrestling, these former refugees also convert more ordinary spaces into ethnic refuges. I identify four markers of an ethnic refuge: tea, language, time, and children. Together, these components constitute a safe and welcoming context for South Sudanese families no matter what the space.

Serving tea in the home is a key element of South Sudanese hospitality, but in institutional spaces like the public school where a weekly South Sudanese children's education program is held, preparing tea is a more informal, but necessary, part of occupying the space. Paper cups and Lipton black tea replace the ornate tea services of the domestic space, and adults prepare multiple cups and hand them around to others with the gentle inquiry, "Shai?" They drink it all afternoon while Dinka (the dominant language among South Sudanese in Massachusetts), and occasionally Juba Arabic (the South Sudanese Arabic dialect), fill the room. Dinka and other ethnic languages from South Sudan are important parts of refugee identity, but they also serve to mark the space as a sanctuary for communication and expression. These are also child-filled spaces, in which babies are constantly present and older children filter in and out. The needs of children, whether feeding, assistance, or comfort infuse the space, as South Sudanese child rearing ideology privileges comfort and contentment over all other priorities.

Perhaps most significant is the pace by which such gatherings proceed. Rather than conform to prescheduled start and finish times, South Sudanese foreground tea, conversation, and childcare before participating in any given activity, whether meetings, tutoring, guest speakers, or classes, all of which are frequently planned for adults during the education program. Thus, by slowing the timing of the activity, they often resist participation in certain programming, such as an exercise program devised by the directors of the NGO, or force the programming to adjust to their needs and schedule. Volunteers and employees of the NGO frequently expressed frustration about schedule flouting, but ultimately the program functions most smoothly if the NGO adjusts its expectations to the community's pace and permits the ethnicizing of the space. The education program has thrived not in spite of, but because it has become such an ethnic refuge for adults and children.

Similar ethnicizing strategies are also at work in the temporary takeover of an Episcopal church every week for Dinka language services. While South Sudanese families identify with a range of Christian denominations, they gather at this church to "pray together" because they need to, according to one man, "speak our language in order to speak to God." A Dinka pastor from another state travels to Massachusetts to give the sermon and South Sudanese regional choirs perform Dinka language hymns. Children also figure prominently in the church as an ethnic refuge. They are not separated from parents in a Sunday school setting as is common in other churches, but will move in and out of pews to sit first with one parent, then the other, and then later with a friend. They treat the aisles as an ideal viewing place for the service or for dancing to the choir music. While this is a worship rather than a social gathering like the educational program, tea often appears after the service when the congregation retreats from the nave to a meeting room in the back. Church attendance and Christian faith is obligatory for most South Sudanese refugees in Massachusetts, but simply attending one's denominational church is not enough; this community attends those local churches in the morning and then seeks out this shared ethnic space in the afternoon to speak to God and each other.

Refugees again

The optimism and promise with which South Sudanese welcomed their new nation in 2011 has been betrayed. Now, South Sudan is in the midst of another civil war and famine. For many, this ends the hopes of return articulated during the lead up to and immediately after the secession. South Sudanese are experiencing a new wave of displacement, and more refugees have been arriving in the US through reunification procedures. While new refugee admissions are in question, there continue to be hundreds of thousands of recently arrived refugees in need of support. Ethnic refuges can serve as preserves of safety and dignity that help to combat the trauma of resettlement and foster social cohesion, but they function best when they are refugee-initiated and flexible. Good refugee integration policy and practice would be well-served by supporting such ethnic refuges as a strategy for increasing well-being, decreasing stress, and promoting community building among resettled refugees, rather than assimilation.

Anna Jaysane-Darr is an assistant professor of anthropology at Massachusetts College of Liberal Arts. Her research focuses on refugees, reproduction, neurodiversity, and global public health responses to autism.

Read all the articles in our Maintaining Refuge series here.

Feature Image: "Having Tea in Darfur" Hamid Abdulsalam, UNAMID/Flickr CC BY-NC-ND 2.0

Cite as: Jaysane-Darr, Anna. 2017. "Ethnic Refuge." Anthropology News website, June 16, 2017. doi: 10.1111/AN.486