As we enter a new deportation era migrant communities near and far from the border are getting organized.
This article is part of the Maintaining Refuge series.
Following the installation of a president who has vowed to create a "deportation force," communities with undocumented members are experiencing increased levels of fear and stress. Whether living along the literal border, or deep within the interior of the United States, undocumented people know their lives could be upended by a traffic stop, workplace raid, or a call to authorities about an abusive employer, landlord or partner. In other words, the border may not be everywhere, but its policing is.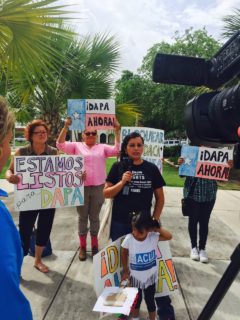 People near and far from physical US borders are taking proactive steps to live with control, dignity, joy, and to build refuge. This article showcases migrant resilience to increasing anti-migrant rhetoric, policing, and violence. I draw upon field research I've conducted in communities inside the "100-mile border zone" (an enhanced immigration enforcement zone along the US-Mexico border) as well as from research in migrant communities deep within the US interior. Since 2004 I have traveled throughout the country speaking with undocumented people for my 2014 book Life Interrupted: Trafficking into Forced Labor in the United States, about the first exploited migrants to receive trafficking visas, and for a book I am currently writing. Undocumented people live with the fear of detection and deportation every day, yet they also craft ways to maintain a sense of control, home, and belonging. In short, they build refuge. Through "border improvisations," those under assault try to live apart from the nation-state that threatens their survival and well-being, while they simultaneously live as part of vibrant parallel communities.
Snapshots of resilience and resistance
New York City
Standing in the donated office space of a Filipino domestic workers' organization in New York just days after the election, the member-organizers ticked off a long list of calls and emails of support they had been receiving from fellow migrants' rights organizations. "I'm feeling so anxious," explained one member holding out her shaking hands. "I now look around on the subway and other public spaces." Since many of the organization's members are undocumented, they went into organizing overdrive. They hold "Know Your Rights" workshops most weekends and, for the first time, they are opening their doors for walk-ins Thursdays through Sundays. Overnight the cramped office became a migrants' rights storefront. An organizer explains, "We are trying to be strategic. We can't wait for a raid and then react." For the Filipino community, they have become a refuge that is a beacon of knowledge and assistance regarding how to stay safe. Nonetheless, staff members were surprised to learn that a woman in Texas had heard about their organization. One said, "She took a bus for two days—without any food—and showed up at our door with her luggage!"
Like so many workers' rights and migrants' rights organizers around the country, these domestic worker organizers are worried that instances of exploitation are going to skyrocket. Trafficking—laboring under conditions of force, fraud or coercion—will no doubt increase. Ivanka Trump recently hosted an anti-trafficking meeting in the White House, seemingly unaware that her father's threats to build walls, ban Muslims, and round up our neighbors will increase the abuse of undocumented workers. Employers who rely on intimidation, threat, and abuse as a way to do business are having a field day; those without documentation will not challenge let alone report exploitation. Who is going to blow the whistle? A lead organizer confidently explained that by holding rolling "Know Your Rights" workshops, the organization is "training an army of domestic workers" who can spot trafficking as it's unfolding. "You don't need a lawyer to know you are trafficked. You should be able to decipher this. You should be able to calculate your hours and wages."
Washington, DC
The migrants' rights communities where I live in Arlington, Virginia and in the greater Washington, DC area are also proactively building protections. There are multiple meetings every week to choose from: launching a sanctuary movement across faith communities, assembling rapid response teams in the event of ICE raids, and offering power of attorney workshops to secure one's assets and prepare for separation from children. It became abundantly clear that we are in a new era of extreme fear of deportation when lines began forming outside of a nondescript office park building on a Saturday morning for a workshop on family preparedness co-sponsored by Arlington's Department of Human Services and the Guatemalan Consulate. Inside, it was standing room only. People lined up to photocopy their passports and other documents and to speak with volunteers about setting up power of attorney. Among the volunteers were "Dreamers' Moms," a mix of undocumented mothers and documented allies from their Catholic church. First formed to lobby for DAPA (Deferred Action for Parents of Americans), of late they race from "Know Your Rights" workshop to workshop. Womanning a table in their pink tee-shirts, they dispense legal knowledge with greater ease than the attorneys in the room who are new to immigration law.
A middle-aged county worker dressed as the children's clown La Chilindrina skipped with children into another room with snacks and art supplies while the adults got to work. The advice was rapid fire in the central meeting room: register your children as Guatemalan citizens (in the event parents are deported and they want to send for citizen children), do not open the door without asking for a warrant signed by a judge, and do not drive without a license. This was tough advice to hear. The crowd needed uplifting. A Consulate employee rallied the somber room with chants of "Viva Guatemala" and ended on a note of control and dignity, "We will remain in this country and continue to grow. Be careful and comport yourself well. Do not call attention to yourself in the street. Keep your head high. If we go back it will be because we want to, on our own terms."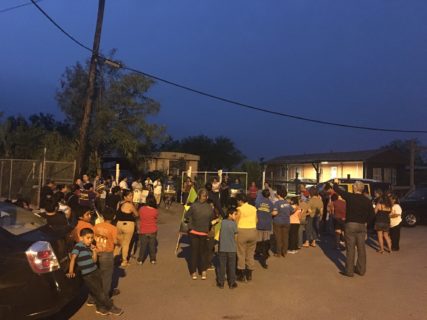 One young couple sat on the ground next to their toddler and put their heads together. The young mother, 9 months pregnant, rested her hands on her partner's knees while he put his hands over his eyes. As their toddler watched a Frozen video on a smartphone, she tucked her tiny fingers into her fleece-lined boots. This beautiful family was simultaneously making preparations for the arrival of a new baby and the possible forced departure of one—or both—parents.
Brownsville, Texas
In Brownsville, Texas, a seasoned organizer's main message is to stay calm, "We can't let panic be the driver. We are telling people to not act out of fear. We are reassuring that the Constitution and the protections it grants are still here. Nobody is above the law." Like activists around the country, she and a team of volunteers are helping families plan their response if any member is detained or deported.
Organizers in border communities long have armed their community members with rights knowledge. What's different from other locales is the likelihood of an encounter with ever-present law enforcement agents. An organizer muses what the Rio Grande Valley would look like if President Trump makes good on his promises to hire more Border Patrol agents, "We have over 3,100 agents along the border now. Plus we have state troopers and local police. That's a lot of people. We feel it." A nurse who leads an empowerment workshop for survivors of intimate partner violence tells of members of the group who when out in public have had to contend with different kinds of law enforcement agents' questions of "where they were going." She explains that in some ways these women have been through worse, noting that "They are not afraid of dealing with these men with guns. They have survived their abusers. What they are most afraid of is what could happen to their children if they are separated."
The specter of family separation haunts border communities, terrifying children who are the collateral damage in the militarization of the border. Last summer I met Christian, a bright, confident, and poised 5th grader and his 4-year-old sister. They accompany their mother Maria to protests, vigils, and house meetings. Maria has been part of successful campaigns to install streetlights in their infrastructure-weak colonia, to collect school supplies, and to offer free haircuts before the start of school. Maria proudly describes, "We wear t-shirts with the Statue of Liberty on them to rallies. So when my daughter sees a picture of the Statue of Liberty she breaks into one of our chants!"
Christian loves politics. When he learned that I am from Washington, DC he told me he wants to be a politician. He won a seat as "secretary" on his school council. A US citizen born to undocumented parents, Christian has taken part in protests to pass DAPA and has spoken with journalists. He even wrote a letter to the Texas state legislature. But he is only 10 and is "afraid I'll come home and my parents won't be here and then I'll be adopted." On the days he sees a lot of Border Patrol agents on his way to and from school he hugs his Mom when he gets home. When these agents do presentations at Christian's school, he is scared that they will ask him about his parents. "I tell him he does not have to worry, that he is a citizen," Maria explains. Christian's fear has deepened since the election. His teacher delighted in the election results, threatening him and his classmates that President Trump will deport many people living in their community.
While Trump bellows and bullies these scenes of organization and resistance are unfolding in migrant communities both near and far from the border. Communities are at-the-ready to protect their members explains an organizer in the Rio Grande Valley, "New activists were born the day after the election."
Denise Brennan is professor and chair of the Department of Anthropology at Georgetown University. She is the author of Life Interrupted: Trafficking into Forced Labor in the United States and What's Love Got to Do with It? Transnational Desires and Sex Tourism in the Dominican Republic.
Read all the articles in our Maintaining Refuge series here.
Cite as: Brennan, Denise. 2017. "Migrant Resilience and Refuge in the Trump Era." Anthropology News website, June 16, 2017. doi: 10.1111/AN.485