Reductions in refugee arrivals diminish the viability of the US resettlement program and threaten those already admitted.
This article is part of the Maintaining Refuge series.
Refugee resettlement has evolved to rely on private service provision and public funding. Since the end of World War II, the nonprofits doing the work of resettlement have shifted from unpredictable charity-based funding streams to competitive, yet dependable federal cooperative agreements. Yet, as a perennially divisive political issue that has gained dubious notoriety under the current US administration, resettlement support for the most isolated and disadvantaged refugees is in danger of atrophy.
Backgrounding US refugee resettlement
The public/private partnerships of US domestic resettlement operate on thin margins. In the short term, the smallest field offices serving the most isolated refugees are those most immediately impacted by reductions in arrivals and their associated funding.
The United States takes in about half of the world's refugees cleared for third country resettlement by the United Nations. The United States Federal Refugee Program has resettled over three million refugees—just one percent of the world's total displaced population—since Congress formalized the program in 1980. The State Department currently works with nine national Voluntary Agencies (VOLAGs) and their over 300 local field offices to provide all basic necessities and core services to refugees early in their resettlement. Six of the nine 501(c)(3) nonprofit VOLAGs are religiously affiliated. These VOLAGS constitute the private side of the government's public/private resettlement approach.
Originally sustained through private funding, today the resettlement services provided by the VOLAGs are primarily funded through grants awarded by the government. Currently, the federal grants provide a fixed per capita allocation of $1,875 per refugee. Of this, $750 per refugee is allocated to cover VOLAG expenses including staff salaries, and $1,125 is designated to cover all refugee expenses including rent, utilities, furniture, household goods, clothing, and cash disbursement for the first 90 days of resettlement. Essentially, the more refugees a VOLAG resettles, the more resources it has to resettle refugees.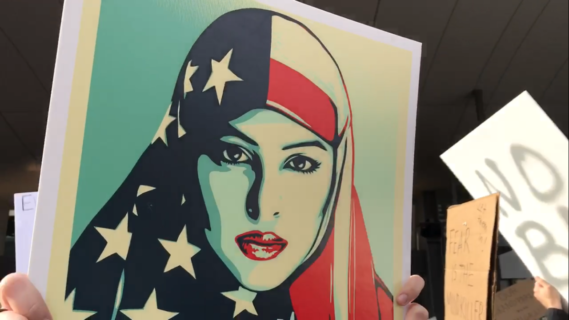 In reducing refugee arrivals from 110,000 to 50,000 in fiscal year 2017, President Trump effectively cut the funding for VOLAGs. These cuts hurt the most in smaller field offices where the funding attached to the refugees directly covers operational costs, including staff wages. After Trump first publicized his intention to cut admissions, World Relief—one of the older evangelical VOLAGs—announced a layoff of over 140 staff members across the US and the closure of five field offices. World Relief noted that these five offices had collectively resettled more than 25,000 refugees over the past four decades.
Without the support of these field offices, resettlement support falls on refugee communities. My research tracks how aspirations change during resettlement and shows that the support of established co-ethnic communities enables refugees to leverage social capital to overcome longer-term resettlement roadblocks, including limited English language skills. Refugees who could maintain long-term aspirations, such as adult education and family reunification, also perceived their resettlement as more successful than did those who focused mainly on short-term resettlement aspirations, such as relocating to apartments and early employment.
The stabilizing impact of resettlement support
In relatively new settlement communities like North Carolina's Research Triangle, refugees without access to co-ethnic social capital remain more dependent on VOLAG resources and take longer to achieve self-sufficiency. Most Research Triangle field offices opened within the last 10 years, and arrivals to Chapel Hill, Durham, and Raleigh only began increasing in 2008. There are few resources available specifically for resettlement, and access to these limited resources depends upon the ethnicity of the refugee and the city they migrate to.
The case of Kaw-Pa-Saw (age 66) and Nang-Il (age 61), who arrived in Durham, NC in 2012 from Burma by way of Thailand, exemplify this situation. Ethnically Karen, they neither spoke English nor were literate in any language. The couple arrived with their two children who were legally dependent: a 12-year-old boy and a 10-year-old girl. The couple's two other children arrived as adult single cases. Buey-Lu was between 24 and 26 years old. Undiagnosed before arrival, Buey-Lu's intellectual disabilities were pronounced and he required assistance performing basic tasks. Ka-Khin was the eldest sister and suffered from severe spina bifida. Unable to walk more than a few feet, Ka-Khin was confined to a wheelchair and required a great deal of assistance.
As soon as they arrived, the family's case workers began filing petitions to have Buey-Lu and Ka-Khin's cases reassessed as disabled cases entitled to Social Security support. The process for each case was expensive in both time and resources. Ka-Khin was especially frustrated by the frequency of required medial screenings and doctor's visits which she referred to as "personal but not human." The family was resettled in Durham, deemed the best relocation site because of its proximity to the VOLAG's main office and the amount of help the family would require every day.
Although in theory three of these adults were employable, the reality was that the family did not have the ability to earn income for many years. Kaw-Pa-Saw was able to collect Social Security immediately upon arrival, so the family had some income beyond what was provided by the resettlement agency. Nang-Il saw herself as the family's breadwinner and from the moment of arrival she worked tirelessly to find suitable employment opportunities. Despite his role as primary caregiver for his adult children and his Social Security eligibility, Kaw-Pa-Saw inquired frequently about employment opportunities in Durham's service industry.
Resettlement is location, location, location
Their Durham apartment placed the family 15 miles—two hours by public transportation—from Chapel Hill, a more congenial resettlement context. In Chapel Hill, for example, Karen refugees own their own landscaping businesses, manage restaurants, and run other companies that provide employment to new arrivals even before they can learn English. In addition to succeeding financially in the area, refugees have benefited from a positive relationship with the broader non-refugee community. For example, the Orange County Health and Human Services branch provides free on-site interpreter services and even posts that information in both Karen and Burmese on the main page of their website. There is no comparable service provided in the other Triangle cities.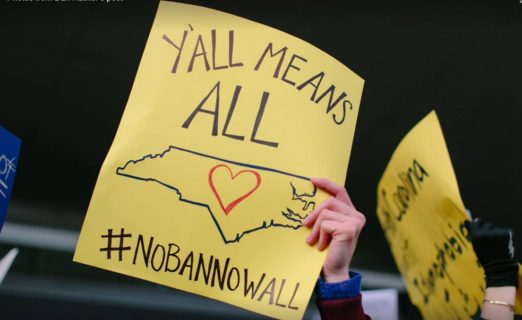 In addition to Karen-specific health outreach, Chapel Hill is home to some of the few private refugee assistance programs in the Triangle. The Refugee Community Partnership offers mentoring programs and volunteer assistance for school registration and employment networking. While open to all refugees, this program exists only in Chapel Hill and mainly serves the large Karen population that has settled in the area despite the fact that the only VOLAG field offices in the Triangle are in Raleigh or Durham.
Despite the lack of VOLAG presence and the existence of a few anti-refugee groups like the America First Committee (see photo), Chapel Hill is the most welcoming city for refugees in the Triangle. The city's distance from the VOLAGs also contributes the fact that majority of refugees in the city are Karen and most of the unique resettlement services serve primarily Karen refugees. Unfortunately, the VOLAG's requirement to directly attend to the immediate resettlement needs of Kaw-Pa-Saw and Nang-Il's children made the family's resettlement in Orange County more difficult, which was compounded by their health concerns.
Today, the family still lives in the same Durham apartment they were assigned after arrival. The younger children are in school, but they live with another family member who arrived after the nuclear family. Though they report difficulty navigating the bureaucracy of Social Security and Medicaid, Kaw-Pa-Saw and Nang-Il continue to manage the daily care of Buey-Lu and Ka-Khin to the best of their abilities. Although several years have passed since their arrival, Kaw-Pa-Saw says it is important for them to remain near their VOLAG's office because they never know when they will need help filling out paperwork, understanding bills, or interpreting their mail.
During my work with refugees in the Research Triangle, I found the VOLAG field offices function as important safety nets for individuals without access to pre-existing/already established co-ethnic communities. In new settlements, isolated or disadvantaged refugees can remain reliant on field office staff for assistance well beyond the federal-funded resettlement period. Some families, like Kaw-Pa-Saw and Nang-Il's, continue to rely on their small VOLAG field offices to navigate mundane daily challenges such as the DMV and locating medical care.
The public/private partnerships of US domestic resettlement operate on thin margins. In the short term, the smallest field offices serving the most isolated refugees are those most immediately impacted by reductions in arrivals and their associated funding. In the long term, reduced refugee arrivals also threaten to choke off the influx cycle that is an integral part of stable refugee communities. These normalizing ecosystems of healthy community provide the sustainable and individual support needed for improving both programmatically defined success rates and individual perceptions of success during resettlement.
Chris Partridge is a 2017 Phd graduate from American University. His dissertation, "Aspiring Americans: Refugee Aspirations and the Governmentality of the United States Domestic Resettlement Program," focuses on how various types of resettlement support shape programmatic outcomes and perceptions of success. His current research addresses how self-espoused anti-immigrant activists in North Carolina reconcile the foundation stories of the United States.
Read all the articles in our Maintaining Refuge series here.
Cite as: Patridge, Chris. 2017. "The Hidden Costs of Reducing Refugee Arrivals." Anthropology News website, June 16, 2017. doi: 10.1111/AN.487