Could Canada's private sponsorship program provide a model for successful refugee resettlement?
This article is part of the Maintaining Refuge series.
In September 2015, media outlets around the world were consumed with powerful images of mass forced Syrian migrations across the Mediterranean. Among these images was the heartbreaking photo of three-year-old Aylan Kurdi, who was found drowned on a Turkish beach after the boat he was travelling on capsized. This single image showed the severity of the ongoing conflict in Syria, the extreme lengths people take to escape war, and the urgency for international cooperation to address what has been called "the biggest humanitarian and refugee crisis of our time" (UNHCR, 2016). This image also provoked a call for governments to open previously closed borders to Syrian refugees. Like countless other Canadians, I was devastated when I heard reports that Aylan and his family were attempting to reunite with relatives in British Columbia (BC). As I searched for a way to offer assistance I learned about Canada's refugee sponsorship program and began to pursue research on Syrian refugee resettlement in the region of Canada where I live. —Stacey
Finding solutions for the world's refugees
With a record 65 million people forcibly displaced around the world, including nearly 12 million people from Syria, the fate of those uprooted by conflict, violence, and persecution is a prominent topic among governments, academics, NGOs and in households across the globe. The United Nations High Commissioner for Refugees (UNHCR) emphasizes three "durable solutions" to assist and protect refugees: voluntary repatriation, local integration, and resettlement. Unfortunately, these traditional approaches are not meeting the needs of millions of people who remain displaced due to prolonged conflict in their home countries, heightened border controls, hostilities to foreign nationals, and the limited availability of resettlement options abroad. As a result, concerned countries are now exploring new ways to confront both emerging and protracted refugee situations. Among these is the innovative option to open channels for increased mobility that would allow refugees to avoid "irregular" and/or undocumented movements, build on their transnational linkages, and create their own solutions. For example, Syrians' transnational family connections in Europe, Australia, the United States, and Canada might be drawn upon to initiate resettlement arrangements (see Figure 1).
Private refugee sponsorship in Canada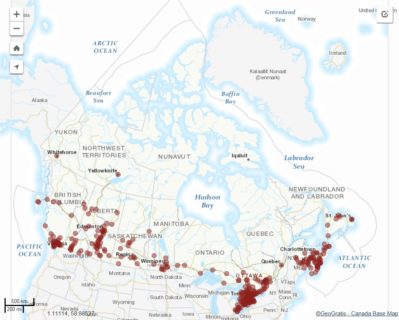 Canada has a long history of providing refugee protection through resettlement. The Private Sponsorship of Refugees Program (PSRP) is a unique approach to resettlement that grants permanent residency to refugees, over and above government-assisted quotas, by engaging Canadian citizens and permanent residents to provide financial and social support during the initial phase of resettlement. To be eligible for sponsorship, refugees must be outside of Canada and meet the definition of one of two refugee classes as defined in Canada's Immigration and Refugee Protection Act (IRPA). One of the most distinctive features of the program is the potential for sponsors to name the refugee(s) they want to support, thus allowing people to use their transnational networks to assist friends, loved ones, and others they know who are in need of aid. Not surprisingly, "about 95 percent of privately sponsored refugees are picked by their Canadian family or friends who came here as refugees before them and are now resettled" (Denton 2016).

Among these is the innovative option to open channels for increased mobility that would allow refugees to avoid "irregular" and/or undocumented movements, build on their transnational linkages, and create their own solutions.

Groups of five or more individuals and organizations can opt to sponsor refugees through various government-managed programs. Once approved, the sponsorship group is responsible for supporting the refugees during their first year in the country. This usually includes paying for food, housing, clothing, and other day-to-day expenses; helping with access to education and language training; providing assistance with finding a doctor and navigating the health care system; offering an orientation to activities such as banking and transportation; and assisting with job searches. The ultimate goal of the PSRP is to assist refugees to become self-sustaining, independent permanent residents of Canada. The program is also seen as one of the key channels for refugee resettlement outside of major urban centers.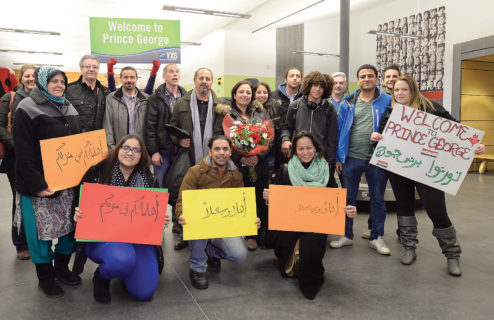 Since its inception, Canadian citizens have facilitated the arrival of more than 200,000 refugees through the PSRP, including more than half of the 60,000 Indochinese refugees who arrived in the 1970s and 1980s (Hyndman, Payne and Jimenez 2017), mainly in gateway cities such as Vancouver, Toronto, and Montreal. In 2015, Canadians engaged with the PSRP met the country's commitment to resettle 25,000 Syrian refugees by early 2016. Although this process is still ongoing, since November 4, 2015, more than 40,000 Syrian refugees have arrived in 350 communities across Canada, almost half of whom came through private sponsorship, and often into non-metropolitan, small towns, and rural areas of Canada (see Figure 2).
Although not without its faults, including onerous paperwork and long wait times, at least 13 countries including the United Kingdom, Australia, Spain, and Japan have expressed interest in implementing a version of the PSRP (Raj 2016). As a result, the Canadian government, the UNHCR, and the Open Society Foundation have partnered to expand the program and mobilize citizen-driven support for refugee resettlement. As international interest builds, so too does the need to understand the lived experience of those involved in the process, not only to identify why individuals engage in the program and what works, but also the challenges they face.
Refugee resettlement in northern BC
As a result of Canada's #WelcomeRefugees initiative, some 3,000 Syrian refugees are now living in 58 communities in British Columbia, including several locations in northern BC, where private sponsorship accounts for 75 percent of new arrivals. The city of Prince George welcomed the first Syrian refugee family to northern BC on January 8, 2016. A local church group facilitated the resettlement of this family. Like many other Syrian refugees who have arrived in BC, the family is still adjusting to life in their new homes, but are keen to take an active role in supporting fellow Syrian refugees abroad and those who continue to arrive in Canada. Other small northern communities that have also welcomed, or are still waiting for the arrival of, privately sponsored Syrian refugees including: Charlie Lake, Dawson Creek, Haida Gwaii, Hazelton, Prince Rupert, Smithers, Terrace and Valemount. Some of these groups are also discussing how to sponsor friends and/or relatives of those who have already arrived. Learning more about the intricacies of this resettlement process and what happens following one year of sponsorship are key to understanding this model (Kantor and Einhorn 2017), particularly for its implementation in other places.
Pickering's MA research is a case study focused on the experiences of refugee sponsors in small and mid-sized communities in northern BC. Using a qualitative approach, her aim in this regional setting is to explore the following research questions: 1) who are the private sponsors in northern BC and why have they opted to sponsor Syrian refugees?; 2) what are the resources needed to provide financial and social support during sponsorship?; 3) what types of relationships exist between sponsors and refugees?; and 4) do the refugees stay in the community after one year of sponsorship? Fieldwork will include ethnographic inspired methods comprised of mapping the location of sponsor groups, service providers, and Syrian refugee arrivals in northern BC using a Geographic Information System (GIS) as well as participant observation and key informant interviews with sponsors, community partners, and service providers in resettlement locations.
Research will be conducted in several communities across northern BC over approximately 18 months, starting in the summer of 2017. It will be divided into three phases including pre-refugee arrival, post-refugee arrival, and following one year of sponsorship, and will take place in communities where sponsorship has already occurred as well as places where sponsor groups expect to welcome Syrian refugees. Proposed research sites include Pickering's hometown of Prince George, Valemount, Smithers, and Hazelton. Sponsor groups in these locations have sponsored or have been matched with Syrian refugees, which provides an opportunity for research to span from pre-arrival through to completion of their one year commitment of support. The population in these communities varies from under 300 to over 70,000, which offers opportunity to gather experiences in small and mid-sized communities where support services for refugees may vary. Pickering also has established relationships with sponsors in these locations. Through this extended engagement with sponsors, she hopes to generate new knowledge on how best to encourage private refugee sponsorship in countries interested in learning from the PSRP as well as develop best practices for its delivery in a range of geographical settings.
Finding long-lasting solutions for the world's refugees is absolutely necessary given ever-increasing numbers of forcibly displaced people. We believe Canada's model of private sponsorship might serve as a viable model for countries around the world to increase refugee resettlement spaces through civic engagement. We also argue that efforts taking place in smaller communities across Canada are an invisible yet important aspect of this program. As with all immigration to Canada, Canadians expect both the benefits and challenges of immigration, settlement, and integration to be geographically varied. The interest in the PSRP is no different. Canadians across the country, in communities large and small, are committed to using their transnational connections and spirit of solidarity with refugees, to successfully resettle and positively integrate those forcibly displaced from their homes. Through this regional case study of private sponsorship in northern BC, we plan to highlight the ways in which citizen engagement with refugee resettlement works in Canada and demonstrate its potential as a model for countries around the world.
Stacey Pickering is a graduate student in the Interdisciplinary Studies MA Program at the University of Northern British Columbia (UNBC). Her thesis research focuses on Syrian refugee resettlement in northern British Columbia through the perspectives of private sponsors.
Catherine Nolin is an associate professor and chair of the Geography Program at the University of Northern British Columbia. Her research explores forced migration and refugee movement, particularly in the Guatemala-Canada transnational context.
Read all the articles in our Maintaining Refuge series here. 
Feature Image: "Canada" Alex Indigo/Flickr CC BY 2.0
Cite as: Pickering, Stacey, and Catherine Nolin. 2017. "Transnational Connections." Anthropology News website, June 16, 2017. doi: 10.1111/AN.488