In the wake of Donald Trump's inauguration, Pride marches and parades are taking place against a backdrop where taking to the streets has been resignified as a potent, urgent act of resistance. From the Women's March to the rallies against the refugee ban to the March for Science, a range of social movements have reembraced protest marches as a tactic to voice mass dissatisfaction—and notably, not only with the Trump Administration, but with the larger systemic conditions that make regressive social and political policies possible. In this moment of decentralized, grassroots protest, Pride itself has become a site of resistance.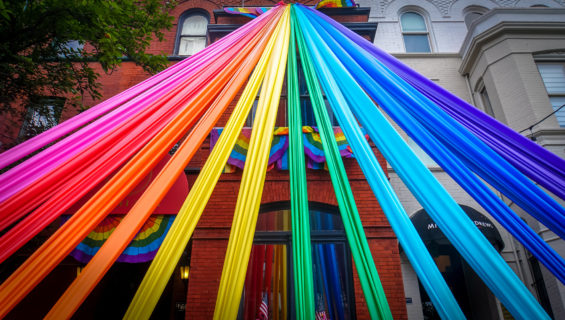 LGBT activists staged the first Christopher Street Liberation Day March in New York City on June 28, 1970. The march commemorated the resistance of transgender women, drag queens, sex workers, and other queer people in response to the police raid of the Stonewall Inn—and days of subsequent riots—the year prior. Other marches staged by LGBT activists that summer in New York City, Chicago, and Los Angeles gradually spawned similar Pride marches and the recognition of June as Pride Month in cities across the United States and around the world. As a result, Pride has become one of the most sustained and widespread forms of mass assembly in the United States, occurring year after year from major urban centers to tiny rural towns.
Pride marches serve a range of purposes for LGBT people and advocates. They have offered a cathartic space to express joy, anger, and solidarity; elevated the visibility of marginalized segments of the LGBT spectrum; drawn in allies who want to show support; and provided a powerful platform for political demands. As the social and political power of LGBT communities has shifted, some marches have retained the militant spirit of the original Christopher Street Liberation Day, while others have transformed into parades replete with entertainers, floats, civic and corporate sponsors, and massive after parties.
In 2017, objections to the commercialization and mainstreaming of Pride have erupted in an especially visible way. At this year's Capital Pride in Washington, DC, a queer protest group called No Justice No Pride made national headlines by blockading the parade route to challenge the politics of the event. Among other issues, the protesters demanded that the organizers center the leadership of trans women of color, cut ties with the police and military, and bar contingents from corporations that harm marginalized queer communities. While the protest made headlines, it is hardly an isolated incident. In recent weeks, similar actions to demand a more expansive, intersectional politics at Pride have erupted at parades and marches in other cities across the US.
As conservatives consolidate power and tack rightward on issues like immigration, voting rights, abortion, and LGBT rights, progressives have adopted new models of cross-movement and intersectional organizing to present a unified opposition.
Many long-time LGBT activists criticized the disruptive protests staged by queer groups at Pride marches. They pointed to the inconvenience and potential safety concerns of delaying parades in the heat of summer; cited the influential role that corporations, defense contractors, and police have played in popularizing support for LGBT rights; and urged protesters to negotiate their concerns with the organizing committees that plan Pride events before turning to confrontation. Some of these activists have pointed to recent protests as evidence that LGBT communities are more fractured and divided than ever before, and decried the effects of these deepening divisions at a time of political crisis.
Yet, the demands of protest groups like No Justice No Pride are not new, particularly where larger systems of structural oppression loom in the background. In 2012, black lesbians and feminists with the One in Nine Campaign stopped Pride in Johannesburg with a die-in on the parade route to draw attention to violence against queer people. In 2016, activists from Black Lives Matter disrupted Pride in Toronto with a half-hour sit-in, which ultimately led to a vote banning police from participating in the Pride parade in 2017. And this summer, anti-occupation activists stopped Tel Aviv Pride with signs reading "There is No Pride in Occupation."
Recent protests in the United States are deeply entwined with broader shifts in the political landscape. As conservatives consolidate power and tack rightward on issues like immigration, voting rights, abortion, and LGBT rights, progressives have adopted new models of cross-movement and intersectional organizing to present a unified opposition. The Moral Mondays movement in North Carolina is a prime example. It formed in 2013 to stage weekly protests against proposals advanced by the state's conservative government, which veered sharply rightward under the leadership of Governor Pat McCrory, a Republican legislature that consolidated control through redistricting, and the considerable financial backing of the right-wing donor Art Pope. As the progressive movement has grown and spread to other states, it has become an effective moral counterweight to those in power.
Erupting tensions at Pride in 2017 are complex. They are not solely reducible to a fixation on identity politics, failures of representation, generational shifts, or demands for ideological purity, though these issues can and do matter. Queer protests at Pride are also fueled by acute frustration with liberalism's inability to stave off anti-democratic governance, and a tactical and ideological commitment to cross-movement, intersectional politics to confront that anti-democratic governance head-on. Frustration with those protests draws at least in part from a conviction that LGBT communities must present a united front, that institutions matter and can protect us, and that hard fought inroads into respectability and influence should not be lightly dismissed.
Activists can reasonably disagree about the wisdom of disrupting Pride as a tactical matter, or the relative gains and losses of a more overtly political orientation after years of corporatization and sanitization. Pride provides a staging ground for these conflicts precisely because it is a community forum that belongs to everybody and nobody at once. As the month of June draws to a close, it is important to recognize that recent protests are not about Pride alone, but about what it means to be LGBT and to carry on a legacy of resistance at a time when opportunities and threats are tangibly changing—and what "liberation" and "pride" mean for LGBT people may be changing as well.
Ryan Thoreson is a legal anthropologist and human rights advocate.
Questions, comments, ideas or submissions? Please send to AQA contributing editors Ann Kakaliouras at [email protected], Elijah Adiv Edelman at [email protected], and Ryan Thoreson at [email protected].
Cite as: Thoreson, Ryan. 2017. "Pride in Resistance." Anthropology News website, June 26, 2017. doi: 10.1111/AN.499