A Two Part Series on Lives Sacrificed under Turkey's State of Emergency
For Nuriye, Semih and many other brave souls who choose to carry on…
Part 1: The Statue of Human Rights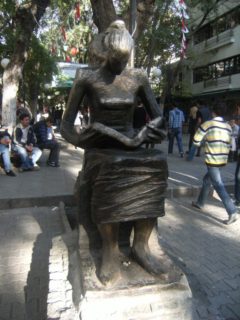 In Ankara's Yüksel Street, there is a sculpture. It depicts a woman sitting on a chair and reading a copy of the Declaration of Human Rights. Hence its name, the Statue of Human Rights. For over 190 days, this nearly 30-year-old statue, at one point barricaded by the Turkish police, was ground-zero of a sit-in protest that transformed into a hunger strike.
The sculpture has long come to signify a lack in Turkey that we today so direly miss—the very human rights to protect us against attempts to render our lives disposable. The very rights that grant us the right to live, and a voice to make this right heard and practiced. In Precarious Life, Judith Butler reminds us of "hearing beyond what we are able to hear," and dismantling the frames that preclude opportunities to hear. This two-part series is an attempt in that direction.
The following paragraphs are about the thousands who are protesting on the streets and risking their lives to make us hear that there is something terribly wrong about Turkey in its post July 15 coup attempt state of emergency frenzy. I construct my narrative around two protesters, Nuriye Gülmen and Semih Özakça who have been trying to reach us through a hunger strike. But I would also like to remind us that many others before them have tried to reach us through their bodies and hunger, often sacrificing their lives. I also nod to those who have taken their own lives: Mehmet Fatih Traş, a recently minted PhD who was not able to find a job after having signed the Academics for Peace Petition; and İbrahim Yeşilbağ, a 27-year-old geography teacher, who was unable to secure a job after graduation. They are the two recent additions to the 36 people who have committed suicide since the declaration of State of Emergency.
These lives, lost or on the verge of being lost, leave us with a moral burden. They demand us to be attentive to life as politics, reminding us that life, in its bare existence, is generative of meaning that the state cannot fully comprehend or control. The least we can do is to remain attentive to the ongoing struggle and remember those who choose to carry on practicing hope.
Nuriye Gülmen and Semih Özakça
In early November 2016, Nuriye Gülmen, an educator in the Comparative Literature department of a state university in the Central Anatolian city of Konya, was suspended and eventually purged from her job. Previously, Gülmen had faced challenges for attending demonstrations. One honored Berkin Elvan, the 15 year old killed by a tear-gas canister the police fired during the Gezi Park Protests of 2013. University administrators repeatedly threatened Gülmen, a unionist and a self-described leftist, with not having her contract renewed and a possible suspension. She finally lost her job under an emergency decree the Turkish President Erdoğan and his Justice and Development Party (AKP) government issued in Turkey's post-July 15-coup purge. No reason was given for her firing. Eventually, one was tailored for her—being a member of a terrorist organization, the Revolutionary People's Liberation Front (DHKP-C). She refuted having any ties to this organization, asking the state to provide evidence. None was provided. Thus began her sit-in protest on Yüksel Street.
Two weeks after Gülmen started the sit-in protest, others came to support her. One was Veli Saçılık, a sociologist who had lost an arm at a military intervention to prisons in 2000, and in 2016, his post as a researcher in Ministry of Family and Social Policy. We will return to the story of Saçılık in the second part of this series. Suffice it to say, he was a figure well known to the Turkish state. Another was Semih Özakça, who was a primary school teacher in the southeastern Anatolian city of Mardin, before a decree in October 2016 removed him from his job. He joined Gülmen approximately ten days after she began her sit-in.
As the protest brought new faces to Yüksel Street—such as Acun Karadağ, a social science teacher at a middle school in Ankara, who started a sit-in protest in late October in front of her former institution, and later joined the protest at Yüksel—it also attracted increasing police presence. The state had no tolerance for collective dissent, which they feared could escalate into a Gezi-like protest, which brought the country to a lockdown for over a month in 2013, and showed us that no domination is absolute. 
"If you are an opponent and not thinking like they do, they can arrest you tomorrow. There is a very dark scene before us. It seems like they can do whatever they wish."
 Gradually, the media started paying more attention to Yüksel Street. CNN International honored Gülmen as one of eight leading women of 2016 and she appeared with Semih Özakça on Deutsche Welle News in a 12 minute clip. Simon Reeve from BBC also interviewed her. She argued: "If you are an opponent and not thinking like they do, they can arrest you tomorrow. There is a very dark scene before us. It seems like they can do whatever they wish."
With increased media presence, we started to collect more information about the everyday struggles on Yüksel. We know that between November 2016 and the beginning of the hunger strike, Gülmen and Özakça began each day sipping teas at a tea house on Yüksel Street and worked on placards that read, "I want my job back." Meanwhile, they eyed the police—civil and uniformed—who eagerly awaited the duo's arrival to the Statue of Human Rights. With confidence and smiles, Gülmen and Özakça walked to the statue, raising their placards and demanding the Turkish state to give them their jobs back, as well as their bread, students, and dignity. Then the police intervened—dragging them to the station first, then to the hospital to get a medical check to prove that they had not been mistreated. Every night they went home only to do the same thing all over again the next day.
The protest started to have a life of its own, and took on new forms. When the protesters started to sing and dance, government officials reinforced a recently amended law regulating demonstrations, or in this particular instance, "singing of songs, ballads, anthems and slogans voiced in a loud and disturbing way" after dusk in Ankara. The governor of Ankara argued that the amendment protected the protesters from attack. And when their protest attracted national and international attention and brought in more protesters from all over Turkey, the police did not hesitate to employ tear gas and violence and fined the protesters for disrupting public order.
Read Part 2, "Hunger," here.
Oguz Alyanak is a PhD candidate in sociocultural anthropology and a McDonnell scholar at Washington University in St. Louis. His fieldwork in Strasbourg, funded by the Wenner-Gren Foundation, was on moral anxieties pertaining to Muslim Turkish men's going out habits.
Cite as: Alyanak, Oguz. 2017. "The Voice of Hunger, Part 1." Anthropology News website, June 27, 2017. doi: 10.1111/AN.497