Last October in the vice-presidential debate between Tim Kaine and Mike Pence, moderator Elaine Quijano brought up the "issue of law enforcement and race relations." Only a few weeks earlier, Keith Lamont Scott had been killed in North Carolina, becoming yet another African American man to lose his life at the hands of police. Pence objected to Hillary Clinton's acknowledgement that the incident represented (in Pence's words) "an example of implicit bias in the police force."
Pence's response and the exchange that followed represents one of the most consequential racial divisions in US society: the disparate understandings of what the very concept of racism means. The exchange illustrates how our society's guiding narratives about race preserve a woefully inadequate and overly narrow understanding of racism—as evidenced by the umbrage taken by Pence to the notion "that there's implicit bias in everyone in the United States." That narrow understanding of racism serves to maintain a social system where both white privilege and racial inequities remain largely invisible or at least easily ignored by many white Americans.
That narrow understanding of racism serves to maintain a social system where both white privilege and racial inequities remain largely invisible or at least easily ignored by many white Americans.
The dominant understanding of racism views it in individualist terms, confining it to an individual's "beliefs, intentions, and actions," as
Jane Hill describes
. This understanding reduces racism to personal prejudice and results in the illusion that racism simply involves overt acts of bigotry and easily recognizable hate crimes, branding those responsible as societal outliers and their actions as anomalies. Once offenders are identified, the rest of society can absolve itself from moral responsibility and continue to pretend that racism has little to no bearing on contemporary society. After all, don't we all celebrate MLK Day and despise the Jim Crow era? How could we possibly be part of the problem of racism? I'm not prejudiced, so the reasoning goes for many white Americans.
The common refrain in defense of authorities responsible for racially biased killings is "race had nothing to do with it." Something else has always led to the incident. Something, anything, but race. In the shooting of Trayvon Martin, it was the hoodie that made him look "suspicious." In the case of Michael Brown, it was his size—he was like "Hulk Hogan," described the shooting officer in an interview on ABC. And then there is the presence, whether actual or imagined, of a gun—which may sometimes just be a wallet masquerading as a gun, as in the case of Amadou Diallo. As the lawyer of the Minnesota police officer who shot Philando Castile stated, "The shooting had nothing to do with race and everything to do with the presence of that gun," referring to the gun that Castile was licensed to carry (and, incidentally, informed the officer he was carrying, according to the testimony of his girlfriend who witnessed the shooting).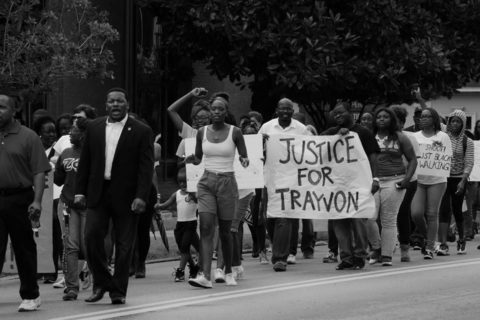 In these narratives, race is an element that can somehow be detached and separated from police-citizen interactions. It can be willfully ignored so that the officers do not see race. For if they were to see race, according to the dominant understanding of racism, they might be "racists" and lumped together with all those anachronistic societal outliers we see on the TV and movie screen—Archie Bunker bigots and KKK wizards in pointy hats. But, as author Ta-Nehisi Coates sardonically writes, "There are no racists in America, or at least none that the people who need to be white know personally." So, the guiding narratives go into overdrive to explain away the interactions as having nothing to do with race, and the notion of racial bias becomes anathema to those explanations.
This colorblind myth belies the research done by social psychologists—such as Jennifer Eberhard and Phillip Atiba Goff, among others—on the implicit biases we all carry around as we interact in an American society historically shaped and culturally conditioned to categorize the world in racial terms. This body of research has repeatedly demonstrated that our ability to see an object that someone is holding as a weapon or to shoot someone actually holding a weapon is more likely when that someone is black. In other words, race has everything to do with it. And one need not be a card-carrying member of the KKK—or even be white—to hold these culturally conditioned racial biases. But if there is any hope of keeping those biases in check, we must first acknowledge their reality and embark on a cultural project to revise the guiding narratives that sustain them.
Our dominant narratives are difficult to dislodge largely because they sow a willful blindness, or what philosopher Charles Mills terms white ignorance—that is, an ignoring of the way systemic racism shapes the lived experience of many people of color. Mills does not mean to say that white ignorance is confined to white Americans nor that all whites necessarily suffer from the affliction, but rather that this failure to see the structural and institutional aspects of racism serves to entrench the power relations that maintain white privilege and reproduce racial inequality in our society.
In many ways, white ignorance forms the bedrock impediment to broadening the popular understanding of racism. White ignorance feeds off the narrow, individualist view of racism, blinding us from seeing racism as a system of power. The very fact that we mark the term racism with the qualifier systemic when talking about that system of power underscores the privileged position the limited, narrow understanding of racism holds within our public discourse. Racism, as a system of power, excels—just like any system of power—at obscuring both the inequities it sows and the rewards it provides to those differently positioned within the system. After all, the entrenchment of racial disparities requires that those who benefit most from being at the top of the racial hierarchy remain oblivious to the injustices experienced by those at the bottom.
Only once we all agree that racism means systemic racism—and acknowledge the reality of implicit bias—can meaningful progress be made to reform the justice system and ensure that Black Lives Matter.
Further Reading
SLA's "Black Lives Matter and Police Violence" reading list and teaching resources
Adam Hodges is a linguistic anthropologist specializing in political discourse. His books include The 'War on Terror' Narrative: Discourse and Intertextuality in the Construction and Contestation of Sociopolitical Reality (2011), and his articles have appeared in Discourse & Society, Journal of Linguistic Anthropology, Language & Communication, and Language in Society.
Cite as: Hodges, Adam. 2017. "America's Most Consequential Racial Divide." Anthropology News website, July 3, 2017. doi: 10.1111/AN.453