At approximately 8:15p.m. on February 5, 2017 Jamielia DeRevenaux's male partner murdered her after a dispute in the parking lot of a local Cineplex in the capital of Trinidad and Tobago, Port of Spain. As she lay dead with her throat slit, passers-by recorded the scene with quick clicks of their smartphone cameras and shared it across Facebook and Watsapp Messenger. The next day, the deputy city mayor of Port-of-Spain, Hillan Morean, took to the media to censure the public for their insensitive treatment of the dead. Though Morean acknowledged that these actions were possibly motivated by the citizens' desire to "know what it going on out there," he remained baffled that "respectable citizens" could find it acceptable to circulate visuals of a murdered young woman. Morean feared this occurrence symptomatic of a public growing desensitized to violence.
Crime scene photos have come to play a critical role in these reports for the sensational quality of bodies exposed to gruesome acts of violence.
While the exposure of DeRevenaux's body sparked moral debate, this certainly was not the first—or most gruesome—depiction of violence to make its rounds through the Trinidadian public. Since the year 2000, when a previously decreasing national murder rate reversed its trend reaching a record high of over 500 homicides in 2008, panic has been growing in Trinidad and Tobago around a purported crisis state, particularly because of the spectacularly violent nature of these crimes. Whereas in 2002 Prime Minister Patrick Manning boasted of his Vision 2020 plan to position the country as a global power and achieve developed-nation status by the year 2020, in 2017 the threat of violent crime occupies the center of political discourse. This has led local news outlets to obsessively report crime statistics and narratives of murder, and prompted the emergence of the hybrid entertainment/investigative/exposé crime shows: CrimeWatch and Beyond the Tape. Crime scene photos have come to play a critical role in these reports for the sensational quality of bodies exposed to gruesome acts of violence. It is however, conspicuous that these images most often depict crimes involving victims and perpetrators racialized as black, classed as low-income, and residing in state categorized hotspots within East Port of Spain where I conduct my field research.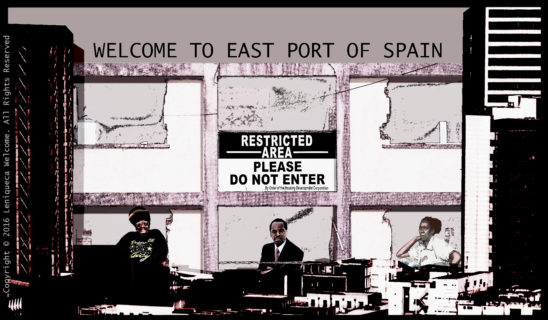 In the summer of 2016, my interlocutors first alerted me to the pernicious effects of these graphic images uprooted from any discussion of the history and politics behind them. With prevalent gang related gun violence within East Port of Spain already fueling popular and state discourse that marks the entire region, comprising approximately 33,000 people, as "a dangerous zone," residents protest that these images only work to further reinforce their typification as pathological criminals and savage non-humans. This notorious status permits the non-criminalized public and state officials to categorize East Port of Spain residents as undeserving citizens and becomes the justification for their sustained exposure to multiple scales of insecurity, such as: extrajudicial police killings, employment discrimination, and infrastructural lack. As one of my interlocutors, Crystal, remarked, "…they does make it seem that nothing good come from this area and then the government and them does give nothing good in return. Because a man from Laventille kill a man, all the youths in Laventille and Morvant [communities within East Port of Spain] is killers. NO! How they know that? Because of the media!" Indeed, textual and visual crime narratives in the media render East Port of Spain as a malignant tumor that must be extracted for the national body for it to survive this "crisis" state. Thus, it was not a desensitized public who captured and shared images of DeRevenaux's murdered body, as Morean suggested, but instead a public highly sensitized to crime seeking to contribute to a visual field that constructs and re-presents violent persons stemming from dangerous spaces as terrorizing the nation. This attention to crime is not simply a localized national phenomenon. One only has to look as far as the Overseas Security Advisory Council's "2016 Crime and Safety Report" or the United Kingdom Trinidad and Tobago Travel advisory to discover the imperial the gaze on the crime of this "republic."
T
he state locates particular spaces—state categorized "crime hotspots"—and the individuals within them as the origin point of crime.
Trinidad and Tobago is a regional economic powerhouse with an average GDP of US 27.1 billion dollars. It is the world's largest exporter of methanol and ammonia with goals of growing its tourism sector. This makes Trinidad and Tobago's international image critical to its economic and political security. Aware of foreign scrutiny, and fearful that the darker face of this Manichean nation will endanger external investment, the state finds itself desperate to shake the country's ranking among the most homicidal in the world. Local and international concerns about state efficacy has even motivated the government to consider reinstating the use of the death penalty as punishment for murder. The theory that intersubjective violence emerges from deviant beings rather than structural violence—bolstered by violent imagery—fosters this investment in capital punishment. Instead of confronting the crime surge as the combined effect of the trafficking of drugs and ammunition through the region, increased social and economic precarity as a result of neoliberal reforms, and a history of state neglect of entire communities rooted in racist and classist logics, the state locates particular spaces—state categorized "crime hotspots"—and the individuals within them as the origin point of crime. With growing belief in a crisis state nurturing animosity towards those marked as criminal and driving the state to target bodies, already vulnerable residents of East Port of Spain fear that further precarity awaits them in the future. One cannot help but fear with them as these macabre images featured in the media as objective proof that there are maleficent beings continue to condition a viewing public to un-see the humanity of this entire region of people.
Leniqueca Welcome is a PhD student in cultural anthropology at the University of Pennsylvania. She holds a BARCH from the University of Arkansas, Fayetteville and formerly practiced in Trinidad and Tobago. Her research interests include racialization practices, visuality, nation-state making, and spatial theory.
To submit contributions to NAPA Section News, please contact contributing editor Briana Nichols ([email protected])
Cite as: Welcome, Leniqueca. 2017. "Violent Gazes." Anthropology News website, July 10, 2017. doi: 10.1111/AN.503