Assessing Local Refugee Resettlement
Editor's Note: This is the first  piece in a series called "Putting Anthropology to Work" contributed by students of Margaret Buckner at Missouri State University.
Our ethnographic study investigated the efficacy of Springfield Welcome Home, a not-for-profit refugee support organization in Springfield, MO that renders services to the local refugee population. We aimed to answer the following question: "how can Springfield Welcome Home streamline its resettlement process for current and future refugees?" By using ethnographic methods, including interviewing and participant-observation, and also a survey, we have observed the strengths of this organization and also its needs to achieve its goal.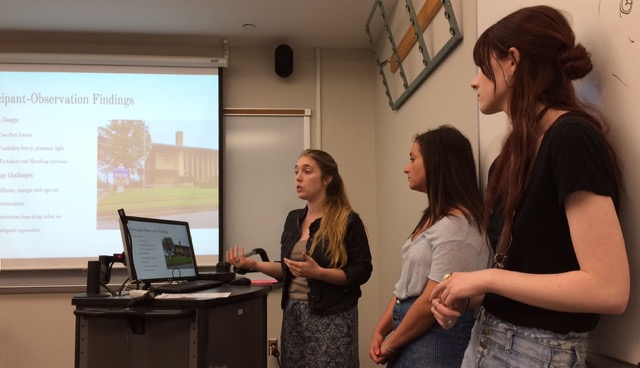 Interviews with refugees revealed the resettlement process through their eyes and what they perceive as the most challenging obstacles in adjusting to a new culture and country. Results from interviewing a key informant revealed the necessity for fluency in English, reliable access to transportation, and emotional support through a network of friends and volunteers. Participant-observation in the weekly ESL classes of the refugees provided us insight into one of the key elements of the resettlement process: learning a new language. Observing these classes first-hand, we analyzed which tactics employed in the classroom were beneficial to refugees and which ones did not aid in their learning. A survey administered to the volunteers of Springfield Welcome Home sought to learn what the support system of this organization perceives as the strongest needs for refugee families. Findings of this survey identified needs of the refugees and also how the needs differed and changed throughout their resettlement. For example, volunteers noted the need for tangible items such as furniture at the beginning of resettlement, and driver's licenses and stable jobs later on.
This ethnographic study of a local refugee agency is relevant in light of the current US executive action to significantly reduce refugee programs.
Findings from our various methods have confirmed the need for more volunteers and for more funding, and have also raised more questions, such as "how are some refugees being exploited?" and "how can local refugees' access to necessary resources and services be improved?" All of our findings point to the necessity of English, education or training for gaining employment, transportation, and overall integration in the community. This ethnographic study of a local refugee agency is relevant in light of the current US executive action to significantly reduce refugee programs. Our research also serves to educate the community about the challenges these refugees face when settling into their new lives in Springfield.
Danielle Albritton, Felicia Baltzell, and Kourtney Workman are undergraduate students at Missouri State University.
Please send news items, contributions, and comments to CSAS contributing editors Cristina Ortiz ([email protected]) or Carrie Hough ([email protected]).
Cite as: Albritton, Danielle, Felicia Baltzell, and Kourtney Workman. 2017. "Welcome Home." Anthropology News website, July 12, 2017. doi: 10.1111/AN.507