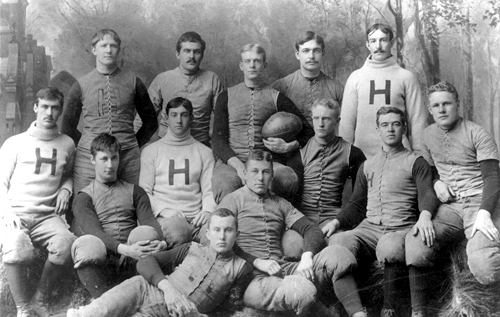 Recently Richard Reeve published an article in the New York Times called "Stop Pretending You're Not Rich." He recounts his horror on discovering that the United States was even more class stratified than his native England, and he points to many ways that wealth and privilege are perpetuated by the American system, particularly through our system of education. Rich people live in areas with the best schools, or send their kids to private schools, perpetuating a system where the poor start adult life at a deep disadvantage which they can rarely overcome. He accuses the educated upper-middle-class of blindness, including academics, towards their own economic and cultural privilege, while they insist that they live in a meritocracy. Reading this article prompted me to think more critically about the way academic anthropology also perpetuates privilege, and our general unwillingness to confront a status system in academia that ensures the perpetuation of elites.
Academic anthropology perpetuates privilege, and our general unwillingness to confront a status system in academia ensures the perpetuation of elites. 
I vividly remember when I sought the advice of an undergraduate advisor at NYU about declaring an anthropology major, the first question he asked me was whether I came from a family with money. I now appreciate his honesty, and I know that without support from my relatively well-off family, I would never have gone to NYU in the first place, nor would I have acquired several seasons of field experience as an undergraduate, gained admission to a major graduate program, or survived my unsupported first year as a graduate student. I was fortunate that contract archaeology began to flourish during my time in graduate school, providing summer jobs that made it possible to survive on a minuscule assistantship. Knowing I would be able to fall back on my family if I crashed and burned in graduate school, as much as I hated the prospect, gave me a position of privilege and the ability to take risks that would have been much more frightening for a student with no family backstop, depending entirely on loans and meager academic pay.  If I had a family, or child support payments—like some of my classmates—I would have been even more risk averse. Since the "best" graduate programs tend to be costly and located in high rent cities, a student who lacks family money is much more likely to apply to their state university. And because of the academic status system, this puts them on a career track that is never going to lead to the Ivy leagues and elite departments without an absolutely heroic effort. Once on the treadmill of teaching 3-5 courses a semester, the possibility of moving "upwards" to a top department are dim.
We can make believe that the smartest, hardest working and most talented students always end up at the best schools.
We can make believe that the smartest, hardest working and most talented students always end up at the best schools, but only by exercising willful blindness. When I was teaching at New Mexico State University in a combined sociology/anthropology department with an MA program, we had many smart, ambitious and exceptionally hard working students. A majority of them came from poorly funded predominantly Hispanic school districts, so they came to college with poor writing skills and little exposure to social science. As anthropologists of education have repeatedly shown, poorer students also start without the cultural capital that asserts position and privilege, so they face barriers that are hidden behind a discourse of equality, diversity, and the supposedly objective meritocracy of grades. Whatever their abilities, students from poor backgrounds often feel out of place at the university, disrespected, misunderstood and unsupported by their families, and they often miss the cultural referents and historical knowledge that come "naturally" to those whose parents went to college. Few of my undergraduates at NMSU went on to graduate school, and none of our MA students went on to a PhD in the blessed circle of top 5 programs or an academic job on the East or West coast of the US.
I've been lucky to have some great graduate students at Indiana, but the downside is that I have had to write more than 1,000 letters of recommendation, not just for jobs, but for grants, summer programs, tenure files, promotions, prizes, titled professorships, editorships, and even internal university and departmental positions, awards, and funding. Besides wasting an incredible amount of my time—I know that many of these letters, if read at all, will have little effect—but the monumental system of recommendation letters tends to perpetuate privilege and restrict upward mobility. If you get your undergraduate degree from a small institution with only a couple of anthropologists, you cannot swing the weight of names, which can really have an impact on committee decisions. Some of your referees will not be anthropologists, and nobody at higher ranked institution or granting agency is going to recognize their names. Status begets status, and those with access get more access.
Does the most original and important work really get published in the highest-ranking journals?
Peer review
is hardly immune from status effects. Think of the way university presses and private publishers are ranked—are books published by Oxford University press always better, more innovative, more sophisticated, than books published by Northern Illinois? Does the most original and important work really get published in the highest-ranking journals? Are only the best graduate student grant proposals funded, or do some benefit from having advisors and teachers who know the right language and references?  Since publications and grants are the main criteria for getting jobs, tenure, and promotion, the accumulation of subtle distinctions affects every stage of an anthropologist's life, helping determine where they will live, affecting their family life, and even the prospects and possibilities of their children.
One of my favorite development theorists, Naila Kabeer, wrote about what she called "structures of constraint" in the lives of poor rural women in her book Reversed Realities.  These structures are invisible from above, and are therefore absent from the discourse of meritocracy, so beloved to conservative theories of inequality. Over the years I have watched many brilliant graduate students fail in their pursuit of a PhD, or leave anthropology in their pursuit of a different career—and they are disproportionately the students who don't start out with family money and support. It is no coincidence.
Richard Wilk is Distinguished Provost's Professor Emeritus at Indiana University.
Cite as: Wilk, Richard. 2017. "Stop Pretending We Are a Meritocracy." Anthropology News website, July 13, 2017. doi: 10.1111/AN.508