The 2017 Elliott P. Skinner Book Award recipient
Yolanda Covington-Ward is the 2017 Elliott P. Skinner Book Award recipient for her book, Gesture and Power: Religion, Nationalism, and Everyday Performance in Congo, published by Duke University Press. Covington-Ward is an associate professor of Africana Studies at the University of Pittsburgh. In Gesture and Power, she incorporates the work of a wide range of theorists, including Mauss, Goffman, Turner, Merleau-Ponty, Foucault, and Bourdieu, to establish a theoretical paradigm for analyzing her ethnographic research. She focuses on the body as center, the body as conduit, and the body as catalyst in dance performances in everyday life in Congo, in different ethnographic contexts, from a historical perspective, and, as perceived in the context of race, gender, class, nationality, and marital status.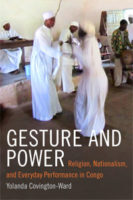 Covington-Ward faced many challenges in conducting field research in the Congo where she traveled to urban and rural areas to conduct interviews, and to observe and participate in performances. She also undertook archival research in Congo, Belgium, and the US. While religion is her starting point, especially a religion that has anti-colonial elements, Covington-Ward produces an analysis of performance that at times reinforces or rebels against the post-colonial state, having had its origins during Belgian colonialism and continuing into the post-colonial Mobutu period and into the post-Mobutu period. Thus, religion can have blurred political lines in the dialectics of everyday micro-interactions and the macro-politics of the state. Covington-Ward incorporates a reflexive turn regarding her position as an African-American woman in Congo. She briefly considers Congolese ethnography as a basis for examining religion and embodiment among African descendants in the New World.
From an impressive list of submissions, finalists for the 2017 Elliott P. Skinner Book Award included: Catherine Besteman (Colby College) for Making Refuge: Somali Bantu Refugees and Lewiston, Maine, published by Duke University Press; Kristin Doughty (University of Rochester) for Remediation in Rwanda published by University of Pennsylvania Press; and Lori Leonard (Cornell University) for Life in the Time of Oil, published by Indiana University Press.
The Elliott P. Skinner Book Award has been offered since 2008. Recipients include a wide variety of scholars writing books based on field research in diverse areas of the African continent. We will soon issue a call for nominations for the 2018 competition.
Betty Harris is professor of anthropology at the University of Oklahoma and chair of the Skinner Book Award Committee.
Demystifying the AAA Annual Meeting submission process
It's time to think about your submission for the 2018 AAA meetings. As always, we encourage anyone submitting a paper, poster, session or roundtable that deals with Africa, the African Diaspora, or issues relevant to Africanist anthropology, to consider channeling your submission through AfAA. Roundtable panels are becoming a very popular venue, as they encourage audience participation—something that meeting attendees have indicated is very desirable. Roundtables typically have four or five presenters who speak to a theme for about five minutes each, and then the floor is open to discussion moderated by the roundtable chair.
We work hard to put timely and relevant panels together from submitted papers, and have an excellent track record of getting our submissions on the program. Please do keep in mind that submission to the Annual Meeting are peer reviewed. During the review process, we rank all submissions and top ones are assured a place on the program, while there's a chance the lowest ranked ones will not be accepted for the program. To help us get your paper on the program, make certain that your abstract is clearly written and that it indicates how your research contributes to theoretical, applied, or humanistic understandings. A strategy that we lay out each year and which can give your submission a strong advantage is to speak directly to the theme of the Annual Meeting. This year's theme is "Change in the Anthropological Imagination: Resistance, Resilience, and Adaptation." You can find more information on the AAA website. If you are interested in seeking invited status for your panel, it's a good idea to communicate with us well before the deadline. If we agree to pursue invited status for your panel, we like to begin seeking a co-sponsor early. While the AfAA is allotted two invited sessions, we can extend that with co-sponsorship (e.g., we can get two other sections to agree to co-sponsor sessions with us, and then agree to co-sponsor two sessions submitted to other sections, we effectively have four invited sessions on the program). This increases the visibility of AfAA and helps us to build membership. It is through dues that we are able to award prestigious prizes for books and scholarly papers, as well as host our reception and social events. If you are not a member of AfAA, please consider joining when you renew your AAA membership. And please visit our website for information about AfAA and our awards. If you have any questions contact AfAA Program Editors David Turkon at [email protected] or Kristin Hedges at [email protected].
David Turkon (Ithaca College) and Kristin Hedges (Grand Valley State University) are AfAA co-program editors.
Cite as: Harris, Betty, DavidTurkon, and Kristin Hedges. 2018. "Skinner Book Award Winner and the 2018 AAA Annual Meeting." Anthropology News website, March 2, 2018. DOI: 10.1111/AN.776