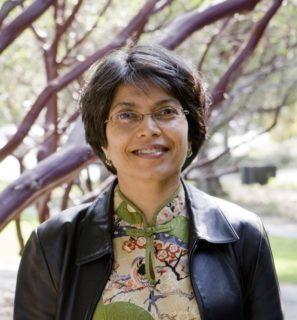 Saba Mahmood, professor of anthropology at the University of California at Berkeley, passed away on March 10, 2018. The cause was pancreatic cancer. Mahmood specialized in sociocultural anthropology and was a scholar of modern Egypt. Born in Lahore, Pakistan in 1962, she came to the United States in 1981 to study architecture and urban planning at the University of Washington in Seattle. She received her PhD in anthropology from Stanford University in 1998 and taught at the University of Chicago before coming to the University of California at Berkeley in 2004, where she offered her last seminar in fall 2017.
Mahmood made path-breaking contributions to contemporary debates on secularism, opening up new ways of understanding religion in public life and contesting received assumptions about both religion and the secular. She brought a nuanced and educated understanding of Islam into discussions of feminist theory, ethics, and public life. Her publications and presentations have reverberated throughout the humanities and social sciences, profoundly shaping the scholarship of a new generation of scholars as they develop a thoughtful, knowledgeable, and critical approach to religion in modernity. As a scholar and teacher, she embodied and followed strong moral and political principles, offered keen analyses of colonial and capitalist power in her account of secularism's modernity, and formulated new ways of understanding the subject of feminism, relational subjectivity, religious freedom, religious injury, the rights of religious minorities, and comparative legal analysis of religious and secular family law and sexual regulations.
Saba Mahmood was a brilliant scholar, cherished colleague, and dedicated teacher and graduate mentor.
Mahmood was the single author of Religious Difference in a Secular Age: A Minority Report (2015) and Politics of Piety: the Islamic Revival and the Feminist Subject (2005), which won the Victoria Schuck Award from the American Political Science Association. She co-authored Is Critique Secular? (2011) and co-edited Politics of Religious Freedom (2015). Her work has been translated into Arabic, French, Persian, Portuguese, Spanish, Turkish, and Polish. She published numerous articles in the fields of anthropology, history, religious studies, political science, critical theory, feminist theory, and art criticism. She served on several journal boards and read for many presses. Mahmood was the recipient of several honors and awards, including the Axel Springer Fellowship at the American Academy in Berlin, and fellowships at the Center for Advanced Study in the Behavioral Sciences at Stanford University and the University of California Humanities Research Institute. She was awarded an honorary doctorate from the University of Uppsala in Sweden in 2013. (Saba's colleagues, friends, and husband Charles Hirschkind)
Cite as: Hirschkind, Charles, et al. 2018. "Saba Mahmood." Anthropology News website, March 12, 2018. DOI: AN.790