In honor of recent National Awkward Moments Day, March 18, AN invited anthropologists to share their awkward, amusing, embarrassing moments and learning experiences from the field. Read about awkward moments that prompt rethinking fieldwork, demand on-the-spot foreign language acquisition and performance, and test bathhouse etiquette and resolve.
Primatology is Anthropology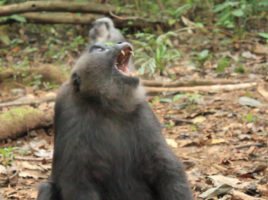 Adult males of the macaques endemic to the Indonesian island of Sulawesi emit "loud call" vocalizations that play a role in reducing intragroup tension, facilitating group cohesion, and communicating dominance information. Like any good budding primatologist, I had read everything I could about the Sulawesi macaques in preparation for my dissertation research in the highlands of Central Sulawesi, so I knew about these vocalizations, but not necessarily what they sounded like.
Early on in the fieldwork when my local field assistants and I were searching for Tonkean macaque groups to habituate for observation, I recall the very first time we heard a very loud and distinctive vocalization. My field assistants exclaimed: The macaques, they're close! I was incredulous, and said: You guys may know this forest, but I am the macaque expert. My assistants simply shrugged and we carried on.
Even after formal data collection began, upon hearing these vocalizations, I continued believing they were not sounds produced by a macaque. And then, one day, one of the adult male macaques in our study group stopped right in front of us and gave a loud call. I looked at my assistants in disbelief. They didn't even need to say, "I told you so"—I saw it in their eyes and in their cynical smiles. I realized that my field assistants were not just assisting me, their experience and situated knowledge were just as integral to the research as mine. This lesson made me rethink how I do primate fieldwork.
Today, I use this embarrassing moment as a teaching tool to illustrate how primate fieldwork is a collaborative process of discovery and to highlight how we (scientists) should not be blind to other ways of knowing and experiencing the world.
Erin P. Riley is a professor of anthropology at San Diego State University, CA. She uses the ethnoprimatological approach to study the human-primate interface in Indonesia.
Learning Hindi in the Spotlight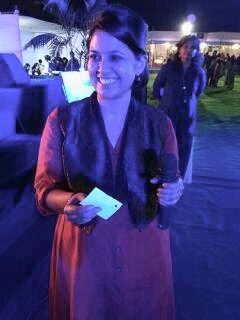 I was conducting observations in classrooms at an English language school in Maharashtra, India, for my fieldwork, when the school's principal asked me to participate in a festival that the school holds every year. I was honored to be asked. The school put another teacher and me in charge of the music and sound system. We had to collect song requests from the students and parents who would be attending the festival, and then play the music. Little did I know that the school principal wanted each song to be announced and the emcee to read the names of the people who requested each song and the names of those to whom they the song was dedicated.
Although I studied the local regional language of Maharashtra, I was shy about speaking in front of large groups and was unfamiliar with Hindi. As it turned out, most of the requested songs were Hindi songs, and the teacher I was paired with was deathly afraid of speaking on the microphone. I have never before felt the panic and anxiety of an "immersion language education" more intensely than I did in that moment. I ended up announcing Hindi song titles and complicated names I was unfamiliar with for hours to hundreds of people, not knowing any Hindi myself. After my initial shock waned, I tried to just have fun doing the best I could. But, I still cringe at how awful my pronunciation must have been and how confused those in the audience must have been by the school's choice of emcee for the evening.
Jessica Chandras is a PhD candidate in anthropology at the George Washington University. She studies intersections of language, education, and identity in Pune, Maharashtra.
An Awkward Bath
I was absolutely certain that they were again retelling the story of seeing their awkward foreign teacher naked, shivering, and jet lagged at the bathhouse.
I had been living in South Korea for about a week doing predissertation research while working as an English kindergarten teacher. I knew virtually nothing of the language or culture but ended up there because the pay was good and it allowed me time off of work to explore the rest of North East Asia where I planned to specialize. After work one day I accidentally muttered something to my new boss about still being jetlagged. Wanting to be helpful, he recommended that we immediately proceed to a bathhouse to help me relax.
I was soon completely naked, along with the majority of my male co-workers, who started teaching me the finer points of Korean bathhouse etiquette. Sounds relaxing, right? Being the only foreigner at the bathhouse, I felt extremely awkward, but I was determined to get over my bashfulness and strode into my first steaming tub of water with faked confidence. I even managed to drag myself into the cold tub despite an embarrassingly loud yelp that released itself from my mouth as I entered. "Hey, this isn't so bad!" I thought.
Just then, while exiting the cold tub, I saw that two of my male kindergarten students had entered the bathhouse. They saw me standing there, shivering. They spoke quickly in Korean with each other and then burst into hysterical laughter. Their father chastised them, but the damaged had already been done, and I was once again the center of unwanted attention.
This instilled a lasting fear in me for the rest of the school year. From then on, whenever either of the two students spoke Korean during my class I was absolutely certain that they were again retelling the story of seeing their awkward foreign teacher naked, shivering, and jet lagged at the bathhouse.
Edward Glayzer is a doctoral candidate at Michigan State University in the Department of Anthropology where he is writing his dissertation on the commodification of intimacy. His research examines how the gender income gap in South Korea intersects with increasing pressure to frequently exchanged expensive gifts during ritualized dating events and the magnification of gender inequality.
Feature image: Dai Luo/ Flickr (CC BY 2.0)
Cite as: Riley, Erin P., Jessica Chandras, and Edward Glayzer. 2018. "Awkward Anthropological Moments," Anthropology News website, March 19, 2018. DOI: 10.1111/AN.803