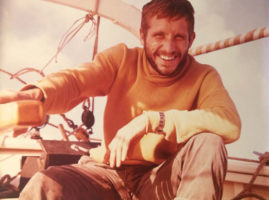 August 3, 1932–November 17, 2017
Philip R. DeVita, professor emeritus, the State University of New York at Plattsburgh, died on November 17, 2017, in Plattsburgh, NY.
Before he became a cultural anthropologist, DeVita was Captain Phil DeVita, a blue water sailing skipper who spent a major part of his first 34 years sailing to and living in foreign places. Beginning at age 11 on his uncle's charter fishing vessel and continuing into his mid-twenties, DeVita took lengthy voyages to the Caribbean, Mexico, Latin and South America, the South Pacific, and Australia. Whether living in Mexico off and on for a three-year period or making extended visits to Polynesia or the Galapagos Islands, he would return to the United States having been strongly influenced by the valuable, poignant, often confounding foreign experiences. The values and customs of friends made in Melville's Taipi Vae, Gauguin's Atuanna and Papeete, Darwin's Encatadas, even Australia of the 1960s all contributed to early critical questioning of the implicit and explicit rules of thinking and behavior that he grew up with in the housing projects of New York's affluent Westchester County.
In August 1966, DeVita was seriously injured outside of the Panama Canal by a lightning strike aboard a motor vessel he was delivering from Florida to California. During a two-year recuperation, he completed his university education, graduating with a BA in philosophy as a member of the University of California, Irvine's first graduating class. As his health improved, he decided to earn a graduate degree in anthropology in the hopes that the career would provide another avenue for him to spend time in foreign places. Influenced by his friend and mentor, Ed Cook, he developed ideas relating to ethnographic problems involved in understanding other people.
In 1972, DeVita joined the faculty in anthropology at SUNY, Plattsburgh as an assistant professor. He was promoted to associate professor in 1977 and full professor in 1989. He retired in 1997. DeVita served as chair of the Department of Anthropology and received the SUNY Chancellor's Award for Excellence in Teaching.
His background in both philosophy and anthropology drew him to personalized ethnography and the question, how can we learn to better understand ourselves from the perceptions of others? The focus on the reflexive experience—what the fieldwork experience taught the practitioner about her or his self—became the focus of a series of books including The Humbled Anthropologist: Tales from the Pacific (1990), The Naked Anthropologist: Tales from Around the World (1992), and Stumbling Toward Truth (2000). Distant Mirrors: American as a Foreign Culture (edited with James D. Armstrong), now in its fourth edition, offers anthropological insights into US culture from an "outsider's" perspective. DeVita's sense of himself as an outsider, largely drove his own personal and academic work.
Philip DeVita was beloved as a colleague, a friend, a gourmet cook, talented craftsman and teacher whose office was rarely empty of students seeking and receiving his guidance. (Richard Robbins)
Cite as: Robbins, Richard. 2018. "Philip R. DeVita." Anthropology News website, March 30, 2018. DOI: 10.1111/AN.817