December 1, 1956–April 2, 2018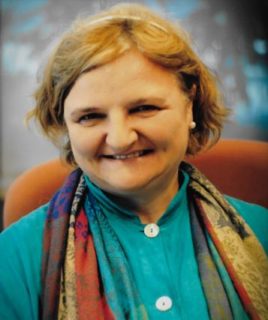 After a courageous fight against ovarian cancer, Anne Deruyttere passed away on April 2, 2018 at her home in Bethesda, Maryland.
An anthropologist and an economist, Deruyttere was widely known for her work with indigenous peoples' rights. In 1994, she was named the first Chief of the Indigenous Peoples and Community Development Unit at the Inter-American Development Bank in Washington, DC, a position she held for 14 years. But her work for social justice began far earlier. Her first professional position was with the Commission for Justice and Peace, where she once escorted future Nobel Peace Prize winner Rigoberta Menchu around Leuven, Belgium (they would meet again some 20 years later when Menchu came to Washington). Although Deruyttere interacted with foreign ministers and leaders of all stripes, she enjoyed most talking with people about their heritage, their jobs, their working conditions, and their outlook on life. She always felt that her "competitive advantage," as she called it, was her ease of learning languages; she was fluent in five (Flemish, French, English, Spanish, and Portuguese) and dabbled in German.
In 1980, Deruyttere received her Masters of Science in Social Anthropology from the University of Edinburgh, matching her Masters of Arts in Economics from Katholieke Universiteit Leuven in Belgium in 1978. Anne received many awards throughout her academic and professional career, including the Orden del Quinto Sol from President Alejandro Toledo of Peru, 2003; The Martin Luther King Jr. Award for Leadership in the Promotion of Equity in International Development, Inter-American Development Bank Diversity Group, 2003; and Laureate of the 1978 Award of the Belgian Minister of Foreign Trade.
Deruyttere authored many reports and publications, including Pueblos Indigenas y Desarrollo Sostenible: el Programma del Banco Interamericano de Desarrollo en Pueblas Indigenas y Cooperacion Internacional en America Latina (2000) and Indigenous Peoples: Equal Rights, Equal Respect (1999). She was a highly sought-after speaker, panelist, and conference organizer among institutions around the world, including Duke University, Harvard University, the United Nations, Carlos III University (Madrid), Laval University (Quebec City), Georgetown University, Oxford University, the Organization of American States, and the World Bank.
Anne Deruyttere is survived by her husband of 29 years, Christopher Michael Rigaux; her three children, Valerie, Steven, and Erik; her sister, Klara Deruyttere; her brother, Jan Deruyttere; and numerous relatives living predominantly in Belgium. She was born on December 1, 1956, in Leuven, Belgium. Although she lived in the United States for 35 years, she never became an American citizen.
The Anne Deruyttere Indigenous Peoples Fund is being established to continue her work. To donate immediately, an escrow account has been set up at St. Francis Church, 10033 River Road, Potomac, MD 20854. Make the check payable to St. Francis Church but note Anne Deruyttere fund. (Christopher Rigaux)
Cite as: Rigaux, Christopher. 2018. "Anne Deruyttere." Anthropology News website, April 13, 2018. DOI: 10.1111/AN.830