Olosho Ethnobotany Project, Southern Kenya
Kristin Hedges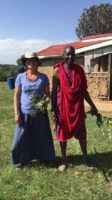 Last summer, I launched the Olosho Ethnobotany project in Narok, Kenya. This community-based project works with local Maasai men and women to document medicinal plant usage. Maasai traditional ecological knowledge of herbs supplied many of the healing properties needed for typical household health concerns. However, this component of heath care is currently under threat. Due to the rapid spread of urbanization, land loss, and deforestation, the use of traditional medicines in the community is decreasing. Knowledge of which herbs can be used for what treatment is being lost. This project works with community healers in Narok, Kenya, to document medicinal herbs, the frequency and characteristics of their use, health care decision-making processes, use of traditional medicine and pharmaceuticals, and the roles that traditional medicines play in supporting a healthy lifestyle.
By working with a local community based organization called Olosho Initiatives and an affiliation with the National Museums of Kenya, I was able to complete phase one of the project. During the summer, I collected 22 plant samples, along with a recorded description of their local medicinal usage. I also conducted twenty household interviews on health care decision-making processed over the use of traditional medicine versus pharmaceuticals.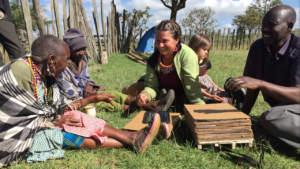 Throughout this academic year, I have involved undergraduate students in data processing and analysis. The next step will be to develop a small reference book of medicinal plants from the data collected, with the intention to print them professionally and return these books to the community for local daily use. Community elders are very excited about this portion of the project; they are hoping that by writing down the knowledge, the value will be increased for the younger generation. I have also sought further support to expand the project and plan to return to work with the community to establish a local herbarium and seed bank to protect these useful plants.
Accelerating Sustainable Development in Africa
Anita Spring
Since 2004, I have attended most of the International Academy of African Business and Development (IAABD) meetings and then, when possible, stayed in the African country hosting the conference that particular year to conduct research. I served as IAABD executive secretary and vice-president during that time, as well. In 2017, the United States served as host country, and thus I attended the IAABD in Atlanta, Georgia. The conference theme was "Accelerating Sustainable Development in Africa: The Roles of Business, Entrepreneurs, the Middle Class and Global Partners." I presented "African Entrepreneurship from Local to Global," attended many sessions, and interacted with many participants whom I have met over the years since joining IAABD. For me, and the topic of African entrepreneurship, these meetings are themselves research because they include rich analyses and solid data (cultural, economic, and political), as well as specific case studies from the entrepreneurial sphere, from small- to large-scale.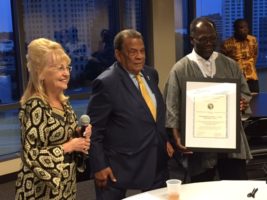 Previous IAABD conferences in Africa were held in Arusha, Tanzania (2016); Nairobi, Kenya (2015); Accra, Ghana (2006 and 2013); El Jadida, Morocco (2012); Lagos, Nigeria (2010); Kampala, Uganda (2009); Dar- es-Salaam (2005). Non-African venues have included London, England (2007); Gainesville, Florida (2008); Edmonton, Canada (2011); and Barbados (2014). In 2018, the IAABD will meet in Durban, South Africa (see https://iaabd.org/2018-annual-iaabd-conference/). For each conference, a major university or universities in the area sponsors the meetings.
Most of the IAABD participants are African: some teach in Africa (e.g., Cameroon, Ethiopia, Ghana, Kenya, Morocco, Nigeria, South Africa, Tanzania, Uganda, Zambia, and elsewhere) but others teach in the US, UK, Europe, Sweden, Canada, and Australia. The IAABD website is www.iaabd.org includes the peer-reviewed conference papers that are published in Proceedings. I co-edited the 2013, 2014, and 2015 volumes.
In 2015, I was elected to IAABD's Board of Governors, and in 2017 became its first President. I was given the honor of presenting the IAABD Distinguished Recognition Award to Ambassador Andrew Young, the former US Ambassador to the United Nations and former mayor of Atlanta who had played significant roles both at the UN working with African member states and in civil rights in the US. Our paths crossed when he was working with the National Summit on Africa (NSA), and I was chair for the State of Florida and rapporteur for the southeast. The NSA helped the passage of the African Growth and Opportunity Act (AGOA) from 2000–2015 and extended it to 2025. This legislation's purpose is to assist Sub-Saharan African trade and to improve economic relations between the US and Africa.
IAABD members are outgoing and dynamic. IAABD receptions are similar to the ones that the AfAA holds at the AAA meetings—awards and a lecture on the final evening, and food, music and dancing to enjoy after listening to papers all day. I encourage all who are interested to attend and allow the conferences to help inform your research.
Kristin Hedges is assistant professor of anthropology at Grand Valley State University, as well as one of the contributing editors for the Association for Africanist Anthropology. You can reach Kristin at [email protected].
Anita Spring is professor emerita, University of Florida. She has served as president for the Association of Africanist Anthropology, as well as Culture and Agriculture. You can reach Anita at [email protected].
Jennifer Coffman is outgoing contributing editor for the AfAA and current AfAA President. Christian Vannier of University of Michigan-Flint is the incoming contributing editor. Please send column ideas, photos, research updates, and other AfAA relevant info Christian at [email protected]. Welcome Christian!
Cite as: Hedges, Kristin, and Anita Spring. 2018. "Tales from and about the Field." Anthropology News website, April 16, 2018. DOI: 10.1111/AN.828