When the news broke that Special Counsel Robert Mueller III indicted a Russian "troll farm" and 13 individuals associated with it, news and commentary reacted with outrage over the allegations that a foreign government had interfered in a US election.
As for me, I confess, I'm "shocked! Shocked I say," to learn that there's election interference going on in here.
Irony aside, I do research in Latin America. The long history of US intervention—not only interference in elections, but also armed and clanestine tactics—is simply part of the political landscape there. In 1954, US support for the coup to overthrow Guatemalan President Jacobo Arbenz included spreading false information through shadow media outlets. Throughout the 1960s and early 1970s, the CIA carried out sustained propaganda activities, supported selected political parties, and funded major news media opposition to Allende's government in Chile. This political opposition ultimately lead to the coup there on September 11, 1973 (the "other" September 11), which overthrew the democratically elected government of Salvador Allende. In 2003, the US ambassador to Bolivia, where I work, threatened that there would be consequences if Bolivians elected Evo Morales. In this last instance, the tactic backfired, and Morales's popular support skyrocketed, leading to his election as president two years later. These are only a handful of the most widely recognized examples of US interference in the sovereignty of Latin American democratic politics.
If we recognize rule of law as a genuine concern, then nothing supports that assumption except a presumption of inherent supremacy: other countries simply don't deserve the protections of the rule of law that the US takes for granted.
With that history in mind, something strikes me as off about US public discourse about Russian interference in the 2016 election.
All of the handwringing seems either hollow or naïve
. Either these practices reflect realpolitik—the kinds of international statecraft that governments routinely use to jockey for position in a rough-and-tumble game of international politics—or they are an unconscionable affront to the democratic practices of a sovereign state. If the first is true, the US got beat at its own game. If the second is true, then the outrage over Russian lawbreaking is merely hypocrisy.
But, what does this have to do with law, reckoning, or recognition?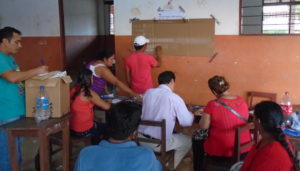 Both of these perspectives involve failures of recognition. A realpolitik discourse requires ignoring law as a motivating concern: national interests—however defined—outweigh interests of legality. To the extent that this position recognizes "law," it is as a tool to be used in the service of these national interests. In this view, attacks on US democratic process constitute an injury, not because there is anything wrong with election hacking, but because the revelation that the US political system might be vulnerable damages US credibility. That is, these realpolitik discourses describe the world through the lens of a global power struggle, in which law is one tool, among many others, for achieving national supremacy.
This ethical calculus involves giving priority to national interests over legal principles. I don't support this position, and even if I did, I would have questions about how to define the nation and whose interests coincide with national interests. But, at least it involves a coherent, sincere, and articulable calculus: might makes right. The US should interfere because it can, and if it doesn't, other states will.
Unless it is used to criticize the US alongside Russia, an ethical discourse that prioritizes legality over national interest involves a more fundamental failure of recognition. This approach fails to view democratic practices outside the US as even worthy of being recognized. I suspect that many people are unaware of the US's anti-democratic practices elsewhere in the world. These stories aren't widely reported or publicly discussed in the US. My point is not to indict individuals who are unaware of the US's typical behavior in international relations (at least in Latin America). My aim, rather, is to indict a systematic failure to recognize that political institutions of other countries have (or might desire) the same moral and legal standing as those in the US. Attacks by the US on political sovereignty over there don't merit the same consideration in public discourse as US sovereignty because … and here I'm stumped.
Reactions to Russian interference show the US, first-hand, how unsettling it is when foreign actors muddle up sovereign political processes. Yet a view of the US as a victim of Russian election interference is inconsistent with a view the US as not guilty of interference elsewhere. To argue otherwise is to claim either that the US cannot be guilty or that other states cannot be victims. Either way, a presumptive supremacy lies at the heart of this logic. It depends on an assumption that the US has a right to interfere with the political sovereignty of other countries, or that (certain) other countries don't have the right to govern themselves. If we recognize rule of law as a genuine concern, then nothing supports that assumption except a presumption of inherent supremacy: other countries simply don't deserve the protections of the rule of law that the US takes for granted.
The fact that Russia succeeded (and did so in a spectacular fashion) calls this presumption into question. It is a moment of reckoning for US imperialism. Without that presumptive supremacy, what basis is there for the US to interfere in the affairs of other countries? It doesn't hold the legal or moral high ground, and it doesn't always win at the rough-and-tumble game of international politics.
Chuck Sturtevant is a PhD candidate at the University of Aberdeen's Centre for Citizenship, Civil Society and Rule of Law. He writes about political anthropology in the Amazonian lowlands of Bolivia. His recent published work includes "Habilito: Debt for Life."
Featured image: Adapted from Dwight Burdette/Wikimedia Commons (CC BY-NC 3.0)
Cite as: Sturtevant, Chuck. 2018. "Meddling." Anthropology News website, April 23, 2018. DOI: 10.1111/AN.838