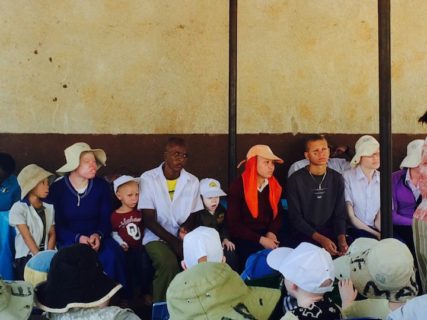 There are many people in Tanzania—though no one knows exactly how many—with skin that is significantly lighter than others'. Biomedically speaking, they are said to have albinism, a recessively inherited genetic condition that affects melanin production and results in low vision. In recent years, albinism has become the hegemonic conceptualization of light skin, in large part due to medical humanitarianism and deliberate efforts by the postcolonial state and non-governmental organizations (NGOs) to make albino a salient category. My research investigates the creation and circulation of this category, as well as other practices that exist around light skin in Tanzania. Through participant observation with traditional healers and their patients, for instance, I learned that the body parts of those with extraordinarily light skin (which is different from white skin) may be used to access invisible realms. In this context, these body parts are understood as agentive, able to serve as potent catalysts in dawa (medicines) that generate fortune. These other "articulations" (Langwick 2008) of light skin sit unevenly alongside albinism.
Debates about what light skin is and what it can be seem particularly urgent at this moment, given that in the last decade people with light skin have been murdered and violently attacked. In recent years, there have been several high-profile killings of light-skinned people, most but not all of whom are thought to have albinism. This violence is rumored to be motivated by an illicit trade in the body parts of light-skinned individuals, reportedly run by traditional healers and their patients. Violence has galvanized a transnational movement for albino rights and spurred a vast array of media representations of both albinocide and those who (are purported to) use body parts in medicine. Activists in Tanzania and the Global North explain this violence through a particular narrative trope: they claim that ignorance (of the fact that light skin is albinism) begets a reliance on superstitious witchcraft beliefs, which begets violence. Constructing violence as a problem of African culture and traditions, activists thus maintain that the only antidote to violence is to raise awareness of albinism as a genetic condition and to tether the category albino to rights-based conceptions of personhood.
In this sense, Pendo's albinism was not something that existed a priori, but rather emerged through her unfortunate abduction and her mother's subsequent interactions with albino rights NGOs.
Despite widespread media attention and the abundance of albino rights NGOs emerging in the last decade, violence and activism surrounding people with unusually light skin is not new. Activists contend that albinocide is an escalation of violence that has always existed in one form or another; they often evoke rumors that infanticide existed in the past and possibly now, and lament a past and present of social isolation and neglect. At the same time, as a subject/object of biomedical knowledge, "the albinotic negro" (
Pearson 1911
) has long been an enigmatic, liminal figure, explicitly the concern of nineteenth century travelers, doctors, colonizers, and missionaries. Particularly troubled by their inability to fit light-skinned Africans into their racialized classificatory schemas, they sought out light African bodies, whole and in parts, for their own medical, social scientific, and theological pursuits. In the early twentieth century, efforts to expand and standardize the lexicon of Swahili—the de jure language of colonial rule (
Fabian 1991
)—led to the creation of new Bantu words for light-skinned individuals. And, in the postcolonial era, biopolitical, humanitarian, and socialist state health interventions—particularly around skin cancer, which continues to be endemic among low melanin populations living under equatorial sun—further contributed to the emergence of the category albino.
A central claim of my work is that albino is an unstable category in Tanzania that emerges through violence and activism. For instance, on the night of December 27, 2014, Pendo Emmanuelle Nundi, a four–year–old child with skin significantly lighter than her parents, was abducted from her home in rural Mwanza. She was never seen again, but weeks later police reportedly apprehended a traditional healer on Ukerewe Island who was attempting to sell the arm bone of a small child, thought to be Pendo's. In the wake of her disappearance, Under the Same Sun (UTSS), a Christian albino rights NGO headquartered in Canada, sent a team to Pendo's village to demand details into the investigation, interrogate neighbors and possible suspects, and comfort Pendo's mother. Accompanying them one January day, I learned that prior to Pendo's abduction, her mother didn't consider her daughter's light skin to be albinism. It isn't that she was unaware of albinism as a biomedical category, but that she didn't think it described her daughter. According to UTSS, Pendo had what geneticists call "brown albinism," which results in higher levels of melanin in skin and hair than other types of albinism. She likely had poor vision but was too young to bring it to her mother's attention, they explained. In this sense, Pendo's albinism was not something that existed a priori, but rather emerged through her unfortunate abduction and her mother's subsequent interactions with albino rights NGOs.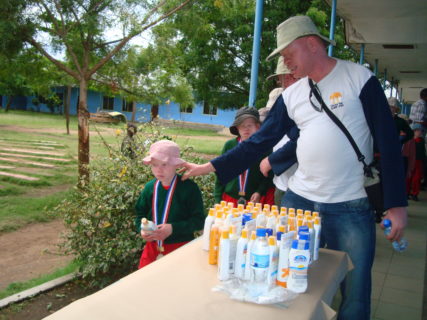 It is through interventions like this one by UTSS "first responders" that activists work to concretize light skin as albinism. UTSS also travels the country conducting Understanding Albinism seminars, as do several other albino rights NGOs. In these seminars, NGO staff work alongside scientists, Christian missionaries, and state officials to teach various audiences that albinism is a recessively inherited condition occurring in people in every country, as well as in nonhumans. Their work also involves sensitization and disability rights training, the goal of which is to get people to love and accept light skin, but, very specifically, only as albinism. I found that teaching genetics almost always involves a disavowal of traditional healing, since it is the nonscientific, non-Christian practices surrounding light skin—whether by traditional healers or their patrons—that are thought to cause violence. In these seminars, as well as in other albino rights interventions, concepts like albino, genetics, and the unseen are presented as knowable and immutable categories that have always existed, and that now through education are finally being understood for what they really are. Yet, by closely following the practices through which albinism and the unseen emerge, my work points to these categories as deeply unstable and suggests that it is not so easy to disentangle humanitarianism from the unseen, or violence from care.
Categories like albino and the unseen are hardly neutral or predetermined, as they appear to be in the discourse surrounding albinocide and the albino rights movement.
Another example of a different kind of albino rights intervention helps to convey how violence and activism surrounding light skin are actually co-constitutive and difficult to disentangle. On multiple occasions, I observed undercover work on the part of activists, journalists, and even academics. Frustrated by mere rumors and a lack of verifiable facts about others' beliefs in the extraordinary capacities of light-skinned bodies, they visited traditional healers rumored to traffic in body parts and posed as businesspeople potentially interested in purchasing medicine containing the body parts of light-skinned people. Often justified by the need to raise awareness about albinocide, this practice of concealing one's true self—something I call occult journalism—actually increased perceptions of a demand for albino body parts, possibly even incentivizing violence. By posturing as down-on-their-luck elites with money to spend, practitioners of occult journalism did not translate shadowy rumors into demonstrable truths, but rather created more uncertainty, stoking intrigue about who and what light bodies are and for whom.
I offer these sketches to suggest that albinism is something being produced through the knottedness of violence and activism—practices that are themselves murky and inseparable. What is more, categories like albino and the unseen are hardly neutral or predetermined, as they appear to be in the discourse surrounding albinocide and the albino rights movement. Rather, they are political tools that emerge through practices surrounding light skin and, at times, create the realities they claim merely to describe.
Jane Saffitz has an MSW from Columbia University and is a PhD candidate in socio-cultural anthropology at the University of California, Davis. Her research, which has been funded by the Wenner-Gren Foundation and Fulbright-Hays Program, explores practices of violence and activism surrounding the category albino in Tanzania.
Cite as: Saffitz, Jane. 2018. "Albinism and the Unseen in Tanzania." Anthropology News website, May 3, 2018. DOI: 10.1111/AN.841