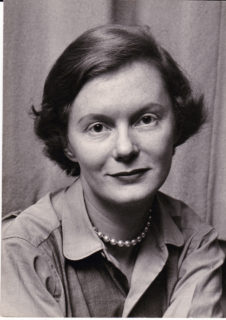 Helena Malinowska Wayne passed away in Brighton, England on March 31, 2018, at the age of 92. The third and last surviving daughter of the Polish social anthropologist Bronislaw Malinowski and his wife, the Australian journalist Elsie Masson, Helena was born in Bolzano (Bozen), Italy, in 1925. After the Malinowski family moved from South Tyrol to London, she was educated in England and later in the United States, where her father moved together with his three daughters, their mother having died in 1935. At the end of the World War II, Helena went back to England and started a career in journalism and television. She was a reporter and research staffer for the magazine Life as well as a book editor, and a television producer for the BBC. Together with her first husband, the journalist Don Burke, and their two children, she lived in Athens, Rome, Paris, South Tyrol, and Geneva.  
When Malinowski's second wife, Valetta Swann, passed on to his daughters all the material she had inherited from him and taken with her when she moved to Mexico City, Helena started to work on her parents' personal papers. She ordered their correspondence, reconstructed their biographical trajectories and social networks, and interviewed their friends and her father's former students. Her research contributed to underlining the central role of different women—above all, that of Elsie Masson—in the life and academic career of Bronislaw Malinowski (Wayne 1985). She also helped rediscover Malinowski's Polish roots and life-long Polish connections, as we read in the foreword (Wayne 1988) she wrote for the book published for the celebration in Krakow of the centenary in 1984 of Malinowski's birth. In 1995, Helena Wayne edited, and published in two volumes, a large selection of the letters her parents sent each other, from the time they met in Melbourne in 1916–17 until Masson's death near Innsbruck in 1935, producing one of the most important documents on their private and public lives. She added valuable information and notes to contextualize the letters, allowing us to understand the background to many Malinowskian masterpieces, such as the intimate aspects of his academic and domestic milieus, and the multifaceted relationship—and the intellectual collaboration—between Malinowski and Masson.
We know from her writings that Helena, too, was interested in social-cultural anthropology: as a teenager, she would have assisted her father during his third summer of fieldwork in the Oaxaca Valley, Mexico, had he not suddenly died in 1942 at Yale University. She also visited the Trobriand Islands, kept in contact with academics and cultural anthropologists from different countries, and collaborated in organizing events dedicated to her parents and to anthropology.
Helena's work and research deeply inspired the Malinowski Forum project at the Free University of Bozen-Bolzano, prompting us to investigate the life and work not only of Bronislaw Malinowski but also of Elsie Masson, and their strong connection to South Tyrol. She is survived by her two children, Lucy Ulrich and Patrick Burke, and grandson Daniel Burke. (Dorothy Zinn, Elisabeth Tauber, Daniela Salvucci)
 Cite as: Zinn, Dorothy, Elisabeth Tauber, Daniela Salvucci. 2018. "Helena Malinowska Wayne." Anthropology News website, May 7, 2018. DOI: AN.848