Students, staff, and faculty gather for a cross-generational discussion.
For Anthropology Day 2018, students, faculty, and staff at Rollins College, Florida, convened in an on-campus restaurant and popular study space to discuss #MeToo. We were students currently enrolled in anthropology and global health courses, anthropology majors and minors and faculty members, students affiliated with the Lucy Cross Center for Women and their Allies, and staff working with international programs and the Title IX office.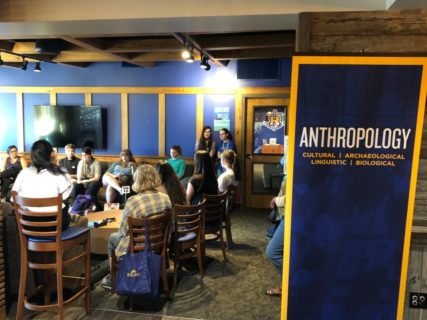 We began with the question "Why now?" After all, the movement is over 10 years old. Students responded that the recent media attention garnered by women's accounts of sexual violence comes after a period of complacency about social movements that has been reinvigorated in opposition to a political administration filled with misogyny at the highest levels, particularly the current president. Students described a "cross-generational effect" Students also described the ability to "have a global conversation through social media" as a vehicle for sharing experiences. We discussed #MeToo as a way for survivors to tell their accounts of sexual violence and to have their voices heard. Yet much media attention has been placed on accused perpetrators instead, with survivors being framed as attackers. Students were particularly sensitive to the different strands and directions of the movement, such as #Time'sUp in Hollywood or misinterpretations of #MeToo. When I provided a quote from the politically conservative pundit Laura Ingraham, who declared #MeToo "weaponized," one student replied, "shouldn't it be weaponized?" while another student said, "people who say it's weaponized are reasserting power over women."
We also discussed the possibility that a person may not realize that they've caused someone else harm, yet it is easier for them to believe that they are a good person than reflect on previous actions. One student said that this is about gender roles and "babying sons and parenting girls." Students remarked that they disliked people "having to be so careful about what they say" because some people don't understand the issue.
Students also described the ability to "have a global conversation through social media" as a vehicle for sharing experiences.
We turned to the use of the phrase "witch hunt," a descriptor for the movement in some media outlets (e.g.,
a January 9 open letter
by 100 French women in the newspaper
Le Monde,
writer
Margaret Atwood
, Hollywood actor
Liam Neeson
, and director
Michael Haneke
). One student said that #MeToo is being called a witch hunt because of the gender of the people making the accusations. To one student, it seemed like an easy route to reduce women to hysterics and use violent language to describe women as attackers of men. We discussed that a witch hunt implies that stories might not be truthful. One faculty member pointed out that it seems rare, so far, that stories coming out have been proven false. A staff member suggested that #MeToo should focus on systemic problems and not individual behaviors so that people, particularly men, avoid being labeled as predators.
The conversation shifted to our own campus, in light of a recent campus newspaper article  tracking the number of cases reported to the Office of Title IX over the past 10 years (Stanley 2018). While a few students believed the upward trend over time shows an obvious need for more sexual violence education, the Title IX officer suggested that the upward trend is because of changes in how the cases are reported, the creation of the Title IX office in 2015, and cultural shifts on campus to widen conversations about sexual violence. She said, "If the reporting is going up, I'm doing my job." An anthropology faculty member asked students how they learn about consent, which led to a constructive discussion about suggestions for improving freshman orientation week: holding the Title IX presentation at the beginning instead of at the end; providing opportunities for survivors to leave the room; rethinking how alcohol education is taught; providing additional training in rapport building for facilitators; instituting a refresher meeting; and integrating sexual violence education into general education courses and other curricula. Finally, students suggested raising support among faculty of the Title IX statement—defining sexual misconduct and requiring faculty to report incidents—that is included in all syllabi. Students report discontinuity regarding which professors explain the statement at all, who explains the statement on the first day of class and then never again, and who provides continuous affirmation of the statement over the course of a semester.
The last question I put to the group asked whether #MeToo has potential to create sustainable change. Opinions were mixed. A few in the audience believed that #MeToo can bring awareness but not sustainable change, but noted that without awareness there can be no change. One suggestion was to make sexual violence "part of the public's knowledge." One student was concerned about how #MeToo is perceived by people not on social media or not in college and therefore unable to participate in discussions.
The conversation did not end here. The Rollins Debate Team held The Great Debate competition on the subject of #MeToo. Rollins will be collaborating with a playwright to collect stories from the campus community relating to #MeToo, justice, power, and fear, and to create a script.
I am so impressed by the number of people who participated in a casual, civil, critical conversation on a topic that impacts us all.
Shan-Estelle Brown is an assistant professor of anthropology and co-coordinator of the global health program at Rollins College. Her medical anthropology research focuses on the provider-patient relationship in the form of adherence, acceptability, and self-treatment for chronic diseases like HIV.
Cite as: Brown, Shan-Estelle . 2018. "#MeToo Conversations on Campus." Anthropology News website, May 10, 2018. DOI: 10.1111/AN.862