How to Stop the Normalizing of Trump.
Remember when everyone feared the "normalization" of a Trump presidency? Well, it's gotten to the point where the US president can now openly brag about lying to the Canadian prime minister, and his bald-faced maneuvers to discredit the Robert Mueller investigation and FBI have been openly joined by House Republicans under the deceptive moniker of "oversight."
Trump's recent attempts to discredit opponents and confuse the public are nothing new. He has been gaslighting America since the campaign and the beginning of his presidency—manipulating the nation into doubting its perception of reality and replacing it with a new Orwellian normal where real news is fake and conspiracy theories are true.
Trump has drawn on the same behavior to discredit the women who have accused him "of various degrees of sexual harassment, voyeurism, and assault." Broader efforts to prevent the normalization of Trumpism can learn a few things by examining the dynamics of this misogyny and how the #MeToo movement has responded, including the push to hold #TrumpToo accountable for his own history of alleged sexual harassment and assault.
If the #MeToo movement has taught us anything, it is that sexual predators, like demagogues, profit from the quiet acceptance of abhorrent behavior.
Here is Trump's playbook: Deny. Misdirect. Lie. Silence. Punish. Reframe and displace allegations with his own dissembling. Invoke popular tropes (e.g., "locker room talk," "fake news") to shift the frame. Denigrate accusers with jokes about their sexual attractiveness, hand size or IQ. Sow confusion and make people question their perception of reality. Then, the accusations will fade away, and he will be free to do the same thing all over again.
Trump silences accusers through forceful denials that confuse the public and threaten punishment. Before the election, Trump responded to allegations of sexual assault by asserting, "The events never happened. Never." Faced with questions about his own credibility, he then turned the tables on the accusers. "Every woman lied," Trump angrily declared. He followed these projections with empty but punitive promises: "All of these liars will be sued after the election is over." Finally, he issued contradictory statements to make amends for the problematic behavior. "I have tremendous respect for women," Trump has repeatedly assured us. The counter-accusations, punitive threats, misdirections, and contradictions silence women who have spoken out and warn others against coming forward.
Trump redefines reality by using euphemistic language and invoking alternative interpretive frames to characterize accusations of sexual harassment and assault. Before the election, he reframed his comments on the Access Hollywood tape as "locker room talk," displacing the more serious sexual assault frame to guide how discussants draw meaning from the incident. Within the jocular "locker room talk" frame, complaints are discursively positioned as overly sensitive or even hysterical. This frame licenses mocking behavior to win over others and enlist their help to shame, humiliate, and disparage his accusers. When women began to come forward with stories about sexual assault before the election, Trump quipped at a campaign rally: "Believe me, she would not be my first choice, that I can tell you." Many supporters in the crowd laughed while others dismissed his quip as more puerile "locker room talk." Either way, the women were silenced and ignored.
To deflect accusations of sexual harassment and assault, Trump need not convince everyone that his view of reality should be believed. He just needs to sow enough confusion to dissuade and paralyze others who would otherwise speak up from doing so. In dueling stories where facts are disputed, the benefit of the doubt typically goes to the powerful man in a patriarchal society. Natasha Stoynoff, a journalist for People magazine, knew this when she stayed silent after an incident with Trump in 2005. Her editor at the time of the assault wrote in 2016: "The ghastly truth is that had Trump punched her, our course of action would have been much clearer." But when faced with sexual assault or harassment allegations, neutral or sympathetic bystanders too often fail to listen. Many choose to remain silent because they don't know who to believe.
Trump's playbook has always worked before. But, the problem is, Mr. President, time's up. Women are using the power of narrative to break the silence and reframe the conversation around sexual harassment and assault to hold powerful abusers like you accountable.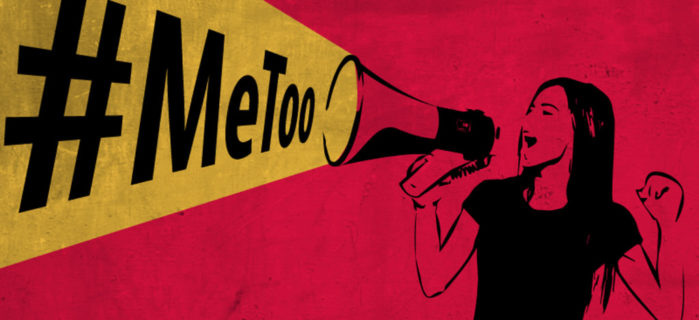 #MeToo disrupted the taken-for-granted frame that sexual harassment and assault can be reduced to mere "misconduct" or "inappropriate behavior." Hua Hsu writes in the New Yorker that normalization "resides in the way that we speak, in the ideas that get refined and reworked and encoded in ordinary words until they seem harmless enough." Replacing the euphemisms that powerful men like Harvey Weinstein or Donald Trump use to make their own behavior appear harmless (e.g., "locker room talk") is an important step toward resisting the normalization of that behavior. As Laura Bates emphasizes in the Guardian, "It's not groping or fondling—it is sexual assault."
#MeToo also disrupted the cultural script in which society overwhelmingly sides with powerful men as they defend themselves against accusations of sexual harassment or assault by denigrating their accusers. Since before Anita Hill, women have always paid the price of their own reputation and credibility for speaking about their experiences. #MeToo has demonstrated that speaking out is no longer "something to be ashamed of" and has pushed society to question the credibility of the sexual predators.
The more people who call out intolerable behavior, the less likely that behavior will become normalized. We all need to support the courageous people who step forward to tell their stories and expose the truth—whether they are women telling their stories about Trump's misogyny or career government officials voicing their concerns about Trump's attacks on democratic institutions.
Now is not the time for the Republican leadership to remain on the sidelines, complicit in silence. "I believe the women, yes," Senator Mitch McConnell unambiguously stated in response to the allegations against Roy Moore during the Alabama senate race. But so far, McConnell and Representative Paul Ryan continue to suppress their moral courage when it comes to Trump.
If the #MeToo movement has taught us anything, it is that sexual predators, like demagogues, profit from the quiet acceptance of abhorrent behavior. Resisting the creeping normalization of Trumpism demands following the #MeToo movement's lead and the #TrumpToo push to hold even the most powerful man in the country accountable.
Adam Hodges is a linguistic anthropologist with interests in political discourse. His books include The 'War on Terror' Narrative: Discourse and Intertextuality in the Construction and Contestation of Sociopolitical Reality, and his articles have appeared in Discourse & Society, Journal of Linguistic Anthropology, Language & Communication, and Language in Society.
Cite as: Hodges, Adam. 2018. "#MeToo Holds Lessons for Political Resistance." Anthropology News website, May 10, 2018. DOI: 10.1111/AN.857