Anthropology's decades-long misrepresentation of this story of sexual violence should inform the discipline's relationship to #MeToo.
This is the story of a story that matters to us. In June 1931, Henrietta Schmerler, a promising young student of Ruth Benedict's at Columbia University, set out to do fieldwork among the White Mountain Apache in Whiteriver, Arizona. On her way to conduct research at a dance on July 18, 1931, she was raped and murdered. For decades, Schmerler's teachers, colleagues, and their students blamed her for her own rape and murder. While the #MeToo movement shows us what can happen when people feel empowered to share their own stories, the story of Schmerler's story can help us understand what can happen when a discipline is threatened by other people's narratives of sexual violence.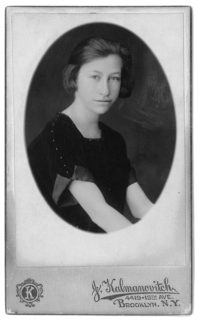 One of the most striking things about #MeToo is how social media allows people to share their own stories of sexual harassment, violence, and assault in their own words. Schmerler will never be able to tell us her version of what happened, yet her story did not disappear with her death. Instead, its telling has been controlled and selectively censored by anthropologists—at times in the pages of this very publication. When Schmerler's family members attempted to enter the anthropological community's conversation about her life, they were met with silence. For decades the anthropological community distorted and misreported Schmerler's story; it is time we acknowledge our discipline's misrepresentation of Schmerler and her violent death.
Abandoned by her mentors
In 1931 and 1932, questions and suppositions about Schmerler's death were a fixture of private correspondence among many of American anthropology's founding figures, including Franz Boas, her advisor Benedict, her mentor Margaret Mead, her teacher Gladys Reichard, and her colleague Ruth Underhill.
Almost immediately after the discovery of Schmerler's body—she had been missing for seven days—Benedict began to distance herself and her students from Schmerler. In a July 29, 1931, letter to a colleague, she describes Underhill as "a more mature woman than Miss Schmerler" (Ruth Fulton Benedict Papers). Boas, who was traveling in Europe at the time of Schmerler's disappearance, wrote to William Donner, the superintendent of the reservation, on December 24, 1931, that he saw "a certain unmistakable guilt on her part," as Schmerler "did not follow the advice we gave her in regard to procedure" (Department of Anthropology Records). Reichard made a personal visit to Whiteriver where Donner was all too happy to tell her his version of events. And Reichard was quick to spread word of Schmerler's presumed incompetence and licentiousness. In a letter to Benedict on July 8, 1931, that accused Schmerler of, among other things, plying her interlocutors with alcohol, Reichard wrote, "Nobody seems to blame anybody but her now" (Ruth Fulton Benedict Papers). In her posthumously published memoirs, Underhill also describes hearing Donner tell Schmerler's story while representing Columbia University at her murderer's trial. Her chapter titled "Henrietta" is a mix of sympathy—when Donner asked her if she "could imagine" Schmerler having the gall to conduct research on the reservation alone, Underhill writes, "Of course I could"—and barely coded anti-Semitism, "[h]er loud laughter…caused us to withdraw, even the Jews in the class" (2017, 151–156). Donner's account, in which Schmerler accepts a horse ride from a young Apache man without realizing it was tantamount to consenting to sex, quickly gained traction among anthropologists.
As Golney Seymour, the man ultimately convicted for raping and murdering Schmerler, confronted charges brought against him by the FBI in Arizona, Schmerler posthumously stood trial before a jury of her former mentors and colleagues. Within two weeks of Seymour's capture, Benedict wrote to her Southwest-based colleague Jesse Nussbaum on November 13, 1931, to say "Of course I do not feel anthropology is on trial, but I recognize that it is unfortunate that Miss Schmerler's overzealous mistakes should be given such great publicity. And a murder trial invariably releases antagonisms and feelings that do no good to anybody" (Ruth Fulton Benedict Papers). In their letters, Schmerler's peers speculate about her poor judgment, imagine her indiscretions, and worry about the impact her death will have on anthropological fieldwork in the future. (In 30 years of research, Evelyn Kamanitz and Gil Schmerler—Schmerler's niece and nephew—could find no evidence for most of her alleged "mistakes.")
The debate in Anthropology News
For Reichard and Benedict's generation of anthropologists, this fear of "great publicity" and its potential consequences—calls to ban anthropologists from working on reservations or to bar women from becoming ethnographers—motivated them to carefully manage their public references to Schmerler while privately condemning her. For their students, Donner's version of Schmerler's story—which held her solely responsible for her own rape and murder—became the accepted version of events.
In September 1986, Nathalie Woodbury composed a column on the dangers of fieldwork for this publication—then Anthropology Newsletter. In it she condemns an unnamed "Columbia woman graduate student" whose "stupidity" brought about her own demise (Woodbury 1986a). Her column sparked a debate about sexual violence in anthropology that ran over several months (see Steffen 2017). When Deborah Tannen (1986) wrote in to argue that "blaming a rape victim for 'inviting' attack is no less unfair in an anthropologist than in a member of the community at large—and far less becoming," Woodbury (1986b) responded by doubling down on her assertion that Schmerler must have acted poorly: "Inappropriate behavior does not justify rape and death; unfortunately, it can result in them."
It was not until the January 1987 issue of the newsletter that Woodbury was finally able to produce Schmerler's name (1987a). In May 1987, Gil Schmerler and Evelyn Kamanitz wrote to contest Woodbury's claim that it was common knowledge sharing a horse meant consenting to sex. Their letter and its corrections were ignored by a book about the dangers of fieldwork that emerged as a result of the debate in Anthropology Newsletter just a few years later (Howell 1990).
The struggle to share Schmerler's story
As they conducted research for their book, Schmerler's niece and nephew were unprepared for the barriers they met. Their initial inquiries at Columbia University in the mid- to late 1980s elicited blank or quizzical stares—no one in the anthropology department seemed to know about Schmerler and the only documentation was a manila folder containing newspaper clippings of her murder and the subsequent trial. The FBI, which had overseen the investigation and selectively released the story of the murder and trial to the public, turned over its 454-page file to Gil Schmerler only after two years of extensive litigation under the Freedom of Information Act and judicial rulings favorable to the plaintiff (Schmerler 1990). The agency may not have been acting with the intent to protect anthropology—or the reputations of Benedict or Mead—but that was the effect.
When Henrietta Schmerler and the Murder That Put Anthropology on Trial was published in 2017, Gil Schmerler reached out to Anthropology News, which years earlier had readily devoted space in several issues to debating the significance of his aunt's life and death. This time, the Anthropology News staff did not react with the same urgency and interest. Instead, they suggested that he find "an anthropologist colleague (who is a member of AAA)…to collaborate on an article and pitch it to Anthropology News" (personal correspondence, September 12, 2017). The Columbia University Department of Anthropology was even more difficult for Gil Schmerler to reach. Emails and phone calls were not returned. Eventually, he wrote to 10 individual faculty members and received two responses. As of this writing, only one thoughtful instructor seems to have read the book.
Schmerler's colleagues and mentors rejected her after her death; why would an anthropologist in 2018 know about her story?
This is not necessarily a continuation of efforts to shape a sensitive narrative that was evident among the anthropologists of the 1930s and 1980s, nor an attempt to shelter the legendary founders of the department (and discipline) from critique. Instead, it might be the result of ignorance. After all, Schmerler's colleagues and mentors rejected her after her death; why
would
an anthropologist in 2018 know about her story? Nevertheless, the crucial issue is less what is
required
of anthropologists and more what anthropologists should
aspire
to be. An anthropology that publicly declares that it "matters!" (as in the theme of the 2017 AAA Annual Meeting) should be more hospitable to non-anthropologists sharing stories of how anthropology has mattered to them and their families. It should not remain ignorant of its own history. It should acknowledge that neither sexual violence nor anthropology's disciplinary discomfort with its victims is new.
Even with the help of publications like Anthropology News, it's hard to track the influence of the oral history of Schmerler's death as told by anthropologists to anthropologists. Michael D. Lieber wrote to Gil Schmerler recalling the warnings he received about Schmerler's missteps during his own anthropology education in the classes of George Peter Murdock (personal correspondence, August 17, 2017). Woodbury claims she first heard of the incident from discussions with "Southwest Indian students" (1986). (This appears to be an evasion, in the most charitable interpretation; Reichard was Woodbury's advisor and Woodbury was Reichard's literary executor [see Falk 2009].) It's impossible to know how many anthropologists were told Schmerler's story—as a warning or as an object lesson—without knowing her name. In subsequent issues of Anthropology Newsletter, one sees Woodbury grappling with the fact that the graduate student she's repeatedly written about in dismissive and demeaning terms is not some nameless archetype but rather a real person with family members who read the publication (1987b).
As Schmerler learned during her three and a half weeks spent trying to convince the men of Whiteriver to explain Apache male coming-of-age rituals to her, communities often resist giving the right to tell foundational myths to outsiders. Though Schmerler lived and died during a time before the technology-saturated world that produced #MeToo, we see her story as intimately tied to today's conversations. Anthropologists have recorded people's tendency to deauthorize personal narratives of sexual violence (e.g., Trinch 2014), and it's only recently that victims are telling their stories and being believed and heard. Henrietta Schmerler is not here to tell her story, but in Gil Schmerler's book, Henrietta Schmerler and the Murder That Put Anthropology on Trial, we find something like a substitute. Gil takes us through Schmerler's life, her brief time in the field, her rape and murder, the reaction of her contemporaries, the FBI investigation into her death, and Seymour's eventual trial. It is a rigorously researched version of a story that has mattered to many people over several generations. It's time for anthropologists to hear it.
Gil Schmerler is a member of the graduate faculty at Bank Street College in the Department of Educational Leadership. He holds a BA from Amherst College and a doctorate from Columbia University Teachers College. In addition to his book on Henrietta Schmerler, he is also co-author of Not So Easy Going: The Policy Environments of Small Urban Schools and Schools Within Schools (2003).
Megan Steffen is a sociocultural anthropologist and a Postdoctoral Research Fellow in the Tsinghua-Michigan Society of Fellows. She studies unpredictability and fear in the People's Republic of China.
Cite as: Schmerler, Gil, and Megan Steffen. 2018. "The Disavowal of Henrietta Schmerler." Anthropology News website, May 10, 2018. DOI: 10.1111/AN.860