During the 2017 AAA Annual Meeting, all of the ASA events were held on Thursday, November 30. After the two morning sessions and the Business Meeting lunch, some 40 people (mostly members of ASA, but also members of other Sections, including students) boarded a bus to travel to Suitland, MD, where the Smithsonian National Anthropological Archive is located. We were greeted by Gina Rappaport, the Photo Archivist/Head Archivist of the Archive who happens to be the daughter of late Professor Roy (Skip) Rappaport, well-known scholar of Papua New Guinea and former member of the department of anthropology at the University of Michigan. A knowledgeable speaker, Gina talked to us about the Archive, its purpose and the extent of its holdings, which include materials from the Bureau of American Ethnology (BAE) and collections of both famous and not-so-famous anthropologists.
The Archive is located in a large warehouse-type building. Along long aisles were many large cabinets and drawers. Everything appeared to be "top of the line" and quite new. Divided into groups, we were able to concentrate on one of the three categories of archive in turn: archaeology, physical anthropology, and cultural anthropology and linguistics. Members of the Archive staff led each tour and over the afternoon showed us samples of the entire collection.
Our group began in the physical anthropology area, which contains a large collection of skulls as well as other skeletal material. From the amount of storage space allocated to physical anthropology, it was clear to us that the Archive contains an enormous collection. The most unusual archaeological exhibit we saw was a mummified woman dressed in colorful garb from thirteenth-century Peru.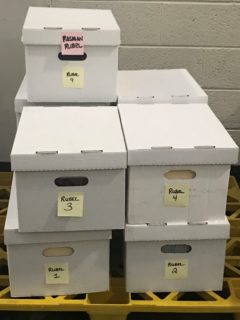 Next we were shown samples from the extensive ethnographic collections. The earliest material is that of John Wesley Powell on indigenous people of the Colorado region, which he explored during the late nineteenth century. There are many other individual collections, including the papers and materials of more recent anthropologists, including Bill Mitchell, Abe Rosman and me. Our materials were sent recently, so were still in boxes and not yet cataloged. There are also almost one million photographs (we saw samples of a few), film, and sound recordings. Everything is cataloged, making it easy to find documents. Among other matters we discussed the issue of protecting sensitive information.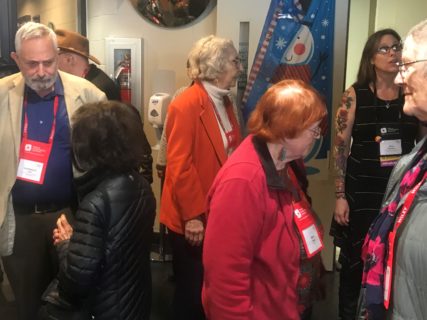 We were then treated to refreshments, and we were able to chat with various Archive staff members. Besides acquainting us with the collections of the archive, another purpose of the trip was to let senior us anthropologists know what we might do with our papers and to get information about the process for sending materials to the Archive. Placing our papers, fieldnotes, photographs, etc. in the Archive means not only that the material will be preserved, but also that it will be available to other scholars, students, and the people with whom we have worked. History is thus being preserved, providing us all with resources that would otherwise be lost.
Abe Rosman and I explored a number of possibilities for depositing our data. Our University, Columbia, is a great repository but does not have much room. Should they accept our materials, the New York Public Library could house them, but at some distant location rather than the library itself. Since we have material from different parts of the world, the American Philosophical Society Library is not entirely appropriate. The Archive seemed to us the best choice, as scholars become more aware of it as a major location for anthropological materials.
If you are interested in sending your materials to the Archive, contact Gina Rappaport: [email protected].
The late Paula Rubel was former president of the Association of Senior Anthropologists and Professor Emerita at Barnard College. This column was submitted shortly before her sudden death on May 14th, 2018.
Cite as: Rubel, Paula. 2018. "Trip to the National Anthropological Archive." Anthropology News website, May 17, 2018. DOI: 10.1111/AN.866