The evolutionary-racial othering that the concept of holism enacted does not only belong to anthropology's past, in the nineteenth century. The division of the world into us and them has continued in many works, albeit not in the form of the "modern" us and "primitive" them that many anthropologists now recognize. This othering, itself political, operates regardless of whether the work in question explicitly engages with politics. If we are going to grasp how these divisions—and the representational violence they engender—underwrite anthropological work today, we need to pay attention to how divisionary tropes and othering mechanisms operated in the twentieth century. In order to do this, we need to revisit these works, and carefully read politics at work in them.
Division continuous—the case of Indian anthropology
The first Indian anthropology textbook I read was An Introduction to Social Anthropology (1956) by D. N. Majumdar and T. N. Madan. Their descriptions of anthropology combined evolutionist thinking with a holistic approach. They emphasized that anthropology studied "pre-urban, primitive or rural" populations, stressing that it investigated "pre-literate societies only," and not modern people. Majumdar and Madan assigned anthropology to the study of tribes in forests and sociology to Hindu castes in villages and towns. As a result, anthropology largely consisted of "examples drawn mostly from Indian tribes."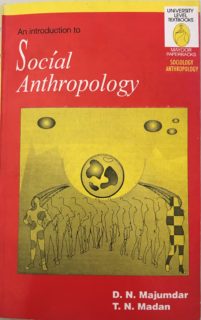 Majumdar and Madan further inscribed this division between the tribes in forest and Hindu castes in towns and villages with their particular articulation of culture. They translated culture as sanskritī, a Sanskrit word derived from sanskār, which means ritual performance. They defined it as follows: "Right from the day he is born, a Hindu goes through various ritual performances as a result of which he is accepted into various roles." Not only is the subject of culture male, but the male is also Hindu. In other words, their writing equated the definition of culture with Hinduism. As a result, they rendered Christians, Muslims, Sikhs, animist tribes, and those with no faith invisible.
Notably, politics was excluded from their holistic treatment of anthropology, even as nationalist politics permeated the textbook throughout. The textbook—reprinted thirteen times before 1999 and translated into Hindi in 1974—also read like a manifesto to shape the Indian nation-state along a Hindu majoritarian path. Majumjdar and Madan espoused tribes' "complete assimilation," something that G. S. Ghurye, a Hindutva votary and the "father" of Indian sociology, also advocated. To Ghurye, tribes were "actually only backward Hindus." Tribes could overcome their backwardness, so went the premise, when they became Hindu and thereby assimilated to the Indian nation-state, which held Hinduism as its core.
Division à la Geertz
Clifford Geertz's Islam Observed displayed a starker division, dotted, as anthropologist Benjamin Soares noticed, with orientalism. Geertz fashioned this division mainly through the category of civilization, which he took as a "whole." He argued that although both Indonesia and Morocco were mostly Muslim, they had contrasting holistic "historical personages,"  "character," and a "national archetype." He considered Indonesia to be marked by syncretism, quietism, inwardness, patience, poise, aestheticism, and self-effacement on one hand, and Morocco by puritanism, zeal, fervor, impetuosity, toughness, moralism, populism, and obsessive self-assertion on the other. Geertz concluded that Moroccans showed "spiritual schizophrenia," while Indonesians absorbed all aspects of life "into a cloud of allusive symbols and vacuous abstractions."
Notably, Geertz was not simply a theorist of existing symbols; he also invented them: Meraca in the seventeenth century was already "Morocco's Kremlin."
Geertz presented their respective holistic personages through the sixteenth century and seventeenth century figures of Kalidjaga and Lyusi: "embodiments" respectively of Indonesia and Morocco. Geertz understood these "embodiments" as transcending the rhythms of time:
It is perhaps as true for civilizations as it is for men that, however much they may later change, the fundamental dimensions of their character…are set in the plastic period when they were first forming.
As this quote shows, the contemporary Indonesian and Moroccan "characters" bore marks of their respective civilizations the cores of which were already shaped in their formative periods.
Mahmood Mamdani's identification of the categories of "good Muslims" and "bad Muslims" in post-September 11 political talk provides an important frame for reading Islam Observed politically.  He took journalistic depictions of Muslims as "tribalists and fundamentalists" and the "enemy" of modernism as exemplifying bad Muslims and those termed "moderate" and in favor of Western-style democracy as symbolizing "good Muslims." If one takes Indonesians as "good Muslims" and Moroccans as "bad Muslims," Geertz' explanation is intriguing. Indonesian Muslims are good because of the influence of "Hindu-Buddhist" or "Indic" civilization on Indonesia, whereas Moroccans are bad because they are Arab and their social organization, unlike Indonesia's, is a mix between sedentary society and a mobile one with tillage and herding.
A number of anthropologists have pointed out the absence of politics in Geertz's works. Sherry Ortner, for example, suggested that power or domination did not interest Geertz, and Laura Nader noted how Geertz gave no "ethnographic space for the half-million people killed by Indonesian government" beyond merely footnoting it. But Islam Observed was deeply political. Its politics are made manifest in the work's division along religious-nationalist lines. And it belonged to the genre of Cold War works—by Ruth Benedict, Margaret Mead, Rhoda Metraux and others—which, Johannes Fabian observes, produced "national character," "national personality," and "national identity." Notably, Geertz was not simply a theorist of existing symbols; he also invented them: Meraca in the seventeenth century was already "Morocco's Kremlin." Since Kremlin symbolized Communism during the Cold War, calling Meraca as Morocco's Kremlin was not unrelated to the Cold War anthropology, which was engaged in fashioning national identities.
These texts are but two examples of how the othering instituted by nineteenth-century anthropology's holism has manifested since the early days of the discipline. In each case, the politics of time infused the text: Majumdar and Madan's Social Anthropology underscores the continuing influence of colonial anthropology on postcolonial Indian anthropology, while Geertz's Islam Observed institutes a predominantly civilizational-national divide emblematic of Cold War geopolitics. The more attuned we as anthropologists are to the different ways in which anthropological works have engaged in the representational violence of othering, the better we can recognize it in the present and, better still, avoid it entirely.
Irfan Ahmad is an anthropologist and senior research fellow at the Max Planck Institute for the Study of Religious and Ethnic Diversity, Göttingen, Germany. Hist most recent publication is Religion as Critique: Islamic Critical Thinking from Mecca to the Marketplace.
Featured image: DoD News/Flickr (CC BY 2.0)
Cite as: Ahmad, Irfan. 2018. "Twentieth-Century Faces of Anthropology's Holism." Anthropology News website, May 18, 2018. DOI: 10.1111/AN.868