To understand immigrants' experiences, we must look beyond media portrayals of the delinquent or success story.
I was only eight when we came to America. […] I think my mom thought she could make some money and bring us home. She thought she'd learn English, and maybe start a business. But it was so much harder than she expected. We moved so much looking for work. She's fifty and she still cleans houses every day. Every year she gets more worn down. She's been getting sick a lot lately. But she can't afford to stop. She never will. Right now I'm in school. I always thought I had to be the best student because I'm undocumented. I thought I'd go to law school, or graduate school. But now I'm not so sure. My mom would literally destroy her body to make that happen for me. How could I allow that to happen? I'm a Dreamer. And everyone loves the Dreamers because we're a perfect package to sell. But why am I the only one who gets the chance to feel safe? […] I'm not willing to throw her under the bus. I'm not willing to be a bargaining chip to make her seem like a criminal. Everything people admire about Dreamers is because of our parents.
Media and political discourse about immigration centers on often denigrating portrayals of migrants as vulnerable or delinquent, masses crossing the border, multi-faceted explanatory theories, sweeping reforms, and decisive fixes. Such generalizing narratives also presume that to land in the United States is to have "made it," a gloss that connotes the American Dream and elides almost everything else about the immigrant experience. Crossing the border is a far cry from "making it." The realities of immigration are far more complex and messy, far from uniform and passive.
As an immigrant en route to a doctorate in anthropology, by all appearances I am one of those almost revered "best and brightest" the United States claims to want more of. I resemble that privileged figure of the immigrant who has successfully "made it"—even if I have to answer daily queries about why my accent is so strong and whether I am qualified to be a college professor. But this is a story not the story and certainly not my story. I have been in the United States for 26 years and I am still trying to "make it"—and to write it. This might explain why I try to collect the stories of others like me, immigrant stories, as banal, mundane, or quotidian as they might be. If we don't understand the everyday lived experiences of people, we can't really think of immigration policy or reform. Memes circulating on social media, such as those featuring Albert Einstein as a refugee don't change public perception in a useful sense—not everyone needs to be a Nobel Prize-winning physicist to have a right to a safe home in which to live and grow. And behind every front-page success story is a story about the real life of immigrants, almost always hard and almost always this way long after arrival. Making it in this country is mostly about survival. It is about muddling through, fumbling toward, getting by, cobbling together. It doesn't sound terribly elevated or newsworthy, but it is my lived experience and the experience of many other immigrants.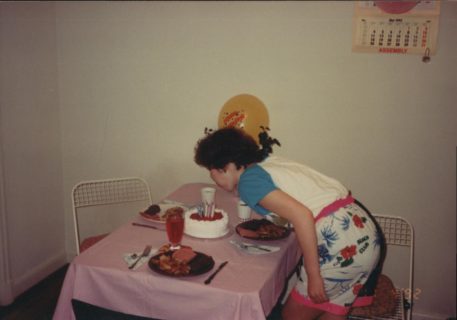 I know that most of the stories read something like my own and the tale from Humans of New York with which I began this piece. Almost everyone struggles; almost everyone comes here with nothing. Ponder what this actually means: possessing little or nothing in the way of belongings, knowing no one, and understanding little of how this new place works. When I arrived in the United States from Bulgaria in 1992, my parents struggled. Poverty placed us in all sorts of tragicomic circumstances (although it was a bit hard to see the humor in them at the time), such as the time I had to have my appendix taken out. If it hadn't been for the largesse of a doctor who conducted the operation for free, I would have had to return back home for surgery. And, I can't tell you how many times I have seen my Dad lying under our barely-held-together car in an effort to fix another breakdown of some kind (it even caught on fire one day).

Think about the idea fact that everything I owned fit into a suitcase. A suitcase can be heavy like your heart or too light to contain a life. You try to find that one pair of shoes you can wear all year round and you put that pair on, so it doesn't weigh down the suitcase too much. That pair ends up being the British-made Clarks shoes, a brand you can't really buy in the United States in the early 1990s—utilitarian shoes that mark you out as the girl with the weird shoes for the rest of the school year. If that was the only odd thing about you, you would be lucky. It's not. Your parents, too, could only bring a suitcase with them. A suitcase can't hold furniture. So, your new "home" becomes a collage of functional and decorative clashes. You collect whatever you find abandoned in trash heaps, on the side of the road, hand-me-downs, and donations. The kindness of strangers is spoken about reverently through the various objects in your apartment. A giant gutted sound speaker becomes the bench you sit on. A couch cushion placed on the floor becomes your bed. The table is foldable, the chairs are foldable, and everything is compact and compactable. Everything is transient—ready to be picked up and moved wherever it needs to go. Every object that you are required to acquire becomes fraught and imbued with meaning. In school, the teacher asks all students to purchase a binder for their work. You are not even sure what a binder is, but you are certain that your parents can't afford to get it for you because everything they own came from a suitcase, remember? When they buy you a burger from McDonalds you keep the paper wrapper for a little bit, not because you want to recall the not terribly tasty experience but because you know that your parents saw it as a gift for you, a small luxury. School becomes the place you go to be made fun of. At first, you eat sandwiches containing hot dogs and mayo. Once you discover that hot dogs are only supposed to be eaten in buns, you attempt a peanut butter and jelly sandwich so that you can blend in and eat your lunch in peace.

This is what it looks like to be an immigrant—or at least this is what it looked like for an impossibly awkward 13-year-old me. Like the objects in your apartment (not your home, really), you are a person out of place and mismatched, your sense of self precariously sewn and held together.

Once you discover that hot dogs are only supposed to be eaten in buns, you attempt a peanut butter and jelly sandwich so that you can blend in and eat your lunch in peace.

The artist Aman Mojadidi describes the journey towards a "geography of self" as "a concept that revolves around a positioning of oneself in the world—not just physically, but emotionally, mentally and, perhaps even for those who believe, spiritually." But it is hard(er) to position yourself when others are busy positioning you (into small boxes and behind ideological and physical walls). Behind every alarmist statistic, every denigrating or elevating generalization, every overarching solution, there are small stories—small, yes, but not insignificant. Behind political and policy buzz words such as "assimilation" and "acculturation," there are people finding a place to live, learning how to orient themselves, grasping how to navigate the public transit system, trying to read various landscapes.

Perhaps it would help us to understand that immigration is not monolithic; immigrants are not homogeneous. This is a laughably simple concept, but we seem to set it aside because to "fix" the immigration "problem" we need to think en masse about the purported masses. The Humans of New York story reminds me that no one should be thrown under the bus so a more acceptable, palatable version of the model immigrant can be marketed. No one should stand in for an entire group of people; no one person's crimes are the crimes of a nation, just as no one individual's successes represent the successes of all immigrants. In fact, speaking of buses, try this experiment—ride a city bus and take a good look at your fellow passengers, at the people you see from the window, at what was once characterized as a "nation of immigrants." Notice how good immigrants have become at making their way in this country both figuratively and literally and consider just how difficult this is for them. How many floors they have had to sleep on, cars to fix, furniture to find, buildings to clean, appropriate school lunches to learn, and all manner of other adaptations great and small in order to "make it" in the United States?

Antoaneta (Toni) Tileva is a PhD candidate in anthropology at American University. She is currently researching the placemaking aspects of immigrant-run businesses in the DC metro area. A few of her interests are urban studies (especially gentrification, space-making, and right to the city) and informality. Karl Marx, Jane Jacobs, and Ananya Roy are a few of her heroes.

We've teamed up with AAA's public education initiative WORLD ON THE MOVE: 100,000 YEARS OF HUMAN MIGRATION™ to run an ongoing series of articles on migration and displacement. You can find them all on the Anthropology News website here.

Cite as: Tileva, Antoaneta. 2018. "'Making It' in the United States." Anthropology News website, May 23, 2018. DOI: 10.1111/AN.877