The latest in Culture & Agriculture's Notes from the Field series explores the value of anthropological fieldwork for undergraduate education.
"Anthropological fieldwork is a lot like writing your first college term paper. You have no clue what the hell comes next."
—Anonymous Student, Western Illinois University
I love doing fieldwork. I chalk this up to my first fieldwork experience in the 1980s, as an exchange student in West Germany. During that year, I mastered a new language, learned how to navigate a different culture, and failed spectacularly at harvesting cucumbers alongside migrant laborers from Poland and Turkey—all while figuring out how the payphone and Ubahn (public transit) system worked. Each day I had no idea what was going to happen next.
While for some the sense of not knowing what is around the corner is disconcerting, I found these liminal experiences have benefited my ability to gracefully deal with the chaos of everyday life. Looking back on the journals I kept that year, I see an untrained anthropologist seeking explanations for the differences between my life in rural southern Ohio and northern Germany. More importantly, the skills of observation and pattern recognition I acquired have shaped the way in which I see and move in the world today.
After several years of this fieldwork, I looked back on the students' notes and recognized a pattern: a void in understanding about how our food is produced.
I teach at a regional public university in Illinois. Many of my students are first generation college students. For them, coming to college is as foreign as moving to another country. In order to succeed, it is essential that they learn how to adapt quickly and effectively to their new environment.
One of the skills I have sought to instill in my own children is "to proceed with confidence," whether it be through passport control or onto their first day of school. I have tried to teach them to take in their surroundings, assess the environment, and find someone who could help them if needed. As a professor of many general education courses, I have a plethora of students who can also benefit from this lesson.
In our globally connected world, a four-year degree benefits not only the individual who pursues it, but society as a whole. I feel obligated as an educator and anthropologist to give my students the tools they need to succeed in life. The skills associated with fieldwork are on the top of my list, because one of the unanticipated lessons of fieldwork is learning how to note the patterns around you and "proceed with confidence."
Thus, while it is pedagogically a bit unorthodox to take students to the field without the standard theory and methods prerequisites, I expose my students to fieldwork whenever possible. One way I do this it to take all of the first-year students I teach in my Introduction to Cultural Anthropology classes to the field.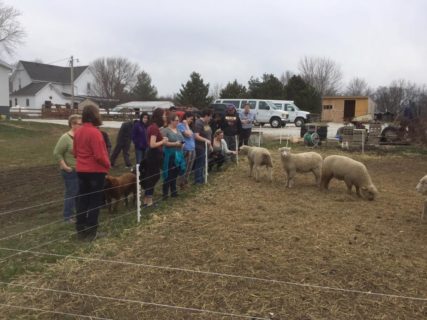 Before a state budget crisis left our publically funded university without funding for two years, I used to literally take my students to the field. We would pile into vans and take a short drive off-campus to compare and contrast agricultural systems. During a Saturday in the field, we would tour an industrial farm that planted thousands of acres of corn and soybeans. My farmer friends would tell students about how they decided what to plant, and when. The notes students turned in showed me if they grasped the complexity of industrial agriculture. For example, did students notice the fact that farmers need to understand the futures market to know how much of what crop to plant to yield the most profit? Did they notice that the people we talked to were all men?
After a few hours at one farm, we would pile back in the vans and travel to the next stop. This community supported agriculture (CSA) farm cultivated only a few acres and used roto-tillers and manual labor to grow vegetables. The students' questions and their notes showed me how disconnected from their food they really were. Few students would write about how one farm grows plants humans can consume without much processing, while the other farm did not. A small number would identify the wide variety of vegetables grown at the CSA farm, and many students reported they had never eaten an eggplant, ever.
After several years of this fieldwork, I looked back on the students' notes and recognized a pattern: a void in understanding about how our food is produced.
One of the unanticipated lessons of fieldwork is learning how to note the patterns around you and "proceed with confidence."
Consequently, I created a new course that explores the complexities of food from an anthropological perspective. It is one of the most popular courses in the program.
Shrinking budgets, and my own selfish desire to expose students to the benefits of an ancient practice that brings together mind and body, led me to take my students to a different type of field for the last seven years—the yoga studio. During one 75-minute session, students immerse themselves in a yoga class at the WIU Rec Center. For many, this experience is just as alien as visiting a farm. As in the visits off-campus, students take notes. I provide them with a set of three questions about themselves as the anthropological observer, to answer both before and after the practice. How do you feel physically? How do you feel emotionally? How do you feel mentally? I am honest and tell them that I would love for them to experience the benefits of yoga, but remind them that as scientists their job is to record the data. If they are unable to observe any positive changes, then their job as anthropologists is to write with all honesty what they observe.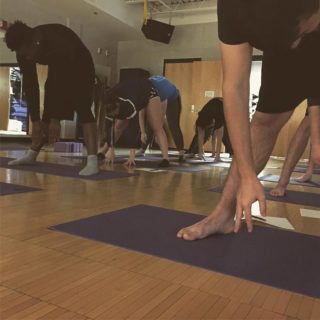 The excursion to the yoga studio is part of a larger component on medical anthropology that I cover during the semester. Their observations are incorporated into a research paper comparing and contrasting Western medical remedies to yogic healing methods for particular ailments. Students have a short list of ailments they can research, and are encouraged to select one that they either personally have experience with or simply want to learn more about.
While patterns from the agricultural fieldwork suggested a lack of understanding about food production, this fieldwork highlighted how even those students without the traditional methodological training in fieldwork are often able to make remarkable observations about health, as illustrated in the passage below. Perhaps more importantly, this passage confirms fieldwork as a path to self-discovery and reflective inquiry as students' grow into themselves.
I took part in a yoga class, and tested the effects of yoga with my own insomnia. Before the session began, I noticed that I was physically tired from the workout I had done the day before. I was also anxious and felt mentally unhealthy with the stress that was accumulating in my life. The class itself was very peaceful, and I could feel myself syncing to the rhythm and the calm music. Afterwards, there was a dramatic difference in my mental state. I still was partially anxious about the rest of my day, but I was no longer stressed about all the things that I was stressed about before the yoga session. I felt much calmer, and much readier to go through my day. While I felt no real emotional difference, and little physical difference, there was definitely an effect of my mental status for that day. Since I was studying the effects of insomnia, I decided to check on my sleep patterns for the night. I have a Fitbit that checks my sleep patterns every night. On average about 14% of my sleep is spent in the awake cycle. However, the night after the yoga session, I was in the awake cycle for 8% of my sleep.
Clearly, this student went beyond what I had asked for or even expected, by using an additional analytical tool—the Fitbit—that provided more data to collaborate her observations from the brief fieldwork experience.
What students gain from fieldwork, whether it is in the corn field or the yoga studio, is the ability to recognize and identify patterns in their own lives, from the choices they make about what to eat to how they treat what ails them. They learn to be more mindful and aware of the world around them. As Sri Swami Satchidananda, the founder of Integral Yoga, often said "You can't stop the waves, but you can learn to surf." Fieldwork of any kind provides student with the tools needed and enables them to "proceed with confidence" into the chaos, that is everyday life.
Heather McIlvaine-Newsad is a professor of anthropology at Western Illinois University. She studies local food systems and disasters. She is a University of Florida graduate and is a member of the SFAA.  She is a regular commentator on her local public radio station, TSPR.org. 
Cite as: McIlvaine-Newsad, Heather. 2018. "Stepping into the Unknown." Anthropology News website, May 31, 2018. DOI: 10.1111/AN.871