The impacts of climate change in Africa are so drastic that the livelihood of many populations are jeopardized continually. Millions of people, the young, women and men, are dying.… I have seen some dead people walk. And all of them are heading to the global north. Why? Because at home there is no longer life. And going for them, is an alternative.

—Mamadou Mbodji
In November 2017, the AAA sent its first official delegation to the COP23 (Conference of the Parties) meetings on climate change, thanks to the generous support of the National Science Foundation's Cultural Anthropology Program. The UN Framework Convention on Climate Change (UNFCCC) mandates an annual meeting of the sate signatories to the Convention and the subsequent accords—part political, part activist theater—at which top-level state actors and non-state groups complete agreements on the so-called "Paris Rulebook" and make decisions on how the world intends to address climate change. The meetings were held at the at the UNFCCC's World Conference Center in Bonn, Germany, and presided over by Fiji. After President Trump's decision in June 2017 to withdraw the United States from the Paris Agreement, all eyes were on the US delegation.
AAA is the only major social science organization to have UN NGO observer status. AAA delegates can participate in the diplomatic zone, where meetings of state delegates take place, and in the civil society zone, where NGO exhibits, university displays, national pavilions, and international governance organizations crowd the extensive temporary structures.
The AAA delegates to COP23 were Shirley Fiske, Susie Crate, Naveeda Khan, and Julie Raymond. We found a multiplicity of voices on climate change; "No one speaks with a single voice," as Naveeda Khan alerts us.
Climate justice and sustainable development (Raymond)
"What do we want? Climate justice! When do we want it? Now!" COP23 began a week before the official meetings, with the thunder of drums and chants at the Climate March. Protests focused on climate justice and the continued use of fossil fuels, punctuated with the takeover of a nearby anthracite mine. Climate change is an ethical, moral, and political issue; the most severe consequences of climate change are experienced by those least responsible for climate change. Climate justice acknowledges people's collective rights, human rights, issues of equality, social and environmental justice.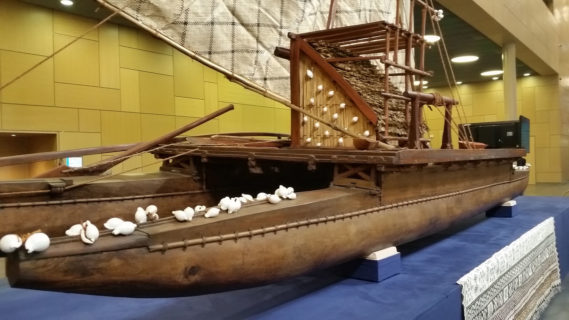 Leaders of frontline communities made powerful speeches. Mamadou Mbodji, a Sengali man representing Nature Friends International, one of the world's largest NGOs focused on sustainable development, addressed the marchers:
Twenty-five thousand marched for solidarity. Let us leave in solidarity. I think this is what can lead us to justice. And that can lead us to peace. If you want to build the peace of the world we have to [be] hand in hand and go toward the sustainable solutions for our planet.
He is right to point toward the bigger picture of sustainable development.  Two unprecedented international agreements were reached in 2015—the Sustainable Development Goals (SDGs) and The Paris Agreement. The 17 SDGs are a road map to balance human needs with environmental health intended to end inequality and achieve environmental sustainability by 2030.
The Paris Agreement is a complimentary instrument that called for voluntary commitments that outline each country's post-2020 climate actions. These align with many of the SDG targets for 2030, so strategies for implementation of the Agreement must harness the potential mutual benefits of both agreements. Climate change mitigation and sustainable development are parallel processes, and only by completing both will we address the climate justice that Mamadou Mbodji so passionately advocates.
The technological optimism of wealthy states (O'Reilly)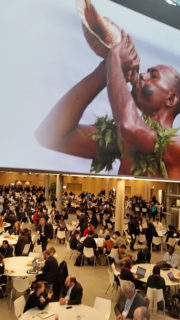 Bonn became host to COP23 because Fiji did not have a large enough in-country site to hold such a massive event. Fijian art, imagery, and language suffused the conference venue, and Frank Bainimarama, the prime minister of Fiji and president of COP23, seemed to be everywhere. Each evening he could be found in the Fiji Pavilion, listening to traditional Fijian musicians and inviting passers-by to share some kava. Bainimarama opened key events throughout the COP, including the launch of America's Pledge, the commitment of many US cities, states, universities, tribes, and religious organizations to continue to meet the targets of the Paris Agreement. In a corrective to the technological optimism that often permeated meetings, he spoke not only about the promise of electric buses but also the reality of Fiji's roads, most of which were in no condition to carry these delicate machines. He noted that he had been pitched an e-ticketing system for electric buses, but with neither buses nor adequate roads, these disruptive technologies matter little. In so doing, he encouraged the cosmopolitan climate elite to comprehend and keep in mind the material experiences of people living on a small island developing state already impacted by climate change, with an economy easily derailed by typhoons and coping with sea level rise.
Speaking in multiple voices (Khan)
In the vast meeting rooms and innumerable sessions of the multiple meetings under the rubric of COP23, one often hears the following words spoken by either the moderators or one of the country representatives: "This is a party-driven process."  Initially, I took it to refer to the UNFCCC signatories. Over time I have become a bit more attuned to the nuances of the phrase. Sometimes, moderators use it to cajole the countries gathered to come forward with their input. Sometimes, country representatives use it to assert their sovereignty, as in "we will not be rushed into agreeing to anything." Yet, at other times, the moderators or country representatives use the phrase to remind others to display some independence of thought and action. And when they do, we are alerted to the fact that speakers do not speak as parties alone but also as party groupings. The names of these groups speak of times past, our polarized contemporary condition, and exactly who still retains the power to aspire. No one, not even parties, speak in one voice.
"G77 and China" is a lugubrious group of developing countries that emerged out of the Non-Aligned Movement of the 1950s, initially to retain some independence from the Cold War, and later to acquire trading clout in an international market marked by inequality. SIDS  (Small Island Developing States) are a coalition of 40 low lying island states that are most challenged by climate change. They fall within the G77 and China, whose voice they sometimes ventriloquize; at other times they break out on their own to speak with greater urgency for global mitigation and adaptation efforts. There is the BASIC group (Brazil, South Africa, India, and China), the Like Minded Group, and the Environmental Integrity Group (Mexico, Liechtenstein, Monaco, the Republic of Korea, and Switzerland). The United States belongs to the Umbrella Group, but when it speaks it seems to do so exclusively for itself. What would it mean for the US to speak in more than one voice? What does it mean for anthropologists to take the party perspective of a complex aggregate such as a nation-state, which has been the object of critique and the focus of disaggregation for our discipline since at least the 1970s?
Local and indigenous knowledge as a way of knowing (Crate)
For me, COP23 was a powerhouse of energy, ideas, inspiration, and community. However, scientists, policymakers, academics, activists, NGOs, and other stakeholders are working to bring about the goals of the Paris Agreement with little, if any, ability to talk across their areas of expertise.
I was keenly interested in how people were talking about indigenous and local knowledge. I attended a number of sessions in which delegates discussed issues communicating with their constituents on the ground where they need to bring common goals into reality. In the panel on blue carbon, the national representative from an ecology ministry talked about their country's challenges not just in bringing back the mangroves that were removed by corporate fishing interests decades ago, but also in explaining the importance of efforts to protect and enhance blue carbon resources to the present-day fishers. In a session called "Water Knowledge to Respond to Climate Uncertainty," delegates discussed ways to get people to understand the science.
The bottom line is most humans do not understand climate change based on a scientific understanding but rather by using their daily ways of knowing. Not only is this a critical fact to apprehend so we can communicate the issues more effectively, but such indigenous and local knowledge informs and compliments the science to point us toward much-needed solutions more quickly and with more participants.
Galvanizing resistance (Fiske)
With no official US presence at the COP23 meetings, I was drawn to the US nongovernmental pavilion, hosted by the nonprofit and NGO sector in a show of US solidarity with climate change activists and the rest of the world. The pavilion, a multi-roomed inflatable bubble structure, aptly called the Climate Action Center, showcased the message "We're Still In." The pavilion hosted panels; speeches; talks by politicians, governors, and mayors; and NGO campaigns such as Beyond Coal. It was the launching pad for the Bloomberg-funded America's Pledge initiative, which underscored the message that despite the Trump announcement, US corporations, states, and cities are stepping up to climate challenges and will meet US commitments.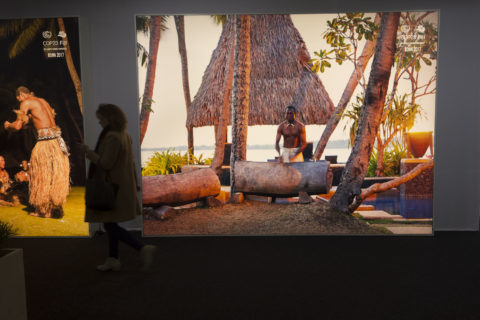 The pavilion provided a space and place to construct counter-narratives to Trump's denial and withdrawal. People met and mingled at the pods of seating areas. The walls of the inflatable bubbles had photo-ready displays of wind turbines against brilliant blue skies—perfect for Instagram—and Twitter-bound selfies. It became the de facto hub of political resistance to the Trump agenda for public citizens, delegations, activists across nations and sectors, university faculty and their students, and NGOs. The counter-narrative was loud and clear: we are willing and committed to meet targets of the Paris Agreement. 
Looking ahead
In December 2018, COP24 will be held in Katowice, Poland, and AAA will be sending its second delegation of anthropologist observers to present a panel related to the COP24 theme: Changing Together.
The four undergraduate anthropology students taking part in the AAA's first Climate Change Internship will also travel to Katowice. The year-long internship program will take students through the theory and application of anthropology to a real-world forum for engagement. The students will develop an exhibit to present to an international audience at COP24.
With the AAA's observer credentials, anthropologists can also contribute to the UNFCCC policy process by informing the Secretariat on specific matters of policy with anthropological concern. We hope to expand the discipline's activities and presence at the COPs and Subsidiary Bodies in years to come.
Note: This is the third of a set of reports from the COPs in Anthropology News. See Chernela, et al. 2010 on  Copenhagen, and Wulbrecht on Paris and Morocco (2017). Also, sending a delegation of senior anthropologists depends on availability of funding.
Shirley Fiske is a climate change anthropologist at University of Maryland and chair of the AAA Global Climate Change Task Force (2011–2014).
Susie Crate is professor at George Mason University and has worked with indigenous communities in Siberia since 1988.
Naveeda Khan is associate professor of anthropology at Johns Hopkins University.
Julie Raymond is a doctoral fellow at Idaho State University.
Jessica O'Reilly is assistant professor at Indiana University Bloomington.
Cite as: Fiske, Shirley, Susie Crate, Naveeda Khan, Julie Raymond, and Jessica O'Reilly. 2018. "AAA Goes to the Conference of the Parties." Anthropology News website, June 5, 2018. DOI: 10.1111/AN.879