Engaging culture in disaster risk reduction, response, and recovery presents promise and problems.
After the 2004 Indian Ocean tsunami devastated Sri Lanka, Mohamed Hilmi, currently Senior Coordinator for InterAction, an alliance group of humanitarian nongovernmental organizations, was overseeing construction and repairs of nearly five thousand houses in the conflict-affected eastern region. One day, he had an unexpected and revealing encounter:
I was sitting under a tree with my colleagues…having lunch. And this lady goes by and I ask her, is your house getting repaired? I'm questioning her as she lives in the area. She looked at me and said, "I don't want you to repair my house."
Hilmi was surprised. Why was this woman rejecting assistance in such a devastated place? He discovered later that her house was, in fact, being repaired, but her quip had a directive purpose. The woman took Hilmi to see the irrigation and drainage channel system behind her house, the likes of which have been known to date to as early as 300 BCE. Along with the houses, the channel had been badly damaged due to lack of maintenance and conflicts in the area.
"So," she said, "if you repair this drainage channel, you don't need to help in this whole area." This is an eighty-year-old woman, uneducated…So I looked at her and said to my colleagues, what the hell is she talking about, you know? Uh, what does it have to do with the housing?
CADAN at the UN Global Platform for Disaster Risk Reduction
Anthropologists often conclude that disaster risk reduction, response, and recovery projects fail to understand the local cultures of those experiencing disasters and/or fail to recognize the cultural assumptions inherent in intervening state and nongovernmental organizations (NGOs). As anthropologists of disaster, we are concerned with better understanding the frequently negative disaster outcomes born out of these misalignments. Each of us encountered these issues while conducting research in disaster contexts around the world, and we subsequently became interested in how the concept of culture is developed and proliferated in international networks of disaster experts and organizations. Our collective—a mix of practitioners and anthropologists of disaster known as the Culture and Disasters Action Network (CADAN)—has been engaged in challenging (and ongoing) discussions about the vexing matters of culture and disaster vulnerability.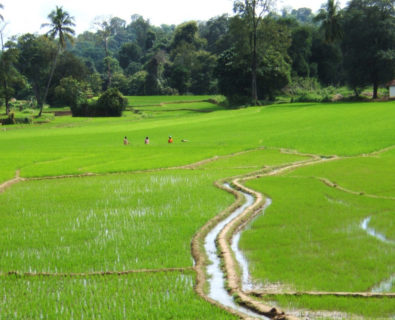 To that end, and marshaling the American Anthropological Association's UN Observer Status, we attended the 2017 Global Platform in Cancun, Mexico, where we interviewed dozens of practitioners about the role of culture in disaster risk reduction, while documenting and analyzing discussions, formal statements, and official documents of the multiple parties to the event. Our goals were to (a) theorize how culture becomes discursively constructed and enacted in disaster risk reduction programs; and (b) meet Hilmi, and other practitioners like him, who could elucidate the moments when institutional mandates and community goals diverge, where the cultures of aid and of the affected are out of sync, and to find out what they do when that happens.
When working with locals and local culture works
Spurred by his encounters with his elderly interlocutor around the irrigation canal, Hilmi visited the Irrigation Department and learned that the channel was essential to local rice production, a primary livelihood activity in the area. A functioning channel made possible three seasons of cultivation—yields from one season enable farmers to recover their initial costs, while the second and third seasons are profit generating. Hilmi found that the channel could be repaired for roughly the cost of repairing three or four houses. "So we did that with the help of local staff, villagers and farmers. It took a lot of work due to ongoing conflict in the area." Two years later, he returned as part of a relief program for flooding in the area and visited the woman's community again. While much of the surrounding area was hip-deep in water, this community was not affected. The channel had effectively conducted flood waters away and kept the local economy intact.
So just to tell you that if we had spent more time to listen to people and understand, and oftentimes we talk to people, but we don't really listen and take their message clearly. We, we just listen for the sake of listening or caring, but not…understanding the underlying messages and the context to which they apply, you know, if somebody would have said, "Oh, repair this irrigation channel," I would have said, what the hell are you talking about? I come here to help you with the house, right? So…I think this is harder to do due to the urgency and intention to deliver assistance that we perceive to be right, but must be done.
In the Sri Lanka case, Hilmi and colleagues recognized the importance of connecting with locals—not merely elites—to understand the multiple, complex interconnections of many features of their lives and livelihoods and, importantly, to ask the obvious, if often unuttered question, "What would you like to do?" But, working through local cultural practices is complex and there are many potential pitfalls.
When working with locals and local culture doesn't work
CADAN is also interested in whether sympathetic and well-meaning humanitarians focus primarily on learning the cultural scripts of "others" while bracketing consideration of the cultures of their own organizations, professions, epistemologies, and legal frameworks. One of the outcomes of using culture as an act of othering was the over-simplification of deeply embedded and complex practices. Hilmi again, was candid and instructive in one instance when he and his organization consciously attempted to work through local cooperative practices, only to find that they had inadvertently undermined these practices in the process.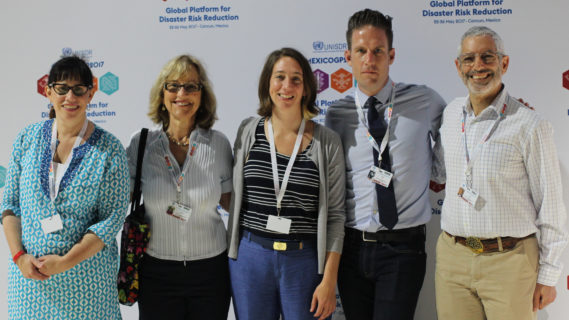 During a longitudinal case study ten years after the 2006 earthquake in Indonesia, Hilmi and colleagues recalled being impressed by the practice of gotong royong, a Javanese cultural tradition of collaborative work parties that involved complex relationships of mutual obligation. Many relief organizations decided that gotong royong would be an effective way to disperse funds to community members. The organizations would disperse funding in smaller increments and communities would organize to collectively work on reconstruction projects.
But what happened was… now each of those individual families had the money…they started when others cannot help… Things had changed and the people are going to work in the city come back so they don't have time individually. They started hiring a mason…without relying on the system… Now, when I went there and asked about how gotong royang was functioning…a number of people said the same thing, "Gotong royang is dead."
Relief organizations ended up inadvertently passing responsibilities to individual families and disrupting the rather delicate balance of patron-client obligations in gotong royong, even as they sought to work through them. The way this social system was taken advantage of, without a complete understanding, created the conditions for the system of gotong royong in shelter construction to weaken and disappear over time. Hilmi reflected with us, "We sometimes have good intentions, but have a negative effect due to the way we deliver assistance. The houses are better, that's fine. But the system of culture has changed."
Takeaways and future directions
Practitioners are important sources of information and insight into the barriers and processes of incorporating local cultural perspectives in disaster policy and planning, and in understanding the bureaucratic cultures of disaster aid organizations themselves. Culture, local knowledge, and participation from local actors were common concerns for many government and NGO practitioners. Thus, some of the questions we are working to address include the following: What does it mean to work "effectively" across cultural difference? What happens when "practitioners" are fully aware of cultural misalignment, but the structures in which they work do not have the flexibility to address it? What do practitioners mean when they use the word "culture" and how are those notions contested on the ground?
We are finding that practitioners like Hilmi are in negotiation with their own culturally-driven sense of correct action, the mandates (and cultures) of the organizations they work for, and the people they are dedicated to serving. How Hilmi observes and constructs the notion of culture in his own organization and among the communities he works in may be different than the social constructions and enactments of another practitioner. We know there is high variability among aid workers with regard to their own understanding of cultural difference; but we are, as yet, unclear whether or not this matters significantly in what they can accomplish within their organizations. In the successful case study, Hilmi was working outside of his organizational mandate; in the unsuccessful case, he had organizational authorization.
Our group sees the intersection of anthropological understanding, practitioner insight, and community-involvement and participation as a way to improve the outcomes of disaster risk reduction and disaster recovery. In the short term, we are working on developing a common lexicon and opportunities for engagement among practitioners and academics working on disaster. In the long term, we wonder what true transcultural disaster risk planning and response might look like. We aim to further our theoretical understanding of how culture becomes conceptualized and operationalized in disaster settings; and, to engage in critical dialog beyond our disciplinary boundaries. One way to do this is to triangulate case studies from practitioners with the experiences and narratives told on the ground by the communities and individuals receiving aid.
A. J. Faas is assistant professor at San José State University; Elizabeth Marino is assistant professor at Oregon State University-Cascades; Katherine Browne is professor at Colorado State University; Adam Koons is senior humanitarian response practitioner; Julie Maldonado is director of research for the Livelihoods Knowledge Exchange Network; Laura Olson is senior disaster recovery practitioner.
Further Reading
Browne, Katherine E. 2015. Standing in the Need: Culture, Comfort, and Coming Home after Katrina. Austin: University of Texas Press.
Faas, A.J. (ed.). 2016."Special Issue: Continuity and Change in the Applied Anthropology of Risk, Hazards, and Disasters." Annals of Anthropological Practice 40(1).
Marino, Elizabeth. 2015. Fierce Climate, Sacred Ground: An Ethnography of Climate Change in Shishmaref, Alaska. Fairbanks: University of Alaska Press.
Acknowledgements
Fall 2016 workshop funded by National Science Foundation (#1647248, PI Katherine Browne, Co-PI Caela O'Connell). Cancun workshop and fieldwork funded by National Science Foundation (#1741962, PI – A.J. Faas). Very special thanks to Sophie Shan and E. Daniel Maldonado for their work transcribing interviews.
Cite as: Faas, A.J., Elizabeth Marino, Katherine E. Browne, Adam Koons, Julie K. Maldonado, and Laura Olson. 2018. "What Can We Learn from Practitioners' Stories?" Anthropology News website, June 7, 2018. DOI: 10.1111/AN.881