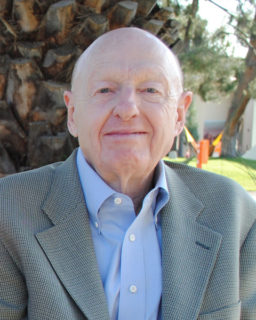 July 1, 1932–May 14, 2018
Robert Leon "Lee" Munroe, 85, research professor of anthropology at Pitzer College and a major figure in psychological anthropology and cross-cultural human development, died after a short illness in Claremont, California.
Born in Baltimore, Maryland, Munroe was the eldest of five brothers. He earned his bachelor's degree, with honors in anthropology, from the University of California, Berkeley and his PhD in social anthropology from Harvard, where he worked closely with John and Beatrice Whiting. At Harvard, he met his wife and long-time research partner, psychologist Ruth Hagsberg Munroe. In 1964 the Munroes moved to Claremont to help establish programs in anthropology and psychology at Pitzer College, the newest of the Claremont Colleges.
Known as a kind and gentle person, Munroe was passionate about research and continued to publish up to his death. A quintessential teacher-scholar over the course of 45 years, he engaged undergraduate students in a research apprenticeship program and was proud to have co-authored journal articles with more than 30 of them.
In his effort to understand human behavior and cultures, Munroe's approach was rigorous and scientific. No topic was immune from analysis—from his early work on male pregnancy symptoms and cross-sex identity to recent papers on the sound structure of languages and the cross-cultural affective perceptions of owls. Much of his work, known as "four culture studies," focused on the comparative examination of children's behavior and development in East Africa, Belize, American Samoa, and Nepal, where he and Ruth Munroe had collected a wealth of ethnographic and psychological data. These data enabled him and his collaborators to systematically analyze how different sociocultural settings affect children's development with respect to sex and gender roles, work, cognition, cooperation-competition, and much more.
A recent paper, published in the International Journal of Environmental Health Research with psychologist Mary Gauvain (2012), examines relations between children's cognitive development and their exposure to open-fire cooking. "Lee was especially proud of this research," Gauvain explained, "because of its relevance to current concerns in global health."
Munroe regularly joined anthropology colleagues—Ralph Bolton, Susan Seymour, and Claudia Strauss—for research lunches. As a voracious reader across disciplines, he could always contribute new ideas to discussions and manuscripts. "The diversity of Lee's interests was astounding. He read widely. It did not matter what we were discussing; he could suggest a relevant article, often from psychology or another field," Strauss recalled.
Munroe will be remembered for his significant contributions to our cross-cultural understanding of human behavior and to research methods in anthropology and psychology.
His many honors include serving as president of the Society for Psychological Anthropology and the Society for Cross-Cultural Research. In 1993, he was elected a Fellow of the American Association for the Advancement of Science and in 2017 he became a Fellow of the Association for Psychological Science.
Lee Munroe's wife, Ruth Munroe, and son, Anthony Munroe, predeceased him. His surviving family includes his children, Jonathan Munroe (Elaine Munroe) and Julia Munroe Martin (Lee Martin); and three grandchildren, Ben Martin, Max Munroe, and Hannah Martin. (Susan Seymour)
Cite as: Seymour, Susan. 2018. "Robert L. Munroe." Anthropology News website, June 12, 2018. DOI: 10.1111/AN.887