The current political administration poses numerous threats to various minoritized communities in the United States. Anti-Latinx and transphobic sentiments and policy actions are on the rise. Given this state of affairs, one might assume that life is markedly more difficult for transgender Latinxs in the Trump era. My work with transgender Latinas in Chicago, many of whom resort to sexual labor due to their exclusion from legal employment, complicates this assumption. The trans-Latina sex workers I have befriended over the course of my fieldwork have long endured violence by politicians, policy-makers, and lay people. Therefore, many reported that the 2016 election did not change their everyday lives for the better or the worse. As one woman I spoke to said, "We are trans women of color. We have always been at the bottom." 
"I think we are in a trans revolution all over the country; trans women of color are standing up. We are fighting against Trump. I see it all over. The community is creating and building spaces, even underground. We are standing up for justice."
Although this perspective may sound defeating, it points to the fact that trans Latinas have long been fighting against extreme marginalization. Trans women of color have been at the forefront of many pivotal moments in LGBTQ history, although they often go unrecognized as leaders and activists. For example, Sylvia Rivera, a homeless transgender woman of Venezuelan and Puerto Rican descent who lived in New York City, played a pivotal role in organizing the Stonewall Riots, which is considered the beginning of the Gay Liberation Movement. Homeless and sex-working by the age of 12, Rivera vocally critiqued the dominant LGBTQ movement for silencing people of color, the poor, and the homeless. Along with foundational black transgender activist, Marcia P. Johnson, Rivera founded STAR (Street Transvestite Action Revolutionaries) and opened a homeless shelter. In short, trans Latinas have persisted and resisted despite decades, even centuries, of oppression, deadly threats of violence, and economic insecurity.
More recently, the Trans Latina Coalition, a national organization founded in 2009, has spearheaded and mobilized large-scale participation in actions that seek to reform the political enterprise from within, such as fighting for legal protections for trans folks. They have also engaged in radical protest actions where they stop traffic covered in red paint to draw attention to the exorbitantly high rates of murder of trans women of color, in cities such as Los Angeles. My interlocutors expressed that their very existence was resistance (to the white cisgender patriarchal norms that govern society). As a result, they explain, their activism manifests in a variety of different ways. "Activism isn't just being loud on the streets, but also the small quiet moments of caring for a sister," said Jesenia, a sex working Puerto Rican trans women.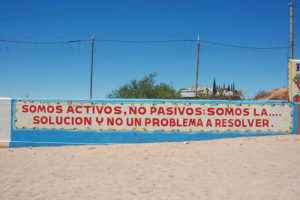 Despite not feeling significantly more threatened since the election, many trans women in Chicago have expressed that the Trump administration has encouraged them to fight harder. Brenda, a 46-year-old sex working refugee from Mexico, lived undocumented for 12 years before being granted asylum in the United States. While she describes how trans women of color have always been "hated" by so many, she asserts that the current administration is authorizing and exacerbating hate against the trans-Latina community. She continues, "But what doesn't kill you makes you stronger. I think we are in a trans revolution all over the country; trans women of color are standing up. We are fighting against Trump. I see it all over. The community is creating and building spaces, even underground. We are standing up for justice."
In 2017, Brenda learned about "Primera Caravana Trans-Gay Migrante 2017," or the"Rainbow 17," which consisted of eleven trans women and six gay men from different Central American countries who crossed the border and surrendered themselves to border officials. After being denied asylum in Mexico and bonding over their shared experiences of gendered violence in Central America, the group reached out to numerous legal organizations specializing in asylum cases. Attorneys and other volunteers flew from the United States to Mexico to provide free legal assistance, and some crossed the border at Nogales, Arizona with the Caravan in solidarity. ICE detained the Rainbow 17 refugees in New Mexico for approximately six weeks.
Brenda, having been deported three times and detained for many months before her asylum petition was reviewed, identified with these Caravan participants, and she was compelled to help them. She reached out to one of the legal organizations traveling to New Mexico and suggested that she come along. Brenda is one of most tenacious people I have ever met, and she didn't stop contacting the organization until they agreed that she could travel with them to the border. Although she had no legal training, she "knew from experience" what the refugees were up against. She proudly recounted that she, a poor sex worker from Chicago, could share with them her experience of interacting with immigration officials and familiarize them with the process to improve their chances of being approved.
After two months in detention, the efforts of activists and lawyers were fruitful. Fourteen members of the Caravan (including all the transgender women) were paroled and would no longer have to endure the horrors of being imprisoned in an all-male detention center while awaiting adjudication of their asylum petitions. The bravery of the Rainbow 17 and those who stood in solidarity with them, such as Brenda who insisted on traveling over one thousand miles to "care for her sisters," offers new models of resistance. Yet such models draw from trans Latina strategies that are diverse in expression and approach and have developed over decades, and even centuries, of struggle against grave injustice. Focusing on the persistence and resistance of trans Latinas is valuable to all who seek change in the current political moment.
Andrea Bolivar is an LSA Collegiate Postdoctoral Fellow at the University of Michigan. Her research focuses on trans Latinas and sexual economies of labor in Chicago.
Cite as: Bolivar, Andrea. 2018. "Transgender Latina Activism in the Current Political Moment." Anthropology News website, June 13, 2018. DOI: 10.1111/AN.889