Contributing editor Carrie Hough interviews CSAS Board Member Adam Kaul about Leisure and Death: An Anthropological Tour of Risk, Death, and Dying, which he co-edited with Jonathan Skinner.
At the outset, the volume quotes Michel de Montaigne, who suggests that death has many ways to surprise us. As a co-editor of this book, how did death surprise you?
I would say two things for me were surprising as we dug into this project. Writing from our European and North American perspectives, Jonathan Skinner and I were struck by the depth and resilience of what has come to be called "Western death denial." This psycho-social phenomenon became firmly embedded in European, and especially American, society mostly in the twentieth century. Many people in so-called Western societies do not want to confront their own deaths, but at the same time, we revel in the deaths of others in our entertainment. This phenomenon was spurred on by the medicalization of death, the industrialization and capitalization of funerals, and practices like embalming (which is, of course, a way to make a body look as life-like as possible). Meanwhile, pop culture has become more and more grisly, and even descends into what Kathleen Adams in her chapter on "zombie tourism" in what the volume calls a "pornography of the macabre."
The second thing that surprised me, looking out from our vantage point of the UK/US onto the practices and beliefs of the rest of the world, is the sheer variety of human experiences with death. It is clear, too, when examining the cross-cultural literature on death and dying, that death is very much a fluid social process rather than a biological event.
In the introductory chapter, you share a vignette about your own first skydiving experience as a time when leisure and the risk of death overlapped in your own life. At the end, you query, "Was this fun, or was this what dying feels like?" Upon reflection, which is it?
Of course, I don't know what dying will feel like, but I can imagine that feeling of being disembodied and untethered, like when skydiving, might be part of it. The only reason I jumped out of that plane was because my father-in-law wanted to do it for his seventieth birthday and my wife and I decided that we should join him. I've thought about the experience a lot since then, and frankly I'm still not sure if it was fun or if I would ever do it again. But having to very suddenly confront the immediate possibility of my own death as I stepped out of that plane, and then slowly researching the anthropology of death and dying for this book has instilled a much deeper comfort level with my own death.
The introduction addresses how violent death has become so central and commonplace in the entertainment we consume. Has working on this book led you to change your thinking about or to alter your media diet?
I don't think it has, actually. I'm certainly more reflective about it, though, but that is part of being more reflective about death and dying in general due to this project. I never loved gratuitous violence and death in popular culture for its own sake, but I'm not particularly squeamish either (in fact, I probably would never have done this project in the first place if I was). We live in a violent world and we will all die. I think confronting those facts head-on is wiser than death denial, and part of the way we can confront it in a healthy way is through our various contemporary means of storytelling. I am, however, even more repulsed by gratuitous violence than I was before, because death is not entertaining in-and-of-itself.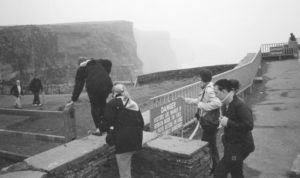 Your own chapter in the volume explores tourism, risk, and death at the Cliffs of Moher and references Fintan O'Toole's framing of the landscape as both harsh and comforting, where we can walk up to the abyss but reject it and re-embrace life as we retreat from the edge. Before you explored the Cliffs as an ethnographic site, did you first encounter them as a tourist, and what was that experience like?
Yes, my first experiences at the Cliffs of Moher were as a tourist. Frankly, I didn't think much about it other than the fact that it is a beautiful spot. When my wife and I lived nearby as I did my doctoral fieldwork, we heard about the occasional suicide there as well, but again I didn't think much about it beyond the immediate tragedy of it. It wasn't until years later after having visited the site many dozens of times doing other ethnographic work there that it began to strike me that there was a powerful frisson between lightness and darkness at the site. I began writing about it without knowing why. I had no thesis per se. That exploration inspired a conference panel on the topic, which inspired the book. In the end, I don't think we have provided any sort of definitive answers to "what it's all about" except to say that the connection between leisure and death has gone unexamined but it also seems to be everywhere. We hope the volume acts like a question that others can help us answer, or a new frame through which to look at a variety of human experiences.
Carrie Hough and Adam Kaul are associate professors of anthropology at Augustana College.
Cite as: Hough, Carrie,  and Adam Kaul. 2018. "Zombie Tourism, Cliff Walks, and Skydiving." Anthropology News website, June 22, 2018. DOI: 10.1111/AN.891