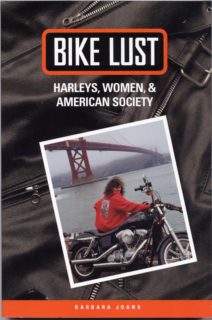 Association of Senior Anthropologists (ASA) member Barbara Joans completed an astonishing ethnographic project when she enrolled as a first-year law student at the age of eighty. After decades as a practicing anthropologist, the author of the ethnographies Bike Lust: Harleys, Women, and American Society and The Changing Woman: Women of a Certain Age decided to learn to be a lawyer, to discover the Others she had observed when serving as an expert witness. After a year in the field of law students, she felt she could comprehend the mindset of lawyers; at the same time, she came to realize that to think as a lawyer was incompatible with thinking as an anthropologist. Her beautiful essay recounting her ethnographic project illuminates both cultures.
Telling us that Scott Turow's 1977 account of his first year in law school is still an accurate description of first year law, Joans describes the overwhelming workload avalanched upon students at orientation. For Joans, this was exacerbated by arthritis and her consequent inability to carry 35 pounds of books and notebooks up the law school steps. Other students always rushed to help her, managing the rolling backpack up stairs and along corridors, and assisting her with the computer links to law materials required in class. Teachers were also kind and supportive. She noted how law school seemed filled with jars of candy, as if quick sugar highs could get the harassed, exhausted students through the arduous days of study. Joans realized, however, that she needed a personal tutor to help prepare her for final exams because so much of the approach, as well as the material, was totally foreign to her. Yet, somehow full-time effort throughout the first semester proved insufficient. She was failed, booted out of school and lost her scholarship.
Midway through this second term, Joans realized she was, for once, instinctively thinking like a lawyer, when she asked herself, "What are the consequences of this action?"
As the semester had progressed, Joans observed how the teachers were thinking very differently than she did. Again and again, students were told to consider, first and always, the legal consequences of whatever they saw or did. Stand back, and think about what you, or a client, could be sued for. In an extreme example, a teacher warned students that an impulse to save a drowning person might be wrong: if your efforts injured him, he might sue. The fact that he might die while you were hesitating was irrelevant, for those thinking as a lawyer. Joans felt herself agitated by cognitive dissonance, her life experiences as a moral person and anthropologist in sharp conflict with this legal standpoint. She was also disturbed that in classes studying major examples of case law, there seemed to her insufficient information about the people in the case. One case concerned a woman, Tarasoff, who was murdered by a stalker boyfriend. What was Tarasoff's life like? Her boyfriend's? His life after he was released from a mental hospital? Put another way, the law does not use narratives as anthropologists do. "Being a lawyer does not expand your consciousness," Joans realized. "It limits it."
When she learned she had failed the first semester, Joans decided to enroll in another law school. This school held classes at night and served students who were likely to have day jobs and families. Such a group was more compatible for Barbara than the mostly young and ambitious students in the original school, helpful and considerate as they had been. Having already studied hard during first semester, repeating it was somewhat less overwhelming, though she still found the workload heavy. Midway through this second term, Joans realized she was, for once, instinctively thinking like a lawyer, when she asked herself, "What are the consequences of this action?" Briefly she felt no empathy with the people involved, no spontaneous reaction born from living within human societies. What culture shock!
"Do I go native?" Joans asked herself. No, the culture of lawyers was too contrary to her own values. She decided she would not pursue law school, she would not become a triumphant 83-year old new J.D. Her year of ethnographic study, however, was most productive in many ways. Furthermore, it reinforced her understanding of what it means to be an anthropologist.
ASA remains Joans's home within AAA. Here, during the meetings and in our various communications, we can share this significant part of ourselves: we are anthropologists.
Note: Barbara's original article is no longer available. Questions to Barbara about her law school experience can be directed to her at [email protected]
Alice B. Kehoe is professor of anthropology, emeritus, at Marquette University.
Cite as: Kehoe, Alice B. 2018. "An Anthropologist's Experience of Law School." Anthropology News website, June 29, 2018. DOI: 10.1111/AN.894