Most urban general plans are ambitious pieces of legislation that reflect the dreams of city leaders. In Fresno, CA, ambitious plans manifest in big, splashy ways, as in a recent national headline that declared: "Come See the Future in Fresno, CA." The geographic midpoint between San Francisco and Los Angeles, the City of Fresno is finally embracing its urban destiny after decades of being a sleepy rural town in the Central Valley. Although Fresno is the backbone of California's agricultural economy, it seeks to make its mark as a thriving urban center. As with other cities, Fresno is also grappling with gentrification, all too often part of urban change and erasure. This piece is an overview of my research on the downtown revival and where the transformation of the Fresno's center is contested by those who continue to be displaced as stores and sites that are part of their urban memory are erased.
October 2017 marked the true culmination of Fresno's recent downtown face lift, which cost nearly $22 million. Thousands of people gathered on downtown Fresno's newly revamped Fulton Street for its grand opening. The site itself has been a historic anomaly, a mid-century infrastructure project inspired by nineteenth-century European grand boulevards meant to show off the city's wealth and prestige, it was often considered something of an aesthetic overreach given its rural setting. With three blocks of open urban space reserved for pedestrians, the Fulton Mall attracted upscale department store shops and restaurants at the start of its life. It had an impressive design pedigree. Dotted with fountains and arbors, it served as the only park-like environs in the downtown area and made national headlines as a new form of consumer space. When campaigning in 1968 for president,  Senator Robert F. Kennedy said "And if I go to California I'm going to get to the Fresno mall. Because after you have seen the pyramids of Egypt and the Taj Mahal, what is left but the Fresno mall?"
With the revitalization of Fulton and the removal of the pedestrian mall, Fresno will finally pass the metaphorical threshold and become a "real" city with a vibrant downtown.
I witnessed Fresno's urban renaissance, paid for by federal dollars and bolstered by local media campaigns, since its initial proposal in 2014. The same three-city block space has been reborn as what many hope will be the city's new Main Street, revitalizing the local urban environment and tempting investors downtown. The pedestrian space was demolished to reintroduce vehicular traffic  through the heart of downtown. The project was not without controversy.
When the project was first proposed in 2013, two community groups argued past each other in the galleries of Fresno's City Hall. One group was pushing for more investment in urban infrastructure to spur economic growth and the other was issuing a cry to remember the value of public space in the age of rapid gentrification. In the six months since the new street has opened, there has been an erasure of public spaces and commercial activities long associated with the pedestrian mall. Erasure took  the form of removing homeless people, public benches, and Latino stores. Specific to the former Mall, many small mom-and-pop shops catering to the largely Latino consumer base have closed due to declining foot traffic and rising rents.
In my ethnographic research, I followed a group of citizen activists as they resisted these changes. One was led by the growing arts community who often feel the city depends on their work to sell visions of a prosperous urban future yet makes it impossible for them to live and work in the neighborhoods they love. Competing walking tours of the area, conducted by both sides were fighting to shape public opinion about the utility of the Mall's space. The tours role focused on the history of the space and the role of the arts in the larger Downtown area. The other tour included stops at abandoned property  to attract potential investors. This battle was not confined to walking tours in the new downtown but moved to editorials, op-eds, and Facebook.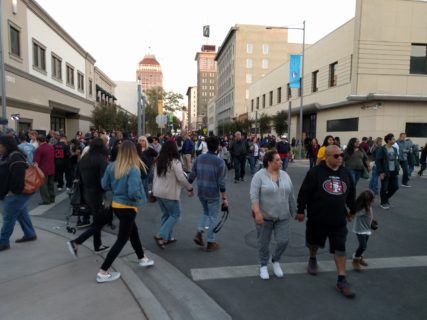 This "new" downtown was not being built for those who have previously called it home. New condominium developments in the now designated Cultural Arts District near downtown are renting above market rates. The Latino daytime shoppers who came mostly from working class backgrounds, and who have shopped for Quinceañera dresses on the mall for decades after white flight led to the abandonment of the space, have little to no place in the newly envisioned Fulton Street with its bourgeois craft brewery future. Adding a new wrinkle to who are the new users of the revamped downtown area, the much-hyped State of California's High Speed Rail project will be situated near Fulton Street, making the cosmopolitan markets of Los Angeles and San Francisco only an hour or two away. Thus, the dense urban area in downtown Fresno has developed a sheen of promise because of media attention and real estate speculation. It is hard not to get excited at the brilliant imagined future city leaders talk about. The material culture of "success," and rhetoric about developing "a real downtown" reflect the regional insecurities of an overlooked area.
However, several things are happening simultaneously: Fresno has discovered that it is in fact an urban place. With a population that has recently surpassed half a million people, this may seem like an obvious fact, yet the legacy of California's Central Valley rural way of life and agricultural economy are embedded in the cultural DNA of the now booming region. Fresno is also discovering its own pattern of urban growth—and to the chagrin of some of my informants—that is counter to recent urban planning norms that highlight pedestrian space and housing density. Fulton Mall's conversion to Fulton Street, privileging cars over pedestrians and infrastructure over citizens, is a microcosm of the growing pains that city governments and its citizens must contend with. City leaders in the area talk about local investment as "placemaking" efforts that tie culture to space through public art and community events. With the revitalization of Fulton and the removal of the pedestrian mall, Fresno will finally pass the metaphorical threshold and become a "real" city with a vibrant downtown.
In May of this year, dozens of anthropologists attending the Southwestern Anthropology Association's annual conference were led on a walking tour through Fresno's downtown by local activists eager to show where urban change and visionary thinking meet. They walked nearly two hours in the heat, stopping to see the murals celebrating Fresno's history and culture. They heard the frustrations of residents with deep ties to the area who were watching change happen in real time. The story is not new: building something be it a mall or a thriving downtown, while also fulfilling the needs of a growing population is all too familiar in the urban revitalization literature. The push back of preservationists and those who want to see a more economically and ethnically-diverse downtown is also not new, but it still makes for fascinating ethnographic research on the ways in which people continue to connect with urban space.
Dorie Perez is an interdisciplinary humanities doctoral candidate at the University of California, Merced. Her dissertation centers on the revitalization of the Fresno Fulton Mall, a case study for changing urban forms. She currently teaches at UC Merced. More information can be found at dorieperez.org.
Cite as: Perez, Dorie. 2018. "Doubling Down on 'Downtown' in Fresno, CA." Anthropology News website, July 6, 2018. DOI: 10.1111/AN.899